Plant Spirit Grant recipients Chioma Nwosu, Sabrina Pilet-Jones, and Estifani Vidal, Peruvian Amazon. Photo by Hayley Prescott / Cosmic Sister
Women + Psychedelics + Empowerment + Environment
Welcome! At this time, the best way to keep in touch with our projects is to FOLLOW Cosmic Sister on Social Media.
Psychedelic Feminism a term and hashtag (#PsychedelicFeminism) that Cosmic Sister's founder Zoe Helene coined and popularized. Psychedelic Feminism is a sub-genre of feminism that embraces the power of the frontier field of psychedelic healing, self-liberation, empowerment, inspiration, and mind/body/spirit exploration into altered states of consciousness. Safe, intentional journeying with psychedelic evolutionary allies from nature can help women look deeply inside themselves, in part to explore core feminist issues in fresh and exciting ways, and in part to work on wounds related to being female in a male-dominated society.
Zoe believes that women are underrepresented in media within the psychedelic and cannabis reform community—"a subculture that aspires to be enlightened." Through Cosmic Sister, Helene financially supports outstanding, communicative women so they can experience the healing, consciousness expansion, clarity and inspiration that she found through ayahuasca. With funding from Cosmic Sister's Plant Spirit Grant, women can participate in authentic, traditional ayahuasca ceremonies at reputable retreats where Indigenous healers and communities are deeply respected and supported in real-world ways that matter.
Psychedelic Feminism is also about supporting a balanced representation of female voices in Cannabis Liberation and the Psychedelic Renaissance. Our approach is informed, strong, direct—and positive—we are interested in helping to move the conversation forward in a civilized and productive manner. We value actions over words, and YES(!) we are making a difference.
"When women support women, our power to create positive change rises in the collective consciousness. When more men choose to be allies, and that is demonstrated through actions, then hope doesn't feel like wishful thinking. We can foster women's voices until a true balance emerges, and only then will the psychedelic journey be fully reflected in our community." - Zoe Helene, founder, Cosmic Sister
Women have been forced to work within a broken system with an extreme power imbalance for millennia. This imbalance has warped and continues to warp the way we are evolving as a species. Our voices matter. Two companion educational grants, Cosmic Sisters of Cannabis and the Women of the Psychedelic Renaissance fund and support Plant Spirit Grant recipients—and other female psychedelic thought leaders—as they educate the public about the benefits and risks of psychedelics and responsible use of sacred plants, including ayahuasca, cannabis and psilocybin, through articles, presentations and public outreach projects.
Cosmic Sister's Psychedelic Feminism advocacy projects were most recently featured in Bust, ABC, The Wisdom Daily, Vice | Broadly, Playboy, AlterNet, Boston Yoga, LA Yoga, AlterNet, Boston Magazine, Utne Reader, Organic Spa Magazine, MassRoots, Psymposia, and Psychedelic Parenting. For a current list of stories related to the project, please visit Cosmic Sister's Women of the Psychedelic Renaissance and Cosmic Sisters of Cannabis pages.
These projects would not be possible without community support. We deeply appreciate your donation by way of our fiscal sponsorship with the Multidisciplinary Association for Psychedelic Studies (MAPS). Your donation to MAPS for Cosmic Sister is tax-deductible in the U.S. as allowed by law. All contributions made through this form will be allocated to Cosmic Sister, minus modest (and totally fair!) administrative processing fees.
THE PSYCHEDELIC FEMINISM GRANTS
Cosmic Sister currently offers three interconnected grant programs in the psychedelic feminism and sacred plant medicine space. Please find a brief description of each, below: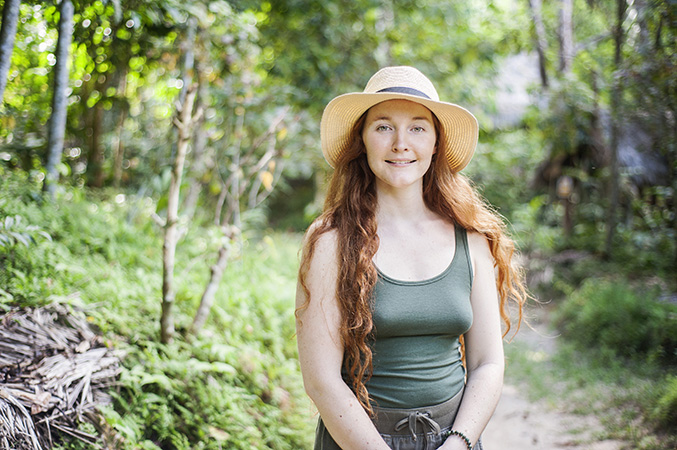 PLANT SPIRIT GRANT
The Cosmic Sister Plant Spirit Grant is a merit-based program that supports outstanding women from all walks of life and in different times of life to experience the healing and consciousness-expanding journey of ayahuasca ceremony in the Peruvian Amazon. Ayahuasca, a traditional psychedelic brew, is not only legal in Peru—it is designated as a "Cultural Patrimony" by the Peruvian government.
IMAGE: 2018 Plant Spirit Grant recipient Caitlin Moakley at Temple of The Way of Light. Photo by Tracey Eller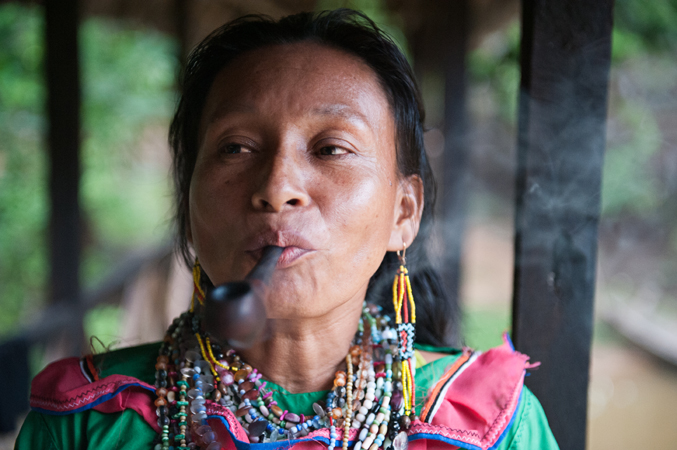 WOMEN OF THE PSYCHEDELIC RENAISSANCE
Cosmic Sister's Women of the Psychedelic Renaissance and Cosmic Sisters of Cannabis educational advocacy projects focus on helping women educate the public honestly about the risks and benefits of psychedelics and responsible work with sacred plants (and fungi) in transformational, self-liberating, consciousness-expanding mind/body/spirit work with sacred plants such as ayahuasca, cannabis, peyote, iboga and psilocybin mushrooms. Women play a vital role in the movement and have unique and fascinating voices to share. Our mission is to see more powerful stories about women's frontline work in this arena to the forefront of public conversation, helping to promote a healthy gender balance in this important, exciting frontier mind/body/spirit wellness work.
IMAGE: Shipibo Maestro Estella Pangosa Sinacay, Peruvian Amazon. Photo by Tracey Eller / Cosmic Sister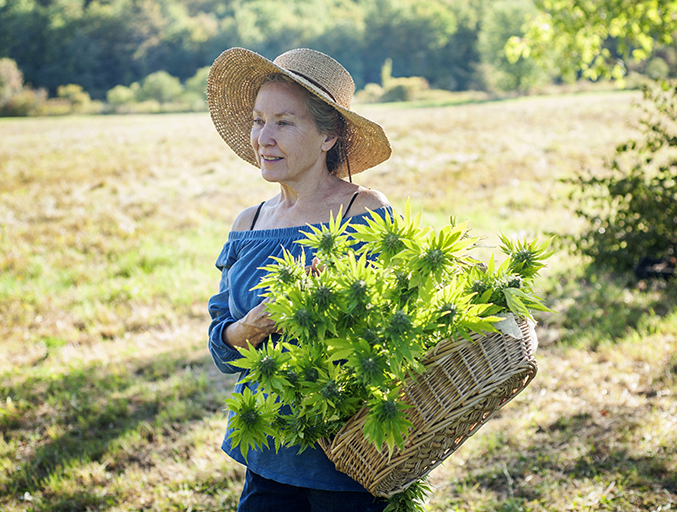 COSMIC SISTERS OF CANNABIS
The Cosmic Sisters of Cannabis education initiative covers women of the cannabis liberation movement. We also include stories by women in support of cannabis reform, that are sometimes about men. We have many great stories in the works!
IMAGE: Susan Sheldon, cannabis harvest. Photo by Tracey Eller / Cosmic Sister
SOCIAL MEDIA
Cosmic Sister | Facebook (facebook.com/cosmicsister)
Cosmic Sister | Linkedin (linkedin.com/company/cosmicsister)
Cosmic Sister | Linkedin (pinterest.com/cosmicsister)
Cosmic Sister | Twitter (@cosmicsister)
Cosmic Sister | Instagram (@cosmicsister)
THANK YOU FOR YOUR SUPPORT
Donations for Cosmic Sisters of Cannabis and the Cosmic Sister Women of the Psychedelic Renaissance education initiatives are tax-deductible in the U.S. through our fiscal sponsor, The Multidisciplinary Association for Psychedelic Studies (MAPS). Thank you for your SUPPORT.
FAQ PAGE
For more information about the Cosmic Sister Plant Spirit Grant, please see Frequently Asked Questions.
JOIN US ON SOCIAL MEDIA
PSYCHEDELIC WOMEN