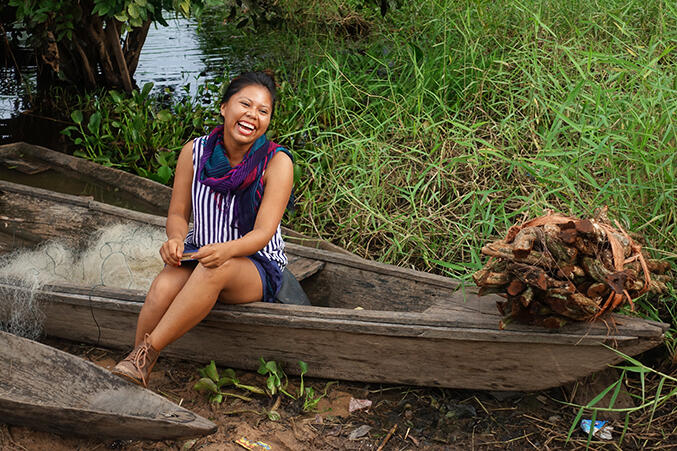 Photo of Kley in the Peruvian Amazion with ayahuasca by Chris Kilham
COSMIC SISTER SPECIAL TALENT SCHOLARSHIP
The merit-based Cosmic Sister Special Talent Scholarship helps women explore educational opportunities in support of female voices in environmental and psychedelic feminism—and beyond.
The program financially supports women like Kleylli "Kley" Vargas Urquia (in photo above), an Indigenous Shipibo forestry student in Pucallpa in the Peruvian Amazon. Kley received an ongoing Cosmic Sister Special Talent Scholarship to cover tuition and related expenses National Intercultural University of the Amazon (UNIA), where she is focusing on sustainability and the ayahuasca vine, a sacred medicine of her people.
Kley is a dedicated student with a bright future advocating for sustainable medicine plant trade and the Amazon rainforests. She served as Shipibo ambassador and translator for ethnobotanist Chris Kilham when he conducted the first Ayahuasca Sustainability Field Research Study published by the American Botanical Council. Kley will be the first woman in her community to earn a college degree, and she serves as an example of female empowerment for younger girls.