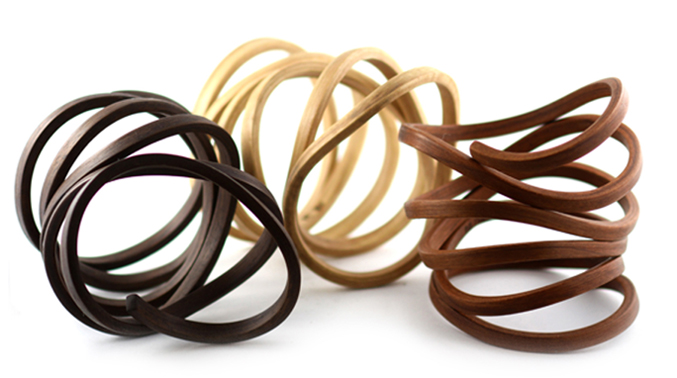 Elements of Autumn: Five Phases of Wearable Art, in Harmony
Organic Spa, CLTV, Huffington Post, PULSE
This selection of fine eco-friendly and ethically sourced artisan jewelry was inspired by the Chinese "Five Elements" or "Five Phases" tradition of body/mind/spirit wellness developed by early Taoist philosophers to interpret rhythms and relationships between the human body and the natural environment. The material world's essential elements are wood, fire, earth, metal and water. To achieve wellness, all five must be in balance.
"The ancient Chinese understood and respected the universal cycles of nature, including the seasonal cycles, and harmonized with them to live well," says Boston-based acupuncture and Chinese herbal medicine master practitioner Lisa Bernazani, "The spirit of WOOD is of both being and becoming--being true to one's nature and becoming more of oneself. The spirit of FIRE is a love for all things and a need to be one with everything. The spirit of EARTH is receptivity--she nourishes herself and in turn receives the creative powers of the Divine Creative. The spirit of METAL is detachment and the wisdom that within every ending is the promise of a new beginning. The spirit of WATER is abundant, directed and adaptable. Water holds firm to its course and flows on toward its goal."
Every individual is a mix of elements. A stronger presence of one or more elements in your nature implies a personality type. WOOD people tend to be kind, optimistic and innovative; FIRE people tend to be adventurous, passionate and sensual; EARTH people tend to be generous, communicative and trustworthy; METAL people tend to be righteous, meditative and determined; WATER people tend to be dreamers, with great intellect.
RESOURCES
These pieces were made by artists committed to a healthy environment and human rights. Eco-friendly and ethical standards include reclaimed or recycled precious metals and other salvaged and repurposed material. All of the diamonds and gemstones originate from certified conflict-free sources and from countries that follow United Nations human rights resolutions. Want to learn more? Jewelry professionals around the world are working together to create systems that promote positive change. Check out these online resources:
Fair Trade Gems (fairtradegems.com)
No Dirty Gold (nodirtygold.org)
Fair Trade Federation (fairtradefederation.org)
Global Witness (globalwitness.org)
Ethical Metalsmiths (ethicalmetalsmiths.org)
Kimberley Process (KimberleyProcess.com)
Turquoise Mountain (turquoisemountain.org)