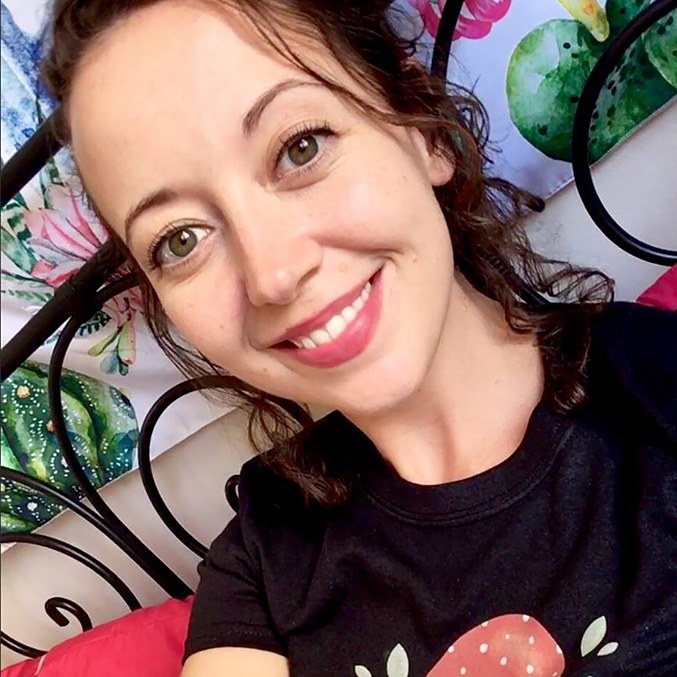 Cosmic Sister Emerging Voices Award
with Spirit Plant Medicine Conference
Congratulations Cosmic Sister Emerging Voices Award (CS EVA) recipient Anne-Marie Armour!
Vancouver, BC-based harm-reduction social worker and psychedelic advocate Anne-Marie Armour has worked the front lines in Vancouver's Downtown Eastside, the epicentre of Canada's opioid epidemic, for 5 years. "Repeatedly witnessing the deadly effects of prohibition, capitalism, and other oppressions on people I love takes its toll; psychedelics provide me with hope that things will get better," she says.
As executive assistant and volunteer coordinator for the Multidisciplinary Association for Psychedelic Studies Canada for 2.5 years, Anne-Marie led efforts to raise money and awareness for psychedelic research. "As we approach legalization, reducing barriers to accessing safe medicine needs to be a top priority," she says. "Let's legitimize the safety and efficacy of these powerful medicines through research and then put them in the hands of pre-existing healers to work with their local communities in culturally sensitive ways."
Anne-Marie co-organized the Psychedelic Symposium and Cosmic Sister Fundraiser, the first psychedelic event in Vancouver featuring all female speakers. "We love our male allies, but the psychedelic sphere is heavily male-dominated, and it's time to bring visibility to the incredible self-identified women in the field," she says.
Anne-Marie hopes psychedelics will become a promising treatment option. "There is no one-size-fits-all approach to healing, hence the abysmal success rates of traditional mental health and addiction treatments. Intentional use of psychedelics offers a unique alternative, enabling us to access wisdom and guidance from the only true expert in our lives: ourselves."
In partnership with Spirit Plant Medicine Conference in Vancouver, BC, Nov. 1 - 3, the Cosmic Sister Emerging Voices Award (CS EVA) increases visibility for talented women in psychedelics who work tirelessly in supportive, behind-the-scenes roles, as well as talented newcomers who shine in spotlight positions.