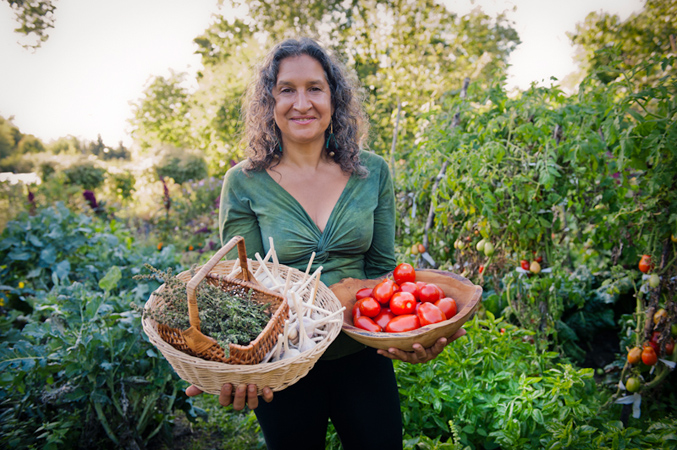 Seed-to-Table Bounty: Wisdom From the Organic Gourmet
For 25 years, Leslie Cerier, aka The Organic Gourmet, has been teaching the art of healthy and delicious cooking at some of the finest eco lifestyle centers and spas in the world. There's a reason her classes are so popular.
A lifetime of wisdom and expertise is part of it. Authenticity, warmth and passion also help. But as any participant will tell you, Leslie's classes are not only informative -- they are fun. People come out feeling inspired.
Leslie is the author of five cookbooks, including Gluten-Free Recipes for the Conscious Cook, Going Wild in the Kitchen and The Quick and Easy Organic Gourmet. She has developed recipes for leading food companies and been featured in dozens of media stories. Her gift for translating potentially dull diets and ideas into a bounty of flavor and satisfaction has made her a leading authority on healthy food.
Zoe Helene sat down with Leslie recently to find out her latest advice on eating for sustenance and sustainability.
ZOE HELENE: What exactly does 'seed-to-table' mean?
LESLIE CERIER: Seed-to-table cooking is a celebration of the earth's bounty. It's about adapting your meals to what is fresh. It's about creating recipes from what you just picked from the garden or what the farmer just harvested. It's about composing a dish by walking through the organic farm or garden, the farmers market or the produce aisle in the natural food market and letting the beauty and the bounty inspire you, then taking that happy feeling into the kitchen and cooking up something luscious.
ZH: What are some of the benefits?
LC: You know your food. You follow the chain of the food from the ground to your mouth. You understand its origin, its quality and its potency. I want to know what's going into my body.
ZH: What would be the ideal food scenario?
LC: The ideal is local, seasonal and organically grown.
ZH: OK, let's break that down. Why local?
LC: Local is the most fresh you can get, and there's nothing tastier. Plus, fresh is more nutritious. Also, and this is important, buying local supports local people who love putting their hands in the soil. The heart and soul of the gardener goes into the food that goes into your body.
Local also means you don't truck it across the country, so next-to-no carbon footprint. The goal is to be part of the solution and respect the environment by making the lightest footprint while still feasting.
ZH: Feasting sounds great. OK, so why seasonal?
LC: Seasons are different everywhere. In certain places in California, you can harvest most of the year. I live in New England where seasons are distinct and often extreme. We're seeing fascinating innovation in local greenhouses to prolong seasons, especially now that we're already experiencing climate change, and weather is getting more and more unpredictable.
Some foods store well, such as root vegetables from autumn harvest; some things like parsnips and carrots can be over wintered.
ZH: What does that mean, 'over wintered'? That's new to me.
LC: It means leaving ripe vegetables stored in the ground over the winter, because they do well there if you know what you're doing. When the ground softens in April, you pull them up, and the ones I've had are super sweet and juicy.
ZH: And why organic?
LC: Organic is essential when you're looking at the highest good and the bigger picture. If you poison the soil, you poison the planet, and you poison yourself. That's common sense. If you're interested in the science of organics, The Organic Center in Colorado is a great resource.
ZH: So why does organic taste so darned good?
LC: Because of the love and devotion that went into growing and cooking the food. The produce is coming from the heart of the earth and the heart of the farmer. Then you put your heart into it when you make a meal and then the person who gets to eat it does so with love - it is combined love, and you can taste that!
ZH: I love the idea of urban gardens and kitchen gardens.
LC: Sprouts, mushrooms and herbs you can easily grow in your apartment. You can start from seedlings or seeds. Some like sun, some like partial sun, but you find that spot in your home. It's an easy, inexpensive, incredibly abundant way to have fresh food right at your fingertips.
ZH: How do we find glorious, locally grown organic food?
LC: If not from your own garden, look for farmers' markets. If you can't get to a farmers' market, it's great if you can go to Whole Foods or other natural retailers. But the small scale, the artisan heart-to-heart connection is where it's at, and buying direct supports your local economy.
ZH: Tell me about community-supported agriculture (CSAs).
LC: CSAs all work a little differently. With most, you commit to a fee, so they can focus on growing the food and know what to grow. Some of them deliver, some don't. I like to go to the markets and the farms myself, but that might not be possible for parents with small children, or people who work long hours. Whatever it takes to make sure you get fresh organic food -- do it!
ZH: Going to farms and farmers' markets is fun for you -- they're destination points?
LC: Absolutely! I love going out to the CSAs, and chatting it up with the farmers and just being in the scene. It's a community, and they have community events around harvests like strawberry pick potlucks or potato dig potlucks -- ways to bring people together around food. This is true grassroots as in: We're going to make it our own!


THE ULTIMATE CLASSIC PASTA SAUCE
Makes about 8 cups
This is the ultimate pasta sauce to make use of summer's bounty. It makes a lot, so you might want to enjoy some right away and store the rest in the freezer for a taste of sunshine in the middle of winter. It's especially delicious with homemade Marinated Dried Tomatoes, but store-bought will do in a pinch. Try this sauce on any gluten-free pasta; brown rice spirals and rigatoni are especially fun shapes.
2 tablespoons extra-virgin olive oil
1/2 cup coarsely chopped onion
12 cups coarsely chopped plum tomatoes
1/2 cup chopped fresh fennel
1/4 cup marinated dried tomatoes
2 cups fresh basil leaves, chopped
3 tablespoons fresh thyme leaves
3 tablespoons fresh oregano
2 teaspoons sea salt
10 cloves garlic, pressed
Heat the oil in a soup pot over medium heat. Add the onion and sauté for about 5 minutes, until it begins to soften. Stir in the tomatoes, oregano, and dried tomatoes and cook, stirring occasionally, until hot and bubbling. Lower the heat, cover, and simmer, stirring occasionally, for an hour or two, until the tomatoes practically dissolve and the sauce is as thick as you want.
Stir in the basil, thyme, fennel, and salt and continue to cook, stirring occasionally, for about 5 minutes, to blend in the flavors of the herbs. Stir in the garlic. Taste and adjust the seasonings if desired.

Recipe courtesy Gluten-Free Recipes for the Conscious Cook, by Leslie Cerier (New Harbinger, Inc).
RESOURCES:
Community Supported Agriculture: Local Harvest helps people connect to organically grown and sustainably produced food.
Door-to-Door Organics: Door-to-Door partners with organic farmers to deliver the freshest seasonal, local produce right to your home.
Garden Kits for Kitchens: Here are three of many great websites with everything you could possibly need to grow organic sprouts, mushrooms and herbs right in your home: Sprout People, WheatgrassKits, and HandyPantry.