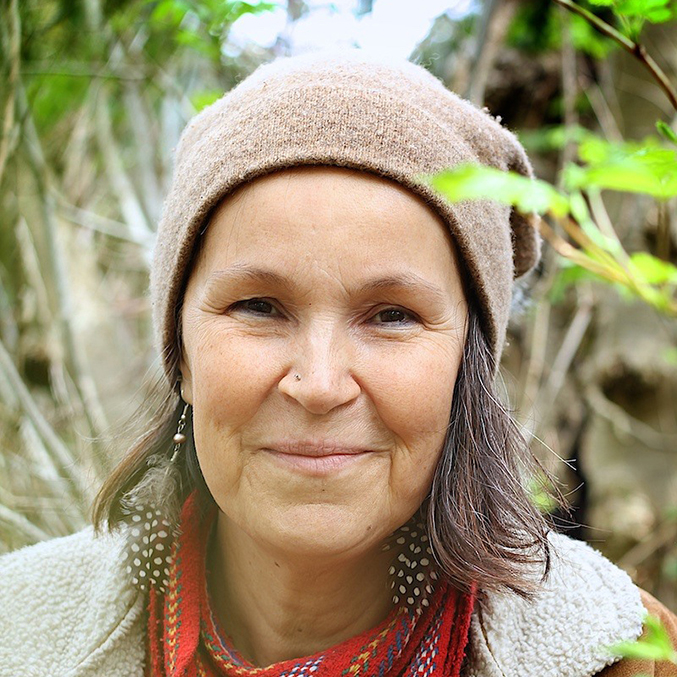 Lori Snyder by Apple Star
Lori Snyder wins Cosmic Sister Emerging Voices Award
Cosmic Sister Emerging Voices Award
Congratulations, Cosmic Sister Emerging Voices Award (CS EVA) recipient Lori Snyder (@earthcompany)!
A First Nations Métis herbalist and educator, Lori shares the wisdom of her Indigenous Nations Turtle Island and Celtic ancestors. Lori studies and teaches about wild, native and medicinal plants. Her vision is to plant edible and medicinal food forests and harvesting corridors in North American urban landscapes.
Through Earth and Company, Lori leads workshops on plant identification and the art of medicine making. "Some see weeds, I see edibles and traditional medicines, our ancestor's foods," she says. She is working with the Province of BC to incorporate Indigenous teachings into the curriculum and has helped develop nine Indigenous foodscapes on school grounds.
On the unceded land of the Coast Salish, Grandmother Ayahuasca brought Lori and Laura Cisneros (@unfolderingsenders) together to create awareness about expanding our relations in nature. As artists in residence for the Hastings Sunrise Community Centre, Lori and Laura lead retreats, nature walks and cannabis ceremonies, donating 18 percent of proceeds to the Chinimp and Amazanga communities, Amazon, Ecuador.
Lori also leads night walks, inviting people to smoke/ingest cannabis (or not). "Cannabis opens us to the Nature Spirit," she says. "When co-creating a relationship with the living world, you learn about nature as she heals us. Swim in the ocean, witness the night sky, walk bare foot on the land, hug a tree or lay on the earth, watch the clouds—these are all ways to integrate."
"Many people working with sacred psychedelic medicines talk about integration," Lori adds. "We're here to be in service to the plant world—how are you integrating that? Are you eating the plants or growing the plants? Do you know them?"
In partnership with Spirit Plant Medicine Conference, the CS EVA increases visibility for talented women in psychedelics and cannabis who work tirelessly in behind-the-scenes roles, as well as newcomers who bring unique voice and talent to the community and/or who shine in spotlight positions.
Nominated by Celina Archambault (@plant_tigress). Photo by Apple Star (@applestarphoto).
---
#LoriSnyder #naturespirit #cannabis #ayahuasca #integration #FirstNations #Métis #Indeginous #IndigenousWomen #BIWOC #TurtleIsland #Celtic #herbalist #PsychedelicFeminism #CosmicSister #ZoeHelene #wildernesswithin #women #wilderness #wildlife #psychedelic #plantspirit #sacredplant #entheogen #womensupportingwomen #nature #plantmedicine #earth #womeninpsychedelics