Rockstar by Kimerlee Curyl
"Freedom Vanishing" Exhibit Helps to Save America's Precious Wild Horses
If you're traveling through or live near Tulsa, Oklahoma, in early October, you won't want to miss Kimerlee Curyl's "Freedom Vanishing," a special art photography exhibition in support of America's legendary wild horses, at Aberson Exhibits. Proceeds from the event will benefit Return to Freedom American Wild Horse Sanctuary and the Black Hills Wild Horse Sanctuary, two leading non-profits working to save and protect America's remaining wild horses, who are under aggressive attack and rapidly disappearing from government-managed, citizen-owned wilderness spaces.
A rising fine art photography star, Kimerlee Curyl has intense passion for and connection to the spirit of the wild horse. Her inspired images express the horses' archetypal spirit and remind us that freedom is precious and can be taken away in an instant. Curyl has photographed some of the world's most beautiful horses, but her true passion is spending time on the rangelands, embedded into enormous herds of wild horses. She hopes to inspire others to appreciate these creatures' beauty and take an interest in helping preserve their ability to survive in their natural habitats.
Curyl has been the premier photographer for American Wild Horse Sanctuary for seven years. "Kimerlee's dedication to wild horses on the rangelands, where they continue to fight to survive, has helped inspire programs and photography of wild horses internationally," says Return to Freedom founder Neda DeMayo. "Her work bears testimony to the emotional world of these magnificent creatures."
"Kimerlee's work is very Zen," says Aberson Exhibits creative director Kim Fonder. "She creates space for the wild horse in her photographs, encouraging viewers to create space for the horses in their minds and hearts. That's powerful."
Every year, the federal government rounds up thousands of wild horses with low-flying helicopters, causing them to stampede into corrals and pens. The Bureau of Land Management (BLM) states that it "protects, manages, and controls wild horses and burros under the authority of the 1971 Wild Free-Roaming Horses and Burros Act. As an agency that administers the public lands for multiple uses, the BLM works to ensure that herd populations across 10 Western states are in balance with rangeland resources and other uses of the public lands." But who is managing the managers, and what is our land being used for?
"These round ups are far below the standard of humane treatment of animals that most Americans will tolerate, yet these tactics have been used for decades far out of public view," says DeMayo. "As a consequence, there are now more wild horses stockpiled in government holding facilities than live free in the wild. If we don't act to stop these cruel practices, wild horses will soon be gone forever."
Oklahoma and New Mexico may soon reopen slaughterhouses for wild horses. "I have listened to and read the arguments from those pro-slaughter with an open mind," Curyl says, "I have watched video footage of a horse being slaughtered so that I could speak from a place of knowing and further understanding. These images will haunt me forever."
"Our nation's wild horses are on the front lines in an ongoing battle over public land use and the allocation of our natural resources. What they face now, we face next. Their only crime is that no one profits from their freedom," says DeMayo.
Sanctuaries are the only remaining places in North America where wild horses are safe and protected in wilderness habitat. "Imagine a place where, as far as the eye can see, miles and miles to the horizon, you can view America as it was 300 years ago," says Dayton O. Hyde, founder and president of Black Hills Wild Horse Sanctuary. "Imagine a place where wild horses run free across endless prairies, hooves striking thunder, manes and tails flying in the wind. This is one of the last great wilderness prairies where wild horses live out their lives in peace and run free," adds Susan Watt, the sanctuary's program director, "What we do here makes a huge difference."
Before she focused on wild horses, Curyl photographed famous horses, more lucrative work that was out of sync with her spiritual path. "Whenever I see simple tasks such as leading a horse not done in harmony or fairness to the horse, I feel so saddened," she says. "When the human's goal becomes more important than the horse's needs, I feel hurt. I'm too sensitive to take a paycheck and walk away from a lot of what I have seen in previous years, and it was making me ill."
Curyl now has a more modest paycheck but a more extraordinary and exciting life. "Success for me is having harmony with my horses in whatever we're doing," she says.
Curyl's Special Artist Talk and Invitational Benefit Dinner will take place on Wednesday, October 2, and an artist reception and opening will he held on Thursday, October 3, at Aberson Exhibits in Tulsa. The gallery is open from Tuesday through Saturday, 11 a.m. to 5 p.m.
Stay tuned for a feature and interview with Curyl celebrating The Year of the Horse in the January 2014 issue of Organic Spa Magazine, Cosmic Sister, and Zoe Helene's upcoming interview with Curyl on Huffington Post.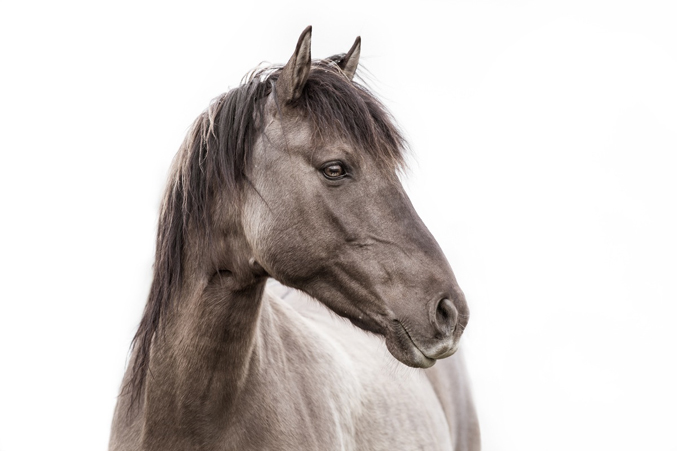 Freedom Vanishing, Black Hills Wild Horse Sanctuary, SD 2013
♥
"A beautiful Sulpher Springs Mare, a descendant from the first round up in the Sulpher Springs Herd Management Area (HMA) in Utah back in the 90's. These horses carry powerful DNA similar to the primitive Iberian horses the Sorria. The Herd Management Area (HMA) is known for harsh and rugged terrain, the horses although smaller in stature are hardy, strong and distinctively Spanish with strong leg markings and dorsal stripes. While out with this herd in their hundreds of protected acres in South Dakotas Black Hills, this mare, whom at first glance, I thought was a stallion, had a presence of strength, wisdom and protection. Like the protective stallions in the wild, every time I looked up, turned around, moved through the herd I would find her near me. This image represents her strength but I feel the vulnerability to the timely and pressing issue these horses are facing... extinction... Freedom Vanishing." – Kimerlee Curyl
40" x 60"
Photo on Eco Friendly Sugar Cane Paper, in white box frame
Limited edition size 15
RESOURCES
Kimerlee Curyl Photography (www.kimerleecuryl.com)
Return to Freedom Wild Horse Sanctuary (www.returntofreedom.org)
Black Hills Wild Horse Sanctuary (www.wildmustangs.com)
Aberson Exhibts (abersonexhibits.com)
PURCHASING INFORMATION
A portion of proceeds will benefit Return to Freedom Horse Sanctuary and the Black Hills Wild Horse Sanctuary, two leading non-profit organizations working to save and protect America's remaining wild horses. Large format fine art Sugar Cane prints are eco friendly and museum quality. Please contact Aberson Exhibts for more information and pricing.