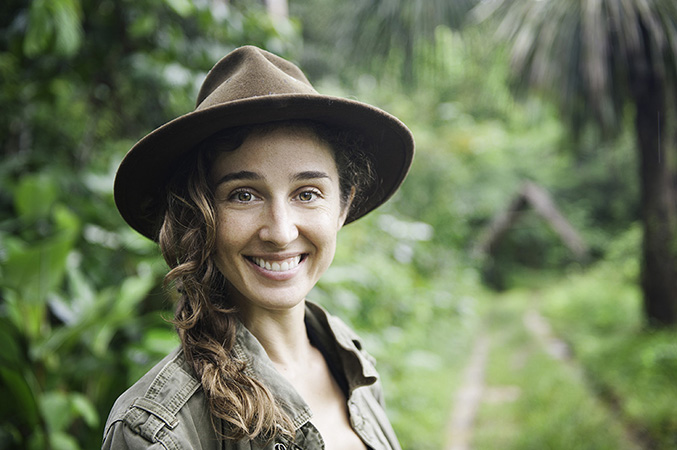 Katie Bain at Dreamglade. Photo by Tracey Eller / Cosmic Sister
Journalist (electronic music, culture and travel)
Year born: 1983, Year of grant: 2016 (33 in ceremony)
Katie Bain (33) is a Los Angeles-based journalist who was born and raised in Wisconsin. Her articles, focused primarily on electronic music, culture and travel (her passions), have been published on websites and in magazines and literary journals, including Noisey, Billboard, The Huffington Post, L.A. Weekly, The Rattling Wall, Insomniac and Beatport News.
Through the music and festival scene, Katie became interested in drug policy, psychedelics and the intersection of music and altered states of consciousness. "For me, music is and has always been a way to channel emotions and achieve a sort of elevated perspective," Katie says. "While I was raised Catholic, the majority of the so-called 'spiritual' experiences I've had have happened while listening to music, usually in a live setting. It was this sort of pragmatic access to deep, visceral and immediate states of being that also drew me ayahuasca, as the ceremonial space allows for one-on-one interaction with what often feels like an elevated form of intelligence."
Katie is fascinated by psychedelics and controlled substances because of their ability to provide mentally, emotionally and spiritually beneficial experiences and their potential to create positive long-lasting effects on overall well-being. "The intersection of music and psychedelics has become the sweet spot in terms of my professional coverage, because it is one of the places where all of these things meet, for me and for many others I've met," she says. "It's also a realm that is often misrepresented and misunderstood, and it's my goal to be sort of translator and illuminate that psychedelics have incredibly effective therapeutic properties that can be beneficial for all kinds of people."
Katie has written about the Los Angeles ayahuasca community, ibogaine therapy, MDMA, national and local drug policy, and the effects of controlled substances on musical cognition. She has attended and written about music festivals in California, the American South, Mexico, England, the Caribbean and Israel. She approaches her work through a combination of traditional reporting and first-person narrative nonfiction.
"Ayahuasca has been part of my life for the last six years," Katie says. "I've sat extensively in Los Angeles, Ojai and Joshua Tree after getting into the practice almost by accident, when attending a ceremony with a now ex-boyfriend. What initially compelled me to ceremony, and what keeps me coming back, are the extreme therapeutic opportunities provided by ayahuasca, along with the fact that is the wildest and most profound thing I know how to tap into on a regular basis. I've been really lucky to find a high-integrity community, and I've learned so much from them."
Katie is excited to see how the ceremonial experience is different in the Amazon, where it originated. "While in Peru, my intention is to use the space to explore new artistic and creative realms and work with whatever other scenarios present themselves," she says. "Being on an immersive journalism assignment in Peru is a silver lining in the sense that everything—the good, the bad, the scary, and the utterly foreign—will be material for the article I'm writing about the trip. I could not be more excited about this adventure."
---
Plant Spirit Grant 2016
Women of the Psychedelic Renaissance Grant 2016
Ayahuasca Retreat: DreamGlade / Ayahuasca Foundation