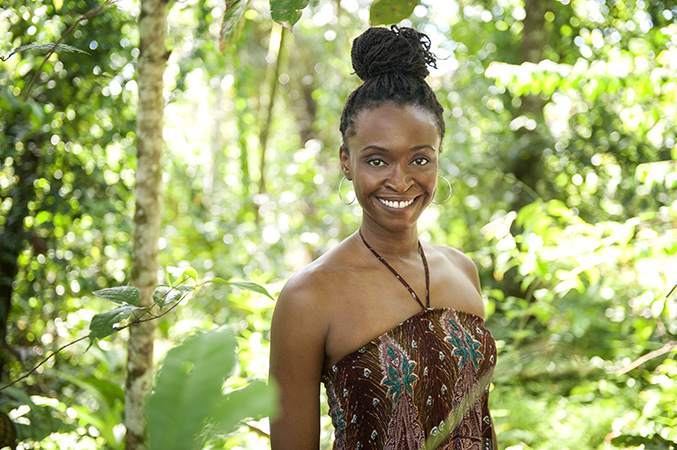 Chioma Nwosu on location at Temple of The Way of Light in the Peruvian Amazon. Photo by Tracey Eller
Cosmic Sister Plant Spirit Grant 2018
Yogi, Massage Therapist, Social Justice Activist, Performing Artist
DOB: 07/31/1978 (39 in ceremony)
Lives in: Los Angeles, CA
Chioma Nwosu is a Nigerian-born, Detroit-raised massage therapist, yoga instructor, preventative health enthusiast and certified pharmacy technician based in Los Angeles. She earned a Bachelor's of Science degree in Health Science from Grand Valley State University in Michigan and continues to study biomedical sciences extensively as she cultivates routes to mindfulness with connection to breath, self-mastery, proper body alignment and connection to the Divine.
"I've got a big heart, holistic approach to body and intuitive hands," Chioma says.
A public speaker since she was 11 years old, Chioma is passionate about dancing and acting and hopes to cultivate a career as a performing artist. She is a member of the Screen Actors Guild, formed her own production company, Grason Pictures, and helped build the African Artists Association to support African actors. "I want to use my strength as a communicator to empower and inspire others to access their own healing and peace so we all can add to the collective and achieve world peace," she says. She wants to explore this work in ceremony.
Chioma, the oldest of six children, moved to Detroit with her family when she was three years old. Her father, a veteran of the BIAFRA War – which Chioma says "resulted in the near genocide of my tribe, the Igbo" – bears the mental and emotional scars of being forced to fight against his own people.
Since her mother died when she was 21, Chioma has struggled to treat debilitating depression through a combination of cannabis-facilitated meditation and yoga. "Without my mother's unconditional love and support, I feel lost and uncertain of my direction," she says. "Because of this, I'm not living up to my potential."
As therapist after therapist prescribed pills to ease her pain, Chioma earned her Pharmacy Technician certificate in hopes of understanding their efficacy. "The more I learned, the less I wanted to introduce those toxins into my body," she says. She is looking into more holistic ways to help people with anxiety and depression "connect with their fractured selves and head toward wholeness."
She intends to address this as well as her fears about getting into a relationship in the medicine space. "I want to be married and have children," Chioma says. "I want my family to be a cohesive group of individuals who support and love each other, unconditionally."
Chioma obtained her yoga teaching certificate in 2016 and has studied a variety of massage techniques from some of the industry's best practitioners and now, as the sole proprietor of Chloe Massage Spa, she provides private massage, therapy, yoga and meditation sessions and advises clients on maintaining healthy lifestyles and wellness. Her mission when she teaches at Green Tree Yoga & Meditation Foundation in Los Angeles is to focus on cultivating a mindful Vinyasa flow with connection to breath, proper body alignment and engagement of the root chakra for grounding.
Chioma enjoys partnering with progressive organizations centered on inclusion and social justice activism through classes, discussions and workshops. After completing training with the Green Tree Yoga Meditation Foundation, a social justice movement bringing access to healing modalities to South LA, she began to teach yoga and meditation within the South LA community, where unhealthy food and liquor stores are easy to come by but yoga studios aren't.
"This demographic does not enjoy the same level of access enjoyed by the stereotypical yoga population in the yoga hub of West LA. Many of these residents are suffering and looking for a way to cope and without our studio would have no place to go," Chioma says. "This inspired me to create workshops and programs with mission to offer more yoga in and around South L.A. and teach for Green Tree as a tool for service and healing in a community that really needs it."
Chioma, who has not returned to Nigeria since her mother died in 2000, dreams of building a commemorative center for holistic health honoring her mother in her native country.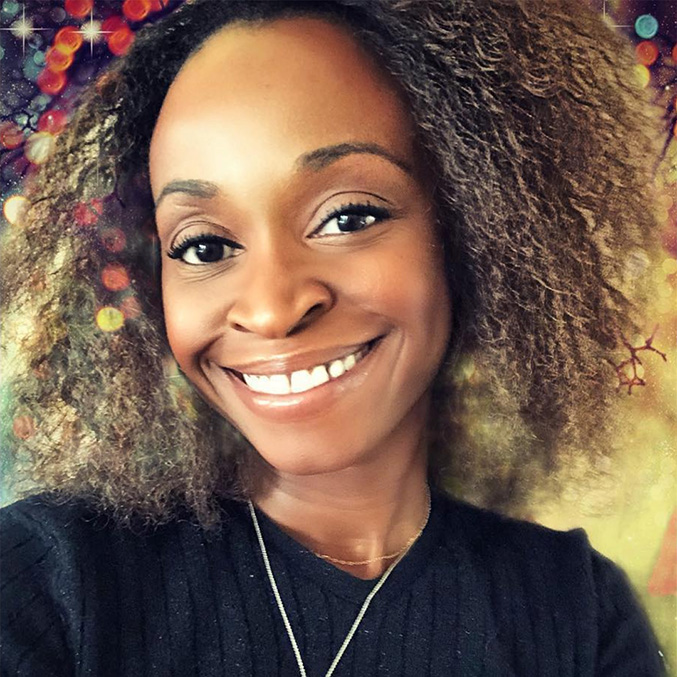 "I am looking into more holistic ways to help people with anxiety and depression, to connect with their fractured selves and head toward wholeness."
-- Chioma Nwosu
Chioma's lovely pre-ayahuasca portrait.
Cosmic Sister Plant Spirit Grant 2018
Cosmic Sisters of Cannabis Grant 2018
Women of the Psychedelic Renaissance Grant 2018
Ayahuasca Retreat: Temple of The Way of Light