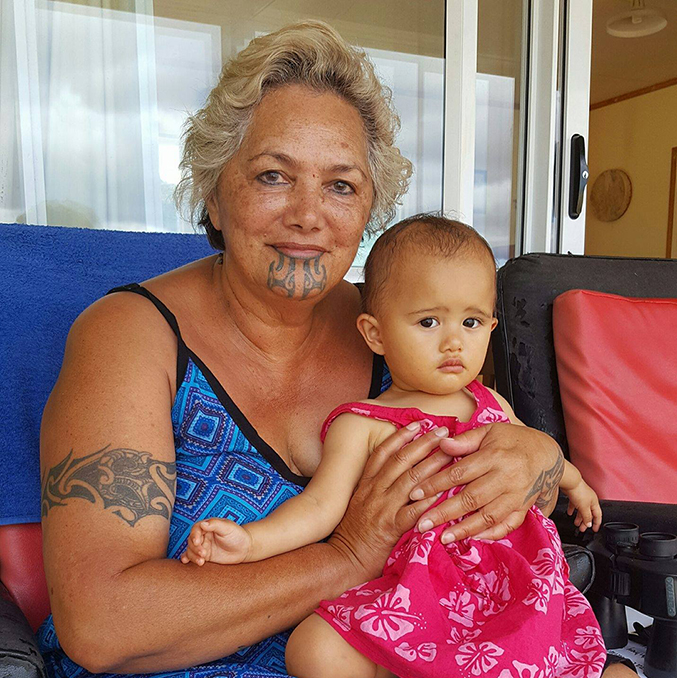 Deirdre Nehua with Granddaughter
//081 Deirdre Nehua, poet + social activist
Heroines of the Hikoi: Deirdre Nehua, NUKU Women.
Deirdre Nehua (Ngātiwai / Ngāti Hao) has spent most of her life working for positive change for ngāi Māori, challenging the racism and inequities thrust upon our communities as a result of colonisation. She is also a writer and poet.
---
Hīkoi: Long Shadow of the March
Heroines of the Hikoi: Deirdre Nehua, part five of our video series Hīkoi: Long Shadow of the March we talk to Deirdre Nehua.
---
Descendant livid over 'offensive' artwork depicting ancestor
Heroines of the Hikoi: Deirdre Nehua, Deirdre Nehua speaks out for her ancestors on TVNZ.
---
Ngati Wai / Maui's Dolphin
"It is true what you say about the dolphin, they are our (Ngati Wai) tribal guardians and as such we have always had a close and spiritual connection with them. They are our tribal protectors on the moana (sea) and our people have a special ability to speak with them, so naturally we too are very concerned." - Deirdre Nehua, Māori Matakite "seer", Poet, Activist
Dolphins are sacred to the Māori people, and Maui is an important deity. Maui created the North Island of Aotearoa (New Zealand) where the Maui dolphin lives. The North Island is known as Te Ika-a-Māui (The Fish of Māui).
Te Ika-a-Māui on Wiki -- a fascinating read(!) Māori names for Hector's and Maui's dolphin include Tutumairekurai, Tupoupou and Popoto.
---
Manukau Urban Maori Authority's Out of Gate Services Manager Deirdre Nehua; We are Maori working
https://www.corrections.govt.nz/resources/newsletters_and_brochures/corr...
Based at Nga Whare Watea Marae in South Auckland, they offer a hands-on approach where Out of Gate kaiarahi (guides) travel to Spring Hill and Mt Eden Corrections Facilities in a van and bring newly released prisoners back to the marae.
Deirdre Nehua, Manukau Urban Maori Authority's (MUMA) Out of Gate Services Manager, says "We welcome them with a quick mihi and karakia to clear the space for a new start. Staff make sure there are fresh scones and a cup of tea. We let them know this is their place, they can come here anytime. Then we take them off to the bank and to get IDs, and to look for somewhere to live. It's so nice to be able to take the time to do this our way."
Many of the released prisoners attend a new interactive tikanga programme which started in November, called Waka Hauora. Deirdre explains; "We take them onto the harbour to learn waka ama and how to paddle together. It teaches a lot about teamwork, and that you can have a good time without drugs, alcohol and gangs."
"We are operating in a way that's more naturally holistic, and we are Maori working for Maori. I am so delighted that Out of Gate is at this xmarae," says Deirdre.
---
Kateao Nehua-Jackson-Arcand (Ngati Wai, Ngati Kahungunu)
https://www.maoritelevision.com/news/politics/how-maori-beauty-queen-shu...
Nehua-Jackson-Arcand, who is the daughter of Te Reo advocates Syd Jackson and Deidre Nehua, grew up in Auckland. She now lives in Canada with her husband and five children.