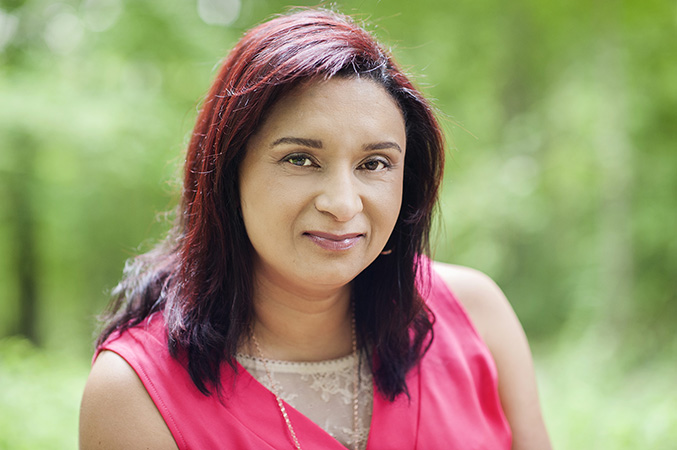 Monnica T. Williams, Ph.D. Photo by Tracey Eller for Cosmic Sister
Racial Trauma, the War on Drugs, and Psychedelic Medicine
Sleeping Octopus Assembly on Psychedelics
Monnica T. Williams, Ph.D., a board-certified, licensed clinical psychologist in three states, specializes in cognitive-behavioral therapies and provides training and supervision for therapists in the treatment of obsessive-compulsive disorder (OCD), posttraumatic stress disorder (PTSD), social anxiety disorder, and culturally informed care. She has conducted clinical research on MDMA-assisted psychotherapy for PTSD as well as the role of culture and race on mental illness. A leading expert in race-based stress and trauma, Monnica works with organizations to improve the racial climate through workshops and interventions.
Monnica was awarded Cosmic Sister's Women of The Psychedelic Renaissance grant in support of her presentation "Racial Trauma, the War on Drugs, and Psychedelic Medicine" at Sleeping Octopus Assembly on Psychedelics (SOAP) – July 13 - 15, in Pittsburgh, Pennsylvania.
The founder and former director of the Louisville OCD Clinic and the Behavioral Wellness Clinics in Kentucky, Pennsylvania, and Virginia, Monnica currently directs the Behavioral Wellness Clinic in Connecticut. She is an Associate Professor in the Department of Psychological Sciences at the University of Connecticut, where she teaches psychopathology, cognitive-behavioral therapies (CBT), and multicultural counseling skills to graduate students.
Monnica started her career as an Assistant Professor at the Center for the Treatment and Study of Anxiety at the University of Pennsylvania School of Medicine in Philadelphia, where she trained under Dr. Edna Foa. She completed her undergraduate studies at MIT (biotechnology) and UCLA (psychology) and received her Master's and Doctoral degrees in Clinical Psychology from the University of Virginia. She completed her clinical internship at McGill University Health Centre, Montreal General Hospital Site.
With more than 100 peer-reviewed scientific articles and book chapters to her credit, Monnica has appeared as a media expert on PBS, CTV, NPR, numerous newscasts and talk shows, and newspaper and magazine articles, including The Washington Post, The New York Times, Fortune, and The Huffington Post. She has written for the New York Times and Slate, and she maintains a blog on Psychology Today called Culturally Speaking. She is an associate editor of The Behavior Therapist and New Ideas in Psychology academic journals. Her work has been funded by local and federal competitive grants, including the National Institutes of Health, the American Psychological Foundation, and the Multidisciplinary Association for Psychedelic Studies.
"The results of oppression are clear in the disparities faced by people with multiple marginalized identities, such as Black women, but the mechanisms are carefully hidden from view. To that end much of my work is intended to make the unseen seen. For African American women, coping with the trauma of racism may involve faith, forgiveness, humor, optimism, grace, and inner strength. These cultural values have allowed us to persevere for centuries even under the most oppressive conditions, but these strategies are also killing us as we don't have space for self-care. I don't think it is reasonable to expect that we can just "fix" people to enable them to manage constant, ongoing acts of prejudice with a smile, and ask them to be perpetually polite, productive, and forgiving. We need a large-scale shift in our social consciousness to really see and understand what is occurring and the toll this takes on victims. Even small acts of racism and sexism must be considered unacceptable. We need those who witnesses injustice to speak out and victims to be supported and believed. I think psychedelic medicine has the potential to help heal the wounds of those suffering from racial trauma and bring healing to the consciousness of those who perpetrate and perpetuate racial violence." - Monnica T. Williams, Ph.D.
---
@drmonnica
Individual Professional Page: www.MonnicaWilliams.com
UConn Faculty Page: https://psych.uconn.edu/faculty/monnica-williams/
Behavioral Wellness Clinic: www.bewellct.com
Lab Webpage: www.MentalHealthDisparities.org
Culturally Speaking / Psychology Today: https://www.psychologytoday.com/us/blog/culturally-speaking
Racism's Psychological Toll, The New York Times, Interview by Jenna Wortham https://www.nytimes.com/2015/06/24/magazine/racisms-psychological-toll.h...
MDMA-Assisted Psychotherapy for Posttraumatic Stress Disorder http://www.mentalhealthdisparities.org/mdma-trauma-study.php