The Yoga Garden: Master Yogi Nicki Doane
Born in 1969 to diplomat parents, Maya Yoga Studio (Mayayogaonline.com). founder and master yogi Nicki Doane grew up traveling the globe. Doane studied in India with Sri K Pattabhi Jois (Guruji) and began teaching Ashtanga Yoga in 1992. These days she's still traveling the globe to share her unique teacher training with students far and wide. Combining principles and techniques from many different yogic traditions, Doane's teaching emphasizes awareness by creating integrity within each pose that can be carried beyond the mat into daily life. Her classes combine asana, pranayama, philosophy, and poetry.
Doane and her husband, Eddie Modestini, live and teach at an off-the-grid homestead and studio on Maui. All electricity is solar-generated; water comes from a well and catchment system; and a lush organic garden provides an abundance of nutritious food year-round.
Your luscious garden sounds divine.
It sustains all of us—not only our family but our entire teacher training group. I feel very strongly about being able to grow our own healthy, organic, non-GMO food. We see food as medicine.
Do you work in the garden?
We all work in the garden. Even our teachers participate and get their hands dirty and see where the food comes from. Every student in the 200-hour training has to put in at least 10 hours in the garden and working the land.
We love to introduce people to foods that a surprising number of people still haven't tried. I'm still surprised when people haven't tried quinoa, for instance, or have never eaten kale. We have ten different types of kale.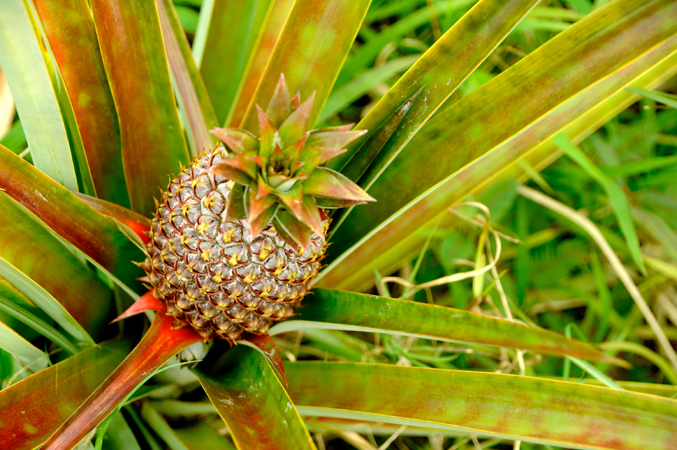 Ripe Pineapple in Nicki Doane's Organic Yoga Garden
♥
"We harvest every morning and eat it right there at lunch. It's wonderful to look at all the food laid out on the table and know that at least 95 percent of it is from our own garden."
– Nicki Doane
What prompted this garden?
We've always had great gardens, but we decided to scale up with the intention of feeding people in our trainings. We just got to this point where we thought, OK we're buying all this organic food, and we've got all this space, and we're feeding all these people. Why don't we just grow it?
It's more nutritious and delicious too.
We harvest every morning and eat it right there at lunch. It's wonderful to look at all the food laid out on the table and know that at least 95 percent of it is from our own garden.
Part of the program at Maya Yoga is sustainable agriculture. We believe it's a very important part of the self-reliant healing system that yoga is, so we teach people how to grow their own food. Even if all you have is an apartment with a balcony or a window, you can still create a micro garden.
And of course you're living somewhere where you can grow things all year.
Yes, and that's amazing. But there's also no killing cycle here, so the bugs are extreme. It's hard to keep it organic, but we do not use chemicals in the garden. We'll be out there with flashlights picking slugs off the lettuce. Its labor intensive. There's real effort in growing this food.
What do you most want to share with the world now?
Right now online classes are really big in the yoga world. We've been a little slow on the uptake, but finally we've launched our site, Maya Yoga Online (Mayayogaonline.com). For a long time we were resistant to online classes because nothing replaces having a person in front of you. So much of yoga is about the relationship.
So what changed your mind?
Some students came up to us and said, "We want to build this website, and we want it to feature you." And when we started researching other online yoga, well—the truth is, there is just so much poor quality material out there, and that started to trouble us. Our classes are great. We're very meticulous and detailed and dedicated, and we've been doing this a long time.
So we really sat with it and realized it was ridiculous to limit ourselves to only the students who could make it here to Maui for a workshop and that there is absolutely nothing wrong with putting our classes online. It was a great mental shift, and now we're very excited about it.
You've also taught yoga to celebrities—like Woody Harrelson.
Woody has been a student of ours for years, and his wife is one of my closest friends. For Woody, yoga's not a fad. We've been friends for so long, and yoga has been such a nice, real core part of our friendship. Most people sort of always want something from a celebrity, so it's been really nice to have something to offer him.
We've also worked with other celebrities, but there's something about Woody—and Ziggy Marley and Michael Franti—those guys really practice!
You've mentioned three men who are true artists, which makes sense because yoga helps you tap into the part of yourself where the art comes from.
Exactly. And everybody has to fill their own well.