Brittany Trubridge, "The Mermaid Yogi". Photo by Elena Kalis
Mermaid Yogi Brittany Trubridge on Communing with Nature's Elements
Brittany Trubridge is affectionately known as "The Mermaid Yogi" for her exquisite underwater yoga art photography. The creator of B. Tru Yoga™ and the TruBlue Foundation, she lives a sweet, balanced life, teaching nature-centric yoga on beaches and in caves in the Bahamas (Fall through Spring) and travels around Europe in the summers holding workshops and various retreats along with her husband, champion freediver, William Trubridge. At their home base in the Bahamas, Brittany teaches William's freediving students yoga while he shares diving and breathing techniques with her yoga students. Brittany's Caribbean Yoga Retreats include daily yoga and lunch picnics, cave excursions, eco boat tours, private Reiki sessions and freediving in Dean's Blue Hole (the world's deepest blue hole) on Long Island, a tiny remote outer island of the Bahamas. Her mission is to help people release "the constructs that veil the pure, raw, fearless love and compassion that defines the essence of our beings."
Brittany and William also share a passion for preserving the ocean and diverse marine life that fuels and nurtures them, and they're working hard to help clean up the mess that humans are making of the shore and seas they love so deeply. Zoe Helene caught up with Brittany to talk about her mission of bringing people closer to nature through yoga, her ocean conservation work, the importance of circling home and how she and Will keep a healthy balance between supporting each other and following their own paths.
Tell me about your nature-centric yoga retreats.
Our Caribbean Yoga Retreats are about getting outside and experiencing nature's elements. Our weekly calendar changes according to the tides and the weather, and we have daily eco-excursions like practicing yoga in a cave and an eco-boat ride to practice yoga on a beautiful sand bar. It's a very sensual approach. We practice on the sand, soaking in the sun with gentle waves lapping in and over and around our bodies.
What inspires this sensual approach?
Gratitude. We're interested in expressing gratitude—for this amazing planet, for the miracle of life, and for being alive and part of that miracle. The idea is to sync the body, mind and spirit with nature by immersing ourselves in nature's elements and saying, "thank you!" through yoga.
And William teaches freediving lessons at your yoga retreats?
We swap off. He teaches freediving for my yoga retreat, and I teach yoga for his freediving retreat. It's one of the sweetest things we do for each other.
Perfect. Love that. Do you still coach William?
I used to be William's main "safety" and coach in his training, but eventually that became very hard for me. No one should ever dive alone. There should always be someone who is a competent diver and qualified to carry out procedure in the event of a shallow water blackout or other complications So I will always safety him if he needs me to (and I do!), but I hand the duty over now when there is someone else around because Will kept diving deeper and deeper and I started getting some pretty bad anxiety.
Plus, you heard your own calling.
I did, and I followed my own little voice, which wanted to focus on yoga, have a home with a garden, and host elemental yoga retreats about gratitude. Once I made the commitment I was able to dive deeply into my own yoga and meditation practice and create community around that.
Partnering deeply is a delicate balance.
In the end, this choice is healthier for me—and in turn, we. It certainly has allowed me to feel more independent and strong as a woman. Now we are growing side by side rather than as "one," and I think this makes us much stronger as a couple.
I still spend more time with Will than anyone else, and I'm always giving him tips on how to refine his yoga and diet and all of that. Will is quite a genius physically and mentally and has tons of tips to offer me as well. We help each other in this way.
What is something you've learned from William?
William taught me that you really have to stick with something and see how far that one thing will take you in order to be a true master at it. Even when you are tired, when it seems like no fun, when it's raining or inconvenient, you show up anyway and you give it all you have.
I understand that you like to cook?
I love to cook! William and I are foodies, so twice during each retreat we host group dinners in our own home, and I cook all the lunches. William and his friends catch fresh seafood, and we eat freshly harvested fruits and vegetables from my garden.
Organic gardening is important to you?
There is nothing more satisfying (and delicious!) than using freshly harvested ingredients from your own organic garden. We have a huge backyard with all sorts of fruit and vegetables. It's not fruitful enough yet for us to live off completely, but that's our goal.
What's the story behind the photo of you practicing yoga on the beach covered with trash?
This is one of the most beautiful beaches on our island, but it is covered with plastic trash that has washed up from the sea. I wanted to raise awareness of what plastic pollution can do to beautiful places like this.
How do you feel when you're on a beach that's been so disrespected?
I feel overwhelmed with sensory overload. There's a lot of energy imprinted on the individual trash items, and each piece has a story. I sense all of those stories and hear that chatter, and they're out of place. They don't belong there, and that's—eerie. That's not what a beautiful beach is for.
Many people don't realize how deadly plastic can be to marine life. It's nothing short of a wildlife crisis.
This is happening all over the world, and it breaks my heart. Sea turtles and sea birds and whales and all sorts of beautiful sea creatures mistake our plastic trash for food and eat it, and it kills them. Or they get trapped in plastic and die. Not hundreds, but hundreds of thousands of marine animals, including close to 300 that are classified as endangered, die every year because of this.
We certainly generate a tremendous amount of trash.
Sometimes I feel so frustrated and helpless because the problem is so huge—but we can't give up. I try to set a living example with lifestyle choices, hoping that it has a trickle-out effect, and William and I organize beach cleanups. We've cleaned up literally tons of plastic trash from the sea and shore. But with every wave, it just keeps on coming.
Is this why you choose to be a Yoga Ambassador for Yogasana mats?
Yes, this is what draws me to Yogasana and why I feel great supporting the brand. Their mats last a lifetime but because they're woven from natural materials, once they've finally worn out they're completely biodegradable.
Plus, they're gorgeous.
They are, and I love every color! They also work very well on rough or wet terrain and because I am often practicing outside, on rocks, in caves or on the diving platform, they are truly perfect for my practice.
But yes, as business entities we share similar ethics, and for me that's important.
Another thing I really like about the brand is that their mats are created by master weavers in India, so the work offers economic sustainability while also supporting cultural preservation. This is a fine traditional craft, and it would be so sad to see it lost.
The mat that you're on in the photo on the beach covered with plastic trash—is that a Yogasana mat?
That's a Yogitoes mat towel that I'm practicing on. It is made from recycled plastic bottles—seven, to be precise. I wanted to demonstrate how trash can be turned into treasure and how we can be peaceful warriors by taking small actions like supporting companies and people who are taking this sort of initiative.
Recycling is another positive approach to dealing with our plastic addiction problem.
There's already so much plastic trash in the world—rebirthing some of it into conscious lifestyle products is another way to elevate the karma.
So both yoga lifestyle brands are taking positive action different ways.
Yes, and all of this makes a big difference, energetically, when practicing yoga.
I agree completely.
Do you share William's passion for New Zealand's critically endangered endemic dolphins?
Yes, very much so. I can't believe this is happening in 2014. I'm appalled that a modern country like New Zealand could knowingly drive their own endemic dolphin to the edge of extinction, even though they can save them so easily.
It's crazy-making.
I do the best I can to raise awareness, and while awareness is key, it's not enough. We need voices—lots of loud voices—to really, truly be heard.
What would you say to the New Zealand government if you could say one thing?
I would say, "Shame on you."
New Zealand just held a general election, and even though anti-conservationist John Key is once again the Prime Minister, conscious Kiwis (and dolphin advocates like us, all over the world) really took a stand on this issue and balance of power in parliament has changed.
Maybe we'll finally see some progress.
You are a Water Spirit like the dolphins!
Dolphins are no different from us. They're intelligent, intuitive, spiritual, emotional—all of it—just in a different shape. But as much as I love dolphins, every species on this Earth is equal and deserving of being here. It is our species that is wiping out others.
We need to decide if we want to evolve in a noble direction or continue down a destructive path that ends with multiple extinctions, if not mass extinction. Its speciocide, and one day we will look back on it in horror like the Holocaust.
Your "mermaid yogi" underwater yoga photography feels inspired and true.
I especially enjoyed working with the photographer, Elena Kalis. It was such a wonderful experience to unite with another like-spirited woman and create art.
What does it feel like to take an asana below the water's surface?
Incredible! In the sea you are weightless, and when you are underwater you are also holding your breath, which stills the mind. Without gravity we are able to enter and soften more comfortably into an asana. We can't hold the posture quite as long, but there is a spark of magic that happens in that brief time. I access a place of timelessness, of bliss, and it feels like home.
Do you need special training?
Yes! Apnea is something that should always be approached with awareness and caution, so I would not recommend trying this at home without proper training and a safety diver alongside. The more these photos get shown, the more I feel I have a responsibility to point that out so there are no accidents!
Even with all this water, there's also quite a fire in you!
I am the Fire Spirit! I think the fire in me is so freakin' strong I need to work with other elements—specifically water—to balance it all out.
Are you drawn to fiery things?
I do find myself drawn to fiery things like fast, hot yoga, sunshine, coffee and super-spicy food. I'm even a bit overly fast-paced mentally and am working to counteract that. I am very passionate!
Passion is good.
This can be a beautiful thing when it is directed in the right way, but if left unchecked it can be devastating to my psyche and physical world.
How do you maintain balance?
To balance I go deep into meditation. Part of me drops into it easily, but another part of me has to work hard to let go of the fire because it is strong and I identify with it so much.
When did you first discover meditation?
I came to it for personal healing. I had a really hard time growing up. I had a lot of self-hatred and a lot of pain to work through. When I was 15, my grandmother gave me a copy of Deepak Chopra's The Seven Spiritual Laws of Success, and I thought, "Let me give this a try." That was the first time I felt love for myself and a sense of freedom.
I also see balance when I look at photos of you doing yoga in the sea, on the shore, on rocks and in sea caves. It's as if you are one with all of nature's elements.
Thank you, I love that you picked up on that because I am really feeling it in the photos and is the message I hope to convey…that we really are one with it.
How do you connect with the element Earth?
I came to the conclusion that the earth is me and I am the earth. Practicing yoga in a cave is very earth (like being in the earth's womb!). I love bringing students there so they can have that experience.
Where are you in the photo on those gorgeous rock formations (they're very Earth Spirit).
Will took that photo of me in CapoTesta in Sardinia, where William first went with his diving teacher, Umberto Pelizzari, to practice pranayama and yoga. It overlooks the sea, and the rock is granite. The energy is immense! That's an "Earth" Yogasana mat I'm practicing on, and I'm also wearing Ayurvedic stacking bracelets by Danielle Weitzler of Ravishing Jewelry. She sends me gorgeous Boho healing stone jewelry (also earth!), and I wear her pieces in my photos. I love supportive relationships like that, and her designs are inspired by yoga and are about shining from the inside out, which works for me!
What about Air Spirit?
William is the Air Spirit. It is his elemental sign, and this is embodied in his deep connection to the breath. He passed his pranayama practice to me, and I have kept it ever since. In a freedive you hold your air in (Antar Kumbhaka), and by doing so, you become a closed circuit of energy. Learning to work with and control the breath or simply just paying attention to it anchors me to the moment.
How you do relate to the element of Ether?
Ether Spirit is at the throat chakra, which I see as embodied through my poetry and writing.
I like this stanza from your poem, "Bodhisattva Child".
Pulsing with the sea.
Spinning with the moon.
Crying with the rain.
Breathing with the trees.
Do you travel a lot?
Before I met William I had not traveled but I really wanted to. And I would meditate very deeply, and in those meditations I would travel—almost like astral projection—and I had these extraordinary, lucid visions of places all over the world. I spent a lot of time visualizing that. Those visuals just seemed to manifest because shortly after that I was suddenly traveling all over the place. I guess I started craving that, and it kind of burst it out of my heart.
—END INTERVIEW—
LEARN MORE ABOUT NEW ZEALAND'S NATIVE DOLPHINS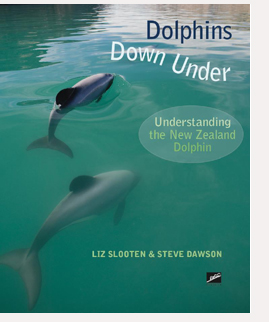 To learn more about the Hector's and Maui's Dolphin, check out Dolphins Down Under: Understanding the New Zealand Dolphin (Otago University Press, 2013), co-authored by Dr. Elisabeth "Liz" Slooten and Dr. Steve Dawson, scientific partners who have intensely studied New Zealand's only endemic dolphins for more than 30 years. To support their work, please visit New Zealand Whale and Dolphin Trust, the leading authority on the Hector's and Maui's Dolphin and the only group actively researching their conservation.
New Zealand is already infamous for wiping out the Moa (Dinornis robustus) and the Haast's Eagle (Harpagornis moorei). The Maui's Dolphin (Cephalorhynchus hectori maui) would be the third human-caused extinction in New Zealand. It would be the first marine dolphin to go extinct at the hands of humans. Even during the great whaling era, humans didn't quite manage to completely wipe out any whale or dolphin species.
"What is it about the words 'critically endangered' that the decision-makers don't understand? This extinction is totally avoidable." - Dr. Elisabeth "Liz" Slooten
IMAGE CREDITS
Photo of Brittany Trubridge Yoga on the Beach by Locksley Cartwright
Photo of Brittany and William Trubridge by Sarah Smith
Photo Brittany Trubridge Meditates on Plastic Pollution Crisis courtesy Manduka
Photo Yogasana Supports Cultural Preservation courtesy Yogasana
Photo of New Zealand Dolphins by Steve Dawson
Photo Brittany Trubridge Water Spirit photo by Elena Kalis
Photo of Brittany Trubridge in Sardegna Italy by William Trubridge