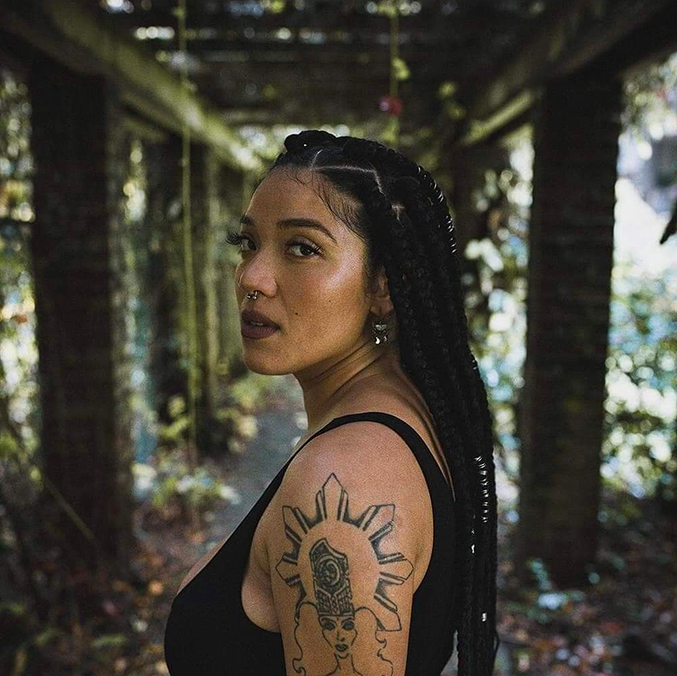 Xhalida September wins Cosmic Sister Special Talent Scholarship to participate in Birth Your Book
Cosmic Sister Special Talent Scholarship
BIG CONGRATULATIONS to Cosmic Sister Xhalida Hazel September (@anaknglupa / @psilotribal) for being selected to receive a full scholarship to Elizabeth Bast's special BIRTH YOUR BOOK series (thank you, @enectarbast!) We're excited to connect these two talented women. Special thanks to Celina Archambault (@plant_tigress) for the introduction!
About Xhalida September
Xhalida September (27) was born and raised on the Unceded Territories of the Musqueam, hən̓q̓əmin̓əm̓ and Sḵwx̱wú7mesh (Vancouver, British Columbia), near Burnaby Lake, where she learned about plants and nature during wilderness walks with her father.
Plant medicine has always been a part of Xhalida's life. She believes everything is connected and is keen to learn and share more knowledge of the world's sacred entheogens. Her core solution for human progression focuses on healing past traumas and cultivating new ways of thinking. She makes medicines by combining herbs, roots, and other plants and advocates for the mushroom by providing gentle medicine that benefits vitality.
"The entheogenic plants and fungi are our ancestors," she says. "They have a way of communicating truth beyond human language. They help us reconnect with earth and teach us to live harmoniously with nature—as we once did."
Xhalida's deepest entheogenic connection is with psilocybin, which has a primary contributor to her life for just shy of a decade and helps her embrace her empathetic nature. During her first psilocybin experience, she shared co-hallucinations with close friends in a wonderful set and setting—an experience that sparked collective curiosity. Four years later, Xhalida took a five-gram macro-dose in solitude. While listening to her favorite music, drawing, thinking of her family, she found herself contemplating deeply on the meaning of womanhood.
Her mother is from Kawit, Philippines, and her father is from Cape Town, South Africa, and she grew up in a home adorned with large, healthy plants and African and Asian artwork, learning about music, international food traditions, holistic nutrition, anatomy, and physiology.
Xhalida's parents were musicians—her father funk, her mother R&B--and she has an exquisite sensual-spiritual voice. She started singing before she can remember. "I like to think I probably started in my mom's belly," she says. "Singing feels like the most natural way of communication to me."
Today she enjoys cultivating emerging passions for singing, song-writing, and poetry. An avid traveler, she loves to learn about new cultures, lifestyles, and values. She especially interested in witnessing plant medicines in their natural environments and learning how different cultures work with them (ethnobotany). She recently traveled with friends to Huautla De Jimenéz in Oaxaca, Mexico, to experience psilocybin in traditional healing practices. Thanks to her friend Luis, she was able to participate in two very different ceremonies, meet locals and indigenous people, and connect with wildlife in a deeply meaningful way.
Xhalida cites physician Gabor Maté and mycologist Paul Stamets as important influences.