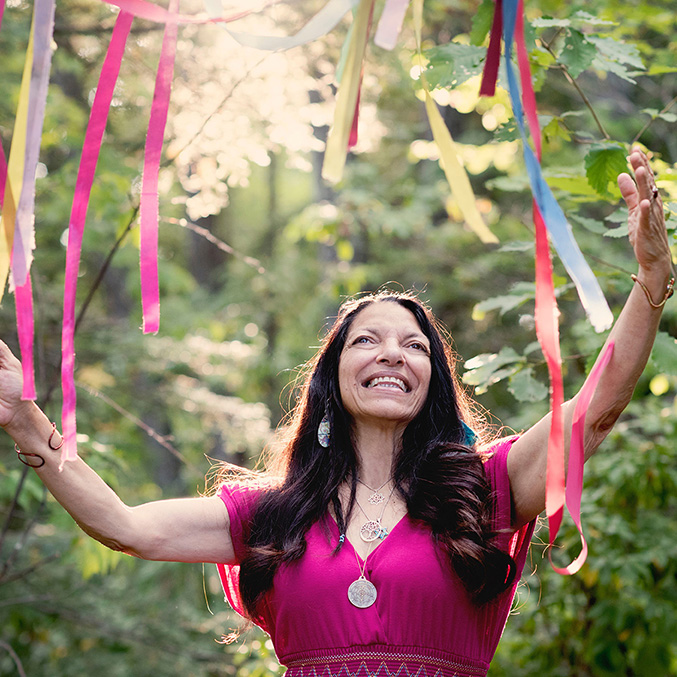 Lady Tiana by Tracey Eller
Psychedelics as a Doorway into Earth-Based Spirituality
Women of The Psychedelic Renaissance
Tiana Mirapae has been awarded a Cosmic Sister Women of The Psychedelic Renaissance (CS WPR) grant to present "Psychedelics as a Doorway into Earth-Based Spirituality" at Spirit Plant Medicine Conference (SPMC).
Western MA-based integrative psychotherapist and Kohenet (Hebrew Priestess) Tiana Mirapae, M.Ed., LCSW, is a shamanic healer, plant spirit medicine practitioner, wisdom keeper of the Munay-Ki, and Reiki master. In her clinical practice, she brings a multifaceted, integrative, holistic approach to women's health issues, including PTSD, depression and anxiety, PMS, menopause, chronic pelvic pain, male and female sexual dysfunction, and couples counseling. She works with male and female survivors of trauma, abuse, addiction, and dysfunctional backgrounds and facilitates women's spirituality and empowerment groups.
Tiana is a certified EMDR therapist and consultant, Tapas Acupressure Technique (TAT) therapist and trainer, clinical hypnotherapist, and practitioner of classical homeopathy, botanical medicine, and nutrition.
She is the founder of the SOPHIA tradition and is the Director and High Priestess of the Wisdom School and Temple of S.O.P.H.I.A.; a mystery school for shamans, oracles, priest/esses, healers, intuitives, and alchemists. As an ordained Priestess of the Well of Avalon & as a Kohenet, Hebrew Priestess, she officiates weddings, handfastings, and sacred rites of passage ceremonies.
Tiana takes people on journeys with cannabis, mushrooms, and other plant medicines such as mugwort-artemisia, dandelion, yarrow. "I worked with LSD and mescaline in the '70s, which was a big part of my spiritual path, but the Medicine Women path came through the magick mushrooms," Tiana says. "Mushrooms are the nervous system of the world. They help us to keep in tune with the heartbeat of the Mother (Earth). It's all about relationship."
Tiana believes mushrooms facilitate respectful, blissful relationship between humans and the three Mother Worlds: plants spirits, animal spirits, and earth spirits. "Destiny is your soul's purpose—a path of choices—and the plants can help to guide your journey on that path, a path in partnership with the Green Nation, the nation of plants, which is part of our covenant as humans," she says.
The daughter of Holocaust survivors, Tiana grew up in Brooklyn. Her ancestral lineage includes Ashkenazi & Sephardic heritage, Cherokee, Gypsy, West African, Israeli, Egyptian, Scottish, Irish, Nordic & Q'ero Inca from the Peruvian Andes.
Tiana is featured in "The Real Witches of New England" by E.E Hopman.
---
#doorway #earthbased #spirit #mugwort #artemisia #cannabis #ritual #integrativepsychotherapist #psychotherapist #Kohenet #witch #jewitch #jewish #Ashkenazi #Sephardic #magic #shamanism #sacredmushrooms #mushrooms #magicmushrooms #nature #greennation #PsychedelicFeminism #CosmicSister #MAPSCanada #ZoeHelene #wildernesswithin #women #wilderness #wildlife #psychedelic #sacredplants #womensupportingwomen #plantmedicine