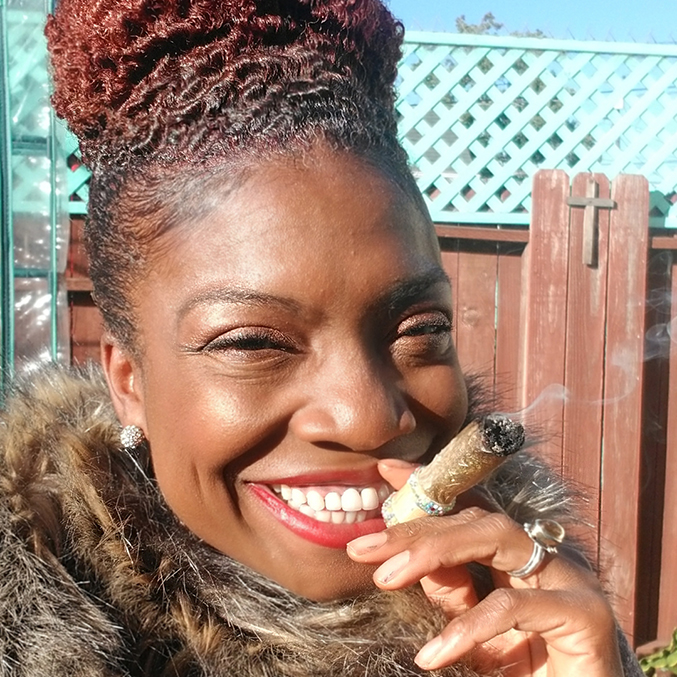 Getting Lit: Spiritual Ascension through Collective Ecstasy
Spirit Plant Medicine Conference
Oakland, California-based The Dank Duchess (@TheDankDuchess), an internationally recognized cannabis cultivator, hashmaker, and writer who believes intentional and mindful cannabis use will change our society, has made it her mission to impart her knowledge of cannabis and hash to anyone who will receive it. Duchess combines her love of good cannabis, fine living, and mind-blowing experiences to create the life she wants to live—from growing plants to making culinary creations, and from meditating to working out, she infuses cannabis into every aspect of her life. Well-versed in cannabis bubble hashmaking, cannabis media, and cannabis culture, she journeys to cannabis-friendly locales worldwide to expand her knowledge, host educational parties, and spread cannabis awareness.
Duchess applies 15 years of growing experience and priceless mentorship under master hashmaker Frenchy Cannoli to fully immerse herself in the global cannabis industry. She has penned more than 25 articles about hashish for magazines including Weed World UK and Cannabis Now and contributed to anthologies by Ed Rosenthal and has appeared on Viceland's TV Series "Bong Appétit" and in several Greenflower Media productions. Duchess was a judge for Masters of Rosin and Terp Tower Invitational at Spannabis in Barcelona, Spain, and was featured in High Times magazine's list of "12 Stoners You Need to Follow on Social Media Right Now."
"Very few subjects are as interesting as cannabis right now," Duchess says. "Cannabis is the hottest topic in media, science, politics, and around the water cooler. But how does one parse through the information to the real truths? In a realm of many talking heads, it is crucial to disseminate accurate information backed by scientific discovery, established legal principle, and no shortage of personal experience."
Duchess has been an artist in some shape or form throughout her life. From age 8 through her mid-teens, she performed professionally with several dance troupes, and she's been playing the steelpans with legendary groups and arrangers since she was 9. She took up web and graphic design at Howard University, where she earned a Bachelor of Science in Psychology, and while pursuing a Masters in Landscape Architecture, she discovered a holistic appreciation for art and design as extensions of the human condition. As the creative director of Love Life Massage, Duchess helped build a premiere on-location massage company in Miami Beach.
For all the joys she experienced during her 13 years in Miami, Duchess resented the lack of freedom to enjoy cannabis with no apologies. In 2013, Duchess moved to Oakland to attend Oaksterdam University, where she was co-valedictorian of her class. Since then, her small garden has evolved into dozens of outdoor plants that have been photographed for magazines, calendars, and websites. From these plants, she makes full melt hashish; daily morning smoothies; topical products such as balms, bath bombs, and bath melts; and tasty desserts.
"Cannabis is for enjoyment and enlightenment," she says. "It's a guiding tool, and when used as such, it facilitates a deeper learning and expanded awareness of ourselves and the world around us."
Duchess uses social media to amplify her positive messages about cannabis and hashish, encouraging people to grow their own weed, make their own hash, and never stop believing in the health and beauty that cannabis has to offer. She has 30K+ Instagram followers, and her educational videos on YouTube have been viewed over 300,000 times.
"My niche is hashish," she says. "And cannabis flower fuels my power."
Cosmic Sister (@CosmicSister) awarded The Dank Duchess a Women of The Psychedelic Renaissance grant to present "Getting Lit: Spiritual Ascension through Collective Ecstasy" and the panel discussion, "Rising Voices: Women of Color in the Sacred Plant Community," which she will moderate, at Spirit Plant Medicine Conference in Vancouver, BC.
Getting Lit: Spiritual Ascension through Collective Ecstasy
"Wellness" is on the tips of many people's tongues as society begins to notice the downward spiral of collective mental health. Though illness no longer threatens to decimate half the world's population, preventable diseases are proliferating because of excessive stress, the number one contributor to poor health, and lack of connectivity. The epidemic of social isolation is alarming. More and more people report extreme feelings of loneliness and despair, and society is unable to bridge the perceived gaps between individuals. This disturbing trend can be approached in many ways. The Dank Duchess suggests cannabis. When people have positive social interaction while enjoying cannabis, perceived boundaries to intimacy quickly dissolve and fractured subsets can start to become whole again. This unification of souls is not unlike the unification of self that people undergo when consuming cannabis. When we use cannabis to quiet harmful self-talk that is perpetuated personally and then projected to others, peaceful and harmonious coexistence is the natural result.
#Hashish #solventless #allweedeveything