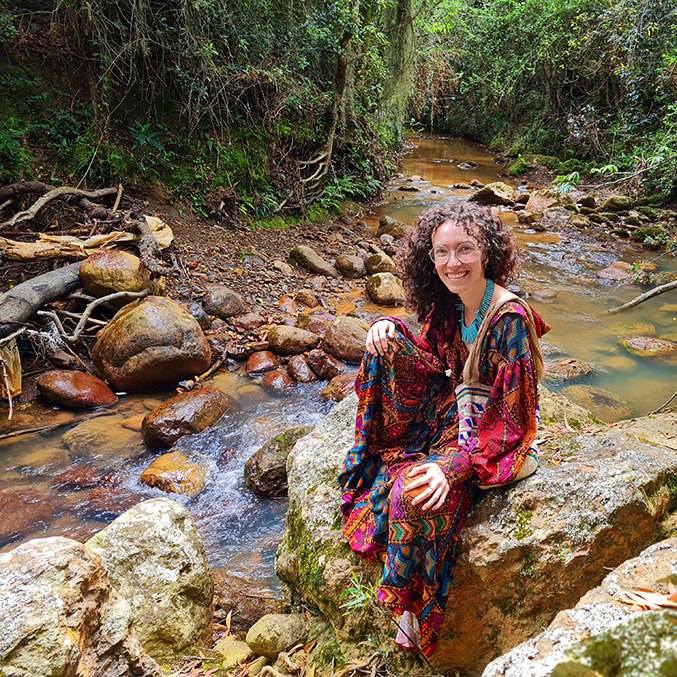 Sau Barbosa river at a river on her family farm in Colombia
Sara Barbosa, anthropologist and holistic psychologist, wins Cosmic Sister Emerging Voices Award
Cosmic Sister Emerging Voices Award
Sara Barbosa (@saubarbosa) is an anthropologist, holistic psychologist and apprentice of midwifery and traditional Muysqua medicine from Colombia, she also studied psychedelic psychotherapy with the Instituto Transpersonal Integrativo and with SoundMind Institute and is now part of their End of Life Psychedelics Initiative. She is the mother of Aliah and Amaru.
Sara is a co-founder of the Bachué Women Foundation (@mujeresbachue), dedicated to the safeguard and accompaniment of traditional indigenous knowledge of medicine and midwifery, especially in Muysqua territory in the Cundiboyacense highlands in Colombia. Sara and Ramiro her elder and comadre also began the Huytaca Intercultural School (@escuela_huytaca) that has been training women to accompany from intercultural perspectives, all over Colombia and in Sao Paulo, (Brasil) for the last 6 six years.
During the pandemic, they also decided to take a necessary next step in the territory, starting Origenes Salud IPS Clinic (@origenessaludips) as the first model of ecological, integrative and intercultural medicine services, dedicated to the mental and sexual health of women and community. Their basis is in Indigenous thought and wisdom and is based on the matrix of accompaniment of Mhuysca midwifery and medicine. Their work and process builds bridges between the wisdom of traditional midwifery and Andean ethnopsychiatry with Western allopatic medicine to improve the quality, options and access in Colombia for mental and sexual health.