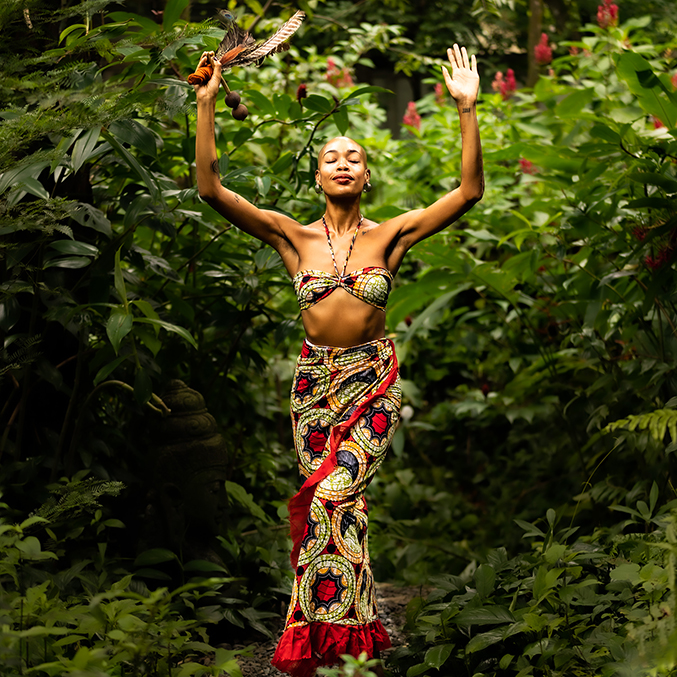 Raven Marie by @junglehermit
The Great Remembrance. Unraveling the Internal Layers through Iboga
Women of The Psychedelic Renaissance
Raven Marie (@ravenmarie111) has been awarded a Cosmic Sister Women of The Psychedelic Renaissance (CS WPR) grant to present "The Great Remembrance: Unraveling the Internal Layers with Iboga" at Spirit Plant Medicine Conference (SPMC), Oct 23rd - 25th, 2020.
From Birmingham, Alabama, with a background spanning hospitality, entertainment, fashion and beauty in Miami and Dubai, Raven Marie (@ravenmarie111) has found her authentic voice through her remote lifestyle service, Reflections of the Divine Holistic, specializing in self-reflective coaching, spiritual advice, subconscious reprogramming, Iboga Integration and intuitive energy work.
She recently transitioned from facilitating retreats at Awaken Your Soul (@awakenyoursoul.co), an iboga center in Costa Rica, to focus on her own practice and projects, including Project Happiness, highlighting practical ways to experience joy and inner peace. "As long as I listen, I'll be led," she says. "The path to becoming a facilitator unfolded so organically. It can be a joy to be able to show up in that capacity with the medicine."
She also provides integration support for people who have done ceremonial work with iboga, helping them incorporate the wisdom gained into their everyday lives. "Iboga has shown me the power of the individual to heal all aspects of life from within, and I am committed to supporting others on their journey," she says.
Raven's goal is to become an iboga provider and make iboga accessible to marginalized demographics and people of color. "This medicine comes from Africa," she says. "So many people of color are unaware of this beautiful medicine that comes from their roots. There is so much ancestral healing to be done."
One of Raven's primary missions is to help others heal emotional pain while walking a path of ancestral healing. "I believe so much of what we see in the world is the reflection of ancestral healing work taking place," she says. "Our deepest pains are rising to the surface, and without the basic skill sets to unravel, bring awareness to, transmute and heal what's happening within, the more we suffer."
Raven incorporates the teachings of iboga through Project Happiness, a six-week program. "The framework for this program came to me while I was in Africa being initiated into the Bwiti tradition," she says. Channeling her downloads into shareable teachings, Raven offers Project Happiness in workshop settings.
---
#RavenMarie #Iboga #integration #innerpeace #happiness #heal #ancestralhealing #remember #ancestormedicine #Queen #BIWOC #Africa #PsychedelicFeminism #CosmicSister #ZoeHelene #wildernesswithin #women #wilderness #wildlife #psychedelic #sacredplants #womensupportingwomen #plantmedicine