New Cannabis Children's Book Inspires and Educates
Cosmic Sisters of Cannabis
California-based Mskindness B. Ramirez, MA.Ed, is an educator, entrepreneur, and author of the new children's book "The Root Family's Very Special Garden," which was inspired by her own children and designed to spark a healthy canna-conversation between parents and children. The joyful book fulfills her mission to educate, inspire, and bring inclusive health education to the masses.
Mskindness is the executive director of Club Kindness (@club_kindness), a nonprofit supporting patients, brands, and dispensaries with accurate and easy-to-digest cannabis education and bringing awareness to the infinite healing power of the mind, body, and spirit through cannabis and all things wellness.
She is also CEO of Elixirs by Kindness Apothecary (@ebk_apothecary), a boutique line of small-batch cannabis and CBD products made with organic ingredients, including the popular EBK Spritzer.
As adjunct professor at Los Angeles Southwest College, Mskindness teaches mathematics and basic skills courses. "Teaching is in my soul contract," she says. "I've been an educator for many lifetimes. In this one, it's my profession."
What inspired you to write "The Root Family's Very Special Garden"?
I've always wanted to write children's books. I knew it was just a matter of time, but like with anything creative, there must be a spark of inspiration. It was a really my son who inspired this project. He's always got his hands in the dirt and wanting to grow new things. My work in the cannabis community is centered around consumer education. I've been a classroom educator for over 20 years, and I know real education starts in the home. So, what better way to help normalize cannabis than to introduce an otherwise taboo topic in the most matter-of-fact but fun and colorful way? Then the Root Family began to take shape.
Do you grow your own? If so, what's the best thing about growing your own?
I absolutely grow my own cannabis. It's the best way to know exactly what you're getting. Naturally, when we grow our own food, we can manage the environment. For me, that means organic results, grown with love. I feel very connected to my plants. When they're sick, I worry and nurture them, and when they grow tall and strong, I feel proud. My plants help me feel more connected to the earth.
Why are women's voices so important in the cannabis community?
Women's voices are vital whenever there's a need to push the conversation forward. And we have a unique opportunity to do that with cannabis. As mothers, daughters, and sisters, we can understand better than anyone how cannabis is a community plant that should be shared. Women run the home, guide their families, and have historically been the real change makers. Because cannabis prohibition is tied to a long history of systemic racism, cannabis reform is going to take a long and arduous fight to get right. This is most definitely a girl power movement for the Mother.
Why did you choose to support the Social Impact Center through this book?
Throughout my adult career, I've remained committed to doing work that serves others. I know that the greatest impact we can make is directly within our local sphere. With all of my for-profit ventures, we give back a portion to charity. The Social Impact Center is local, inclusively staffed, focused on marginalized communities, and doing real work on the ground right here in Los Angeles to help those harmed by the war on drugs. It was a very thoughtful choice, and I highly encourage all business to establish socially responsible models.
Please feel free to add anything else that you'd like to share with the Cosmic Sisterhood.
The Root Family has many adventures coming their way, so be on the lookout for what's next later this year! Wink, wink.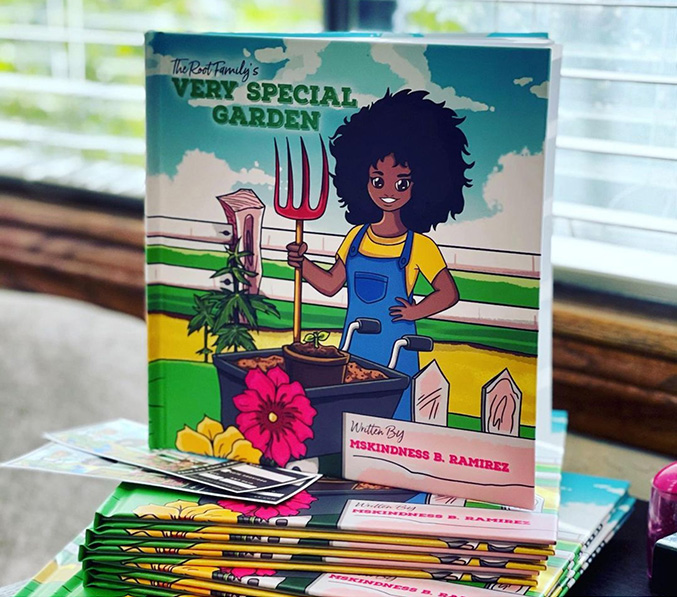 The Root Family's Very Special Garden
The Root Family's Very Special Garden (@therootfamilygarden) was written by Mskindness B. Ramirez to "spark the canna-conversation between parents and children." Read it with your 9–12-year-old to "help them discover all the gifts this magical plant can offer."
Mskindness B. Ramirez is a master educator, cannabis consultant and public speaker. She created this children's book for families who want to introduce the growth cycles of the cannabis plant, and her various uses, in a fun and kid-friendly way. Read it with your child for a unique shared experience … "spark the canna-conversation with your whole family!"
"There are few things better than curling up with a good book. But when you can do it with your children, it's the absolute best!" – Mskindness B. Ramirez (@mskindnessb)
When you buy a book, you learn, while also helping those from marginalized communities. "I will never profit from a project that does not also serve others in need," Mskindness, who is donating a portion of the proceeds from the book sales to The Social Impact Center (@thesocialimpactcenter) says, "Purchase with your heart."
Enjoy this story with your child and help open their minds to a whole new world of possibilities surrounding the Cannabis plant. Learn together, as the Root Family takes you on a journey of sowing, harvesting, and creating medicine with the very special herb. There's even a Glossary at the end with all the new, cool words the Root Family wants to make sure you and your child become familiar with.
The book features scientific vocabulary, kid-friendly scenarios and characters everyone can relate to—and there's even a Glossary at the end. 28 pages of storytelling and illustrations.
#Mskindness #blackauthors #blackbusiness #BIPOCbooks #cannamoms #normalizingcannabis #cannabiseducation #averyspecialgarden #blackauthors #growathome #educator #teacher #entrepreneur #author #changemaker #blackhistorymonth #childrensbook #cannabis #cannabiscommunity #health #wellness #garden #growathome #growyourown #earth #womensupportingwomen #feminism #psychedelicfeminism #cosmicsister #cosmicsistersofcannabis