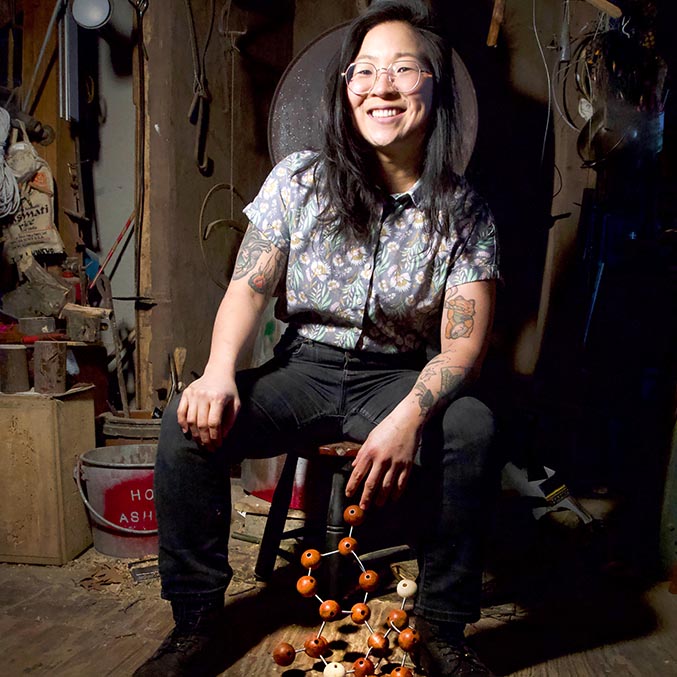 Miyabe Shields, PhD. Photo by Holly Maitland Varela and Andy Varela
Miyabe Shields wins Cosmic Sister Special Talent Scholarship to participate in The River Course
Cosmic Sister Special Talent Scholarship
Congratulations to Miyabe Shields, PhD (@miyabephd), winner of a Cosmic Sister Special Talent Scholarship to participate in Dr. Joe Tafur's The River Course!
PhD in Endocannabinoid Pharmacology | Science Communicator | Stoner Education Consultant
Miyabe Shields, PhD (They) recently resigned as chief scientific officer for Real Isolates in Boston, where they investigated the chemodiversity and science of traditional medicines. They co-invented Smokenol (@smokenol), a new extract of active ingredients in cannabis smoke harvested through a patented selective capture method, which can be used to manufacture pills, gummies, tinctures, lotions, and other products.
Miyabe says cannabis saved their life by decreasing sensory hypersensitivity and increasing their ability to function socially, improving their mental health. Raised by their Japanese-Hawaiian grandmother in Southern California, Miyabe lives in Salem, Massachusetts. Many of their core beliefs in humanity and spirituality stem from their grandmother's teachings, which valued nature, kindness, and compassion above all else. They live in Salem with their wife, Laine of Transition Abilities (@transitionabilities).
Miyabe received a Cosmic Sister Emerging Voices Award in 2021 and was featured in Forbes last year.
Can you talk about why you recently stepped down from your company and are shifting your focus to using scientific foundation to help build community wellness?
It was for my own personal reasons. My goal is to help empower as many people as possible to understand themselves and their medicine at the molecular scale. It's helped me make sense of my journey, and I want to give that opportunity to others.
My life up until now has been about discovery, pushing boundaries, fighting forwards at whatever cost. But now it's time for reflection, honoring my own limitations, and creating the future I envision by living the example I hope to set for others.
Why are you excited about participating in The River Course?
I'm still so surprised by this opportunity and the timing. The Cosmic Sister Emerging Voices interview is the most I've ever talked about my self-experimentation, because I'd never felt I could be that forward before. When I went for my PhD in pharmaceutical sciences, I wanted to eventually replace cannabis with a pharmaceutical. About three years in, when I was educated enough to grasp all the molecular trauma that pharmaceutical medications had on my brain, I decided I'd stick with the natural medicines. Cannabis has saved my life more than once, but psychedelics made me grateful for it.
After reading about The River Course and Dr. Joe Tafur, I'm excited to learn about the spiritual-physical connection at a larger, more tangible scale than ever before. I can't wait to dive into this completely new outlook and assessment of how we could take action to transform future medical practices, specifically for mental health.
What are some of your goals as a scientist/artist in the psychedelic movement?
My opinion on substance use can be controversial, and I have pushed boundaries that I shouldn't press again. But they healed me, and I feel safer in my identity now. They've pushed forward abstract scientific theories that I was eternally circling and made them clear as day. LSD (lysergic acid diethylamide), LSA (a natural analog of LSD found in morning glory seeds), mushrooms, and mescaline have completely changed my perspective on the value of the mind-body-self-nature connection. It's my goal to become more informed on the traditional uses for psychedelics and how that information can be best shared to help others without infringing upon, devaluing, or stealing from the cultures they originate in that are valuable resources for healing our humanity. I want to be a part of creating more accessible options for all populations.
How do you feel about being part of the Cosmic Sisterhood?
Being a part of the Cosmic Sisterhood has meant a lot to me as a recently out agender/genderqueer professional. It's been a difficult year and a half. The positivity of support and inclusion of such an incredible group of people has felt like a safer space for me. It also widens feelings of femininity that I still want to embrace in my exploration of gender fluidity. Being able to take this course came at a critical, synchronistic time as I'm beginning a career transition. I'm incredibly grateful for the opportunity to learn, and I am humbled to feel worthy of the gift.
Still surprised in a great way.
We share a deep appreciation for how we (humans) are nature. I'd love to learn more about your molecular work from that perspective.
I've spent most of my life and career in laboratories doing research where the point is to minimize the number of variables in order to understand the way these molecules interact with our brains and bodies. But the deeper I dove into my neurodiversity, my identity, and my spiritual connection with nature, the more I saw those variables, those infinitely unique instances of existence, as necessary context to fully respect these molecules. The chemistry of life is a gift, and it's clear to me that nature is the provider.
You and your wife, Laine, often work together.
We started our marriage by starting an entire non-profit together and performing as a violin/guitar duet! Now it's more like we're both supporting each other as neurodivergent advocates in our fields (and supporting each other outside of the traditional roles for our areas of expertise). Laine is a transition specialist (18+ moderate-severe special needs) and creates neurodiversity-affirming resources for other teachers. I'm all zoomed in at the molecular level, and Laine is the practical application in the community. Also, I usually am speaking with/for the more independent end of the spectrum, while Laine is advocating for the population that generally needs more support. If you want to check out what Laine does, their IG is Transition Abilities (@transitionabilities).
Tell me about your transitional work with the farm.
Holly Maitland Varela (@hollyjmaitland) and Andy Varela (@andy.varela.farmer) are another husband-and-wife duo who work together. This is their 13th year of urban farming, including permaculture and a New England native plant nursery. They are both super passionate about food accessibility and our relationship with the earth. Andy is also my local city councilor and has paved the way for the right to farm on residential property, city composting programs, and climate resiliency, and is currently championing decriminalization of mushrooms and other natural medicines.
Maitland Mountain Farm (@maitlandmountainfarm) is their farm/pickle-ferments business, and it's the only farm in Salem. Holly grew up on the farm, and she started in 2009 with her father to create flower bouquets, pickles, and a small selection of vegetables for the Salem Farmers Market. She met Andy that very same year, and together they grew the farm while they grew their family, married with three kids now. They also create incredible pickled/fermented products, which are in restaurants all over the area.
We met because I tasted their kimchi at a restaurant and liked it so much that Laine and I walked over to the farm to get some for home. Last month when my career transition began, they said they always needed help on the farm, and I said, "Sign me up!" I've already learned so much about planting and growing; I love sticking my hands in the soil and feeling the roots and tubers. There's no substitute for that kind of learning.
I am nowhere near finished learning, which is why this opportunity for me to continue to expand is so precious and so timely. I hope to be able to fully appreciate the cycle of life, gain additional context of horticulture and botany, and round my scientific opinions around the mystical, spiritual, and healing context of these molecules as a part of it. I can't wait to share all my findings with all who are interested in exploring how molecular pharmacology can be supplemental and expansive to natural products.
THE RIVER COURSE
Registration is now open for the next session of The River Course with Dr. Joe Tafur, integrative Family Physician, curandero, and author of The Fellowship of the River. Designed for healthcare providers and healers, this live online course introduces students to the art and science of ancestral spiritual healing techniques and their relevance to the expanding world of psychedelic-assisted therapies. This 7-week course will include weekly classes with Dr. Tafur on Wed nights, Feb 15 – Mar 29, 6:30-8:30 pm PST.
Dr. Tafur's book, The Fellowship of the River: A Medical Doctor's Exploration into Traditional Amazonian Plant Medicine, will serve as the guiding text as this course explores the role of spiritual healing in modern healthcare and moreover the intersection between biology, emotion and spirituality.
COSMIC SISTER SPECIAL TALENT SCHOLARSHIP
The merit-based Cosmic Sister Special Talent Scholarship helps people explore unique educational opportunities in support of environmental and psychedelic feminism—and beyond.
---
#miyabeshields #nonbinary #cannabis #biochemistry #pharmacology #neurodiversity #chemodiversity #psychedelicscience #science #morningglory #urbanfarm #maitlandmountainfarm
#joetafur #rivercourse #integrativemedicine #healing #spiritualhealing #plantmedicine #psychedelicassistedtherapy #fellowshipoftheriver #spiritual #healthcare #wellness #onlineclasses
#cosmicsister #zoehelene #psychedelicfeminism #ancetormedicine #womeninpsychedelics #psychedelicrenaissance