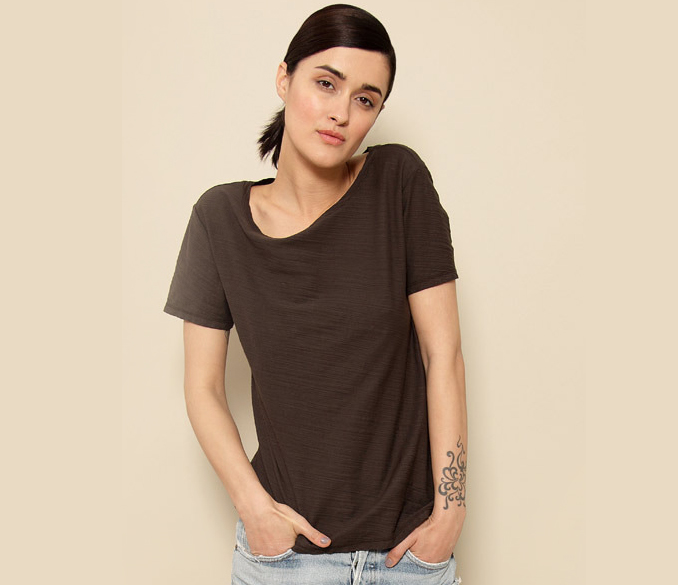 Under the Canopy black organic cotton crewneck "Zoe" tee
Meet Your New Role Models: 5 Insanely Inspiring Eco Activists
#Girlpower
Those connected to the global green scene may have noticed some familiar names in Under the Canopy's debut collection: many of the styles are named after women who are using a diverse set of talents–from writing to racecar driving–to champion sustainability around the world.
"All of these women are game-changers–people who are doing really great work around this movement," says Under the Canopy founder Marci Zaroff, who herself has been promoting sustainable fashion for the past two decades. The sartorial tribute, she explains, is about "celebrating women who are rising to the occasion, who are saying 'Let's all be the change we wish to see in the world.'"
Below, Zaroff introduces us to five of these female leaders and their mega-inspiring work.
Leilani Münter, racecar driver Leilani Münter is a force to be reckoned with. She is one of the leading female NASCAR drivers in history, and she only drives cars powered by renewable energy. I actually got to watch her in a race where she partnered with The Solutions Project, which Mark Ruffalo started. He hosted an event where she raced a solar-powered car–it was just unbelievable. She has a huge following. NASCAR is actually the number one spectator sport in America, so the impact she has, and her platform to create awareness around green is really powerful.
Greta Eagan, blogger, stylist and author Greta Eagan has been a powerful force of awareness with her amazing Fashion Me Green blog. An eco-stylist, model and writer of Wear No Evil: How to Change the World With Your Wardrobe, Greta truly walks the talk and is the embodiment of eco-chic beauty.
Erin Schrode, speaker and entrepreneur
(erinschrode.com)
Erin Schrode is a rising star like you've never met. When she was 13 years old, she started an organization called Teens Turning Green, which has now turned into tens of thousands of high school and college kids all over the country that are educating their peers around the green movement in food, in fashion and in lifestyle. They recently changed the name to just Turning Green because Erin and the first generation of this organization are now in their early 20s, but she's still out there traveling the world as a young green leader.
Starre Vartan, author and blogger
(eco-chick.com)
Starre Vartan, founder and editor of Eco-Chick, was one of the early bloggers and writers around the eco-fashion space. She has been out there building content and educating people. Education has always been a really important propellant in driving this movement forward, so I applaud her work.
Zoe Helene, artist and environmental activist
(zoehelene.com)
Zoe Helene started an organization called Cosmic Sister, where she's connected women from all different sectors. The whole is greater than the sum of its parts, so as we all come together and share our collective voices, we're stronger together than apart. She's also been a leading voice among women within the natural products industry, and she is doing some great work in the plant world too, in terms of recognizing the symbiotic relationship that humanity and the plant kingdom have.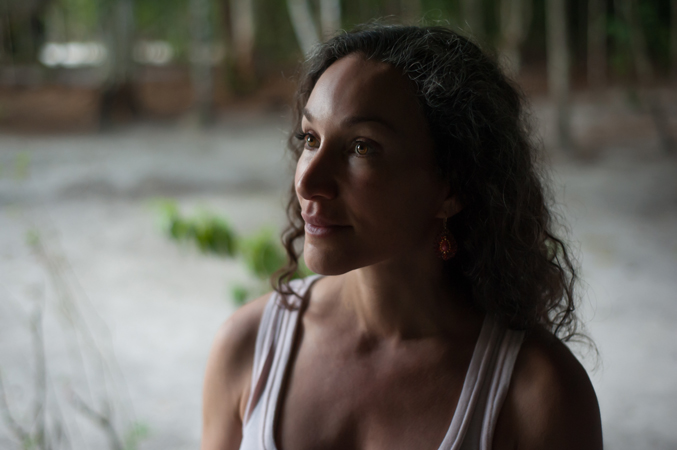 Zoe Helene on location in the Peruvian Amazon. Photo by Tracey Eller
About Under the Canopy: Founded by eco-fashion pioneer Marci Zaroff in 1996, Under the Canopy is built on the belief that style can be a catalyst for positive change. The brand's luxe basics and loungewear–which are certified to be entirely organic and fair trade–are crafted with exacting attention toward fit and function.
---
About Ethica: Ethica is an online retailer where you can learn about ethical fashion, discover emerging designers, and shop a high-style selection of ethical and sustainable labels. Their goal is to connect consumers and companies that share a commitment to social and environmental responsibility. Through their website, Ethica hopes to contextualize shopping within a larger global narrative, highlighting the very real impacts of our collective consumption choices.