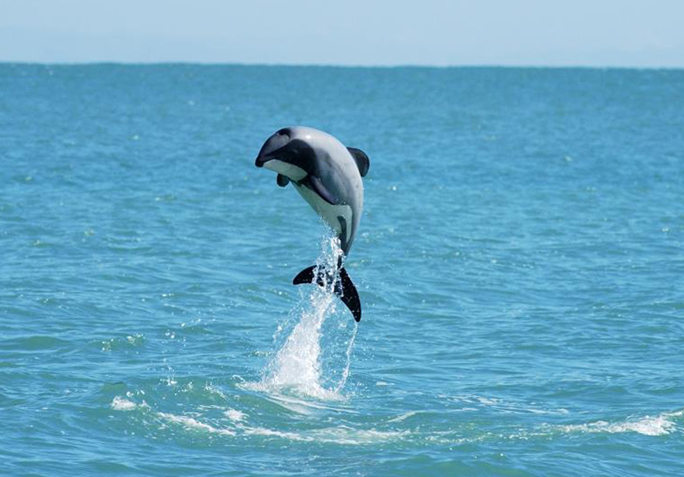 Maui Dolphin by Marine Biologist Will Rayment
LAST CHANCE TO SAVE THE WORLD'S LITTLEST DOLPHIN
Maui dolphins, or Aotearoa (New Zealand's) North Island Hector's dolphins, are Critically Endangered. What that means is they're almost gone. In fact, there are now only 55 left. This is not OK.
Never heard of them? Ah, yes. This issue has clearly been suppressed by the New Zealand media and up until now they have gotten away with it. Well, not any more. For the New Zealand Government to allow this to continue is nothing short of abusive to anyone with a healthy heart and a mind—and even more so for the Maori people, for whom dolphins are sacred. When the decent humans of the world find out they too will be nothing short of shocked and outraged. Who doesn't love dolphins? I am collecting information about this issue and will continue to add to this page as materials are ready.
Don't believe this is happening? Take a look at the Hector's Dolphin Incident Database, and remember that all Maui dolphin are Hector's dolphins, and that they all matter just the same anyway. This catching and drowning dolphins in fishing nets thing is just not OK, period. It just isn't. What is WRONG with these people that they can't see that?
This Maui Dolphin Extinction Hub Page offers a full set of resources for understanding the upcoming extinction. I have created this page to help media professionals, supportive businesses, non-profit organizations and caring individuals to find key information quickly and easily. The page includes a hit list of key contacts and information, and what to do (campaigns, petitions, etc.) This page is constantly growing and there are already many more materials to publish. I am working as fast as I can to keep up. If you have materials to contribute, or are a media professional, please contact me at: zoe@cosmicsister.com.
"New Zealand is knowingly allowing an extinction. With only 55 Maui dolphin remaining, we are left no choice but to take strong action on a global level. Wiping out any species for the sake of perceived revenue loss is never, ever OK—let alone a dolphin species. Let alone a dolphin species endemic to your own country, sacred to your county's native people, beloved by your country's citizens. Shame on Prime Minister John Keys." – Zoe Helene
---
"It is true what you say about the dolphin, they are our (Ngati Wai) tribal guardians and as such we have always had a close and spiritual connection with them. They are our tribal protectors on the moana (sea) and our people have a special ability to speak with them, so naturally we too are very concerned." - Deirdre Nehua, Maori Poet, Activist and Seer
Dolphins are sacred to the Māori people, and Maui is an important deity. Maui created the North Island of Aotearoa (New Zealand) where the Maui dolphin lives. The North Island is known as Te Ika-a-Māui (The Fish of Māui). Read more about Te Ika-a-Māui on Wiki -- a fascinating read(!) Māori names for Hector's and Maui's dolphin include Tutumairekurai, Tupoupou and Popoto.
---
"My name is William Trubridge. I'm a New Zealander and the Free-diving World Champion. I'm here to give a message about the world's smallest dolphin, the Hector's dolphin. This is also the world's most endangered dolphin species, one of the two sub-species of the Hector's Dolphin, the Maui's Dolphin, lives only on the West Coast of New Zealand and has a population of less than eighty. Their numbers have been dwindling towards extinction for the last thirty years, mostly due to the deadly gil nets and trawlers that operate in their terrorist. Instead of defending this beautiful species, the current government has caved into the fishing industry to further reduce their protection." - William Trubridge, World Champion Free-Diver
---
"A plate of fish is not worth the extinction of a beautiful and graceful species. The New Zealand government and the New Zealand Fisheries Commission should hang their heads in shame over their utter indifference to the virtual extinction of the rare and remarkable Maui dolphin. This situation must be stopped. Plate of fish be damned." – Chris Kilham, Fox News Medicine Hunter
---
"It's a great tragedy that a creature so beautiful is caught in the cross hairs of unsustainable fishing practices. Though she may be the smallest of our dolphins - she [the Maui's Dolphin] is no doubt a great icon of our ocean - and a reminder that we don't need to martyr another species before we wake up to our senseless practices." - Summer Rayne Oakes, Model-Activist & Environmental Entrepreneur
---
"The Maui's population has been declining since the 1970s, and protection measures introduced in 2008 have not succeeded in turning the situation around. It is a national tragedy that our critically endangered dolphins are still dying needlessly in fishing nets. We need to act immediately to get nets out of the water, including harbors and estuaries, to protect these dolphins throughout their range. We can't change our past to bring back species like the moa that are lost forever, but we must not, and will not, give up on our critically endangered dolphins. We know that solutions exist to save Maui's, it is time the government acted on behalf of all New Zealanders to protect this precious national treasure. The world is watching." Rebecca Bird, Marine Program Manager, World Wildlife Fund NZ
---
"The New Zealand Government must stop prevaricating, grow some balls, stand up to the fishing industries and act now."
- Pete Bethune, Founder, Earthrace Conservation
---
"The Threat Management Plan (TMP), developed by the Ministry of Fisheries and Department of Conservation, identifies bycatch in fishing nets, in particular gillnets and trawl nets, as the number 1 threat to Hector's and Maui's dolphins. This conclusion was the result of several years of consultation with the fishing industry and other interested parties, including many stakeholder meetings and discussions by a scientific expert panel. The fishing industry was represented at all of these meetings, including the expert panel. We have much more data on this conservation problem than for almost every other dolphin in the world."
"Almost all fishing methods are perfectly safe. These include fish traps, hook and line methods. Basically all fishing methods except gillnets and trawling. There will be no need to stop fishing in the areas where Hector's and Maui's dolphins are found. Changing to selective, sustainable fishing methods will benefit not only dolphins, but also seabirds and fish stocks. This will be in the long term economic interests of the fishing industry. Everyone will benefit from using selective, sustainable fishing methods. - Dr. Elizabeth Slooten
Dr. Elizabeth Slooten is New Zealand's leading authority on the Maui and Hector's dolphins and the use of population modeling to estimate sustainable levels of marine mammal bycatch in fishing operations.
---
"To have just 55 of these wonderful creatures left is beyond even our worst estimates. Their extinction is really imminent now, within a few years. New Zealand is a civilized country, which markets itself as an unspoilt paradise. They must act before it is too late." – Dr. Barbara Maas, NABU - International Foundation for Nature
---
"Hector's dolphin (Cephalorhynchus hectori), is New Zealand's only endemic cetacean, and on the basis of current knowledge, is the smallest and rarest of all marine dolphins in the world. Until 1970, there were an estimated 30,000 Hector's dolphins around the New Zealand coast. Then everything changed. Commercial and recreational fishers began using nylon gill-nets, and Hector's dolphins, which forage mostly in shallow coastal waters, became entangled in these and drowned. It is estimated that in just three decades, 70 per cent of Hector's dolphins were killed nationwide."
- New Zealand Geographic's Maui Dolphin: Deep Trouble, by James Frankham
---
"The Government needs to act now to protect the critically endangered Maui dolphins. At this stage, talking is not enough. The net ban extension may impact the fishing industry, but the alternative is the extinction of the Maui dolphin species. The species will become extinct if more than one dolphin dies every five to seven years. Two Maui dolphins have died in the last five months." - Gareth Hughes, Green Party of Aotearoa New Zealand Member of Parliament
---
"I recently spent two weeks travelling the length and breadth of New Zealand, in search of an outlandish menagerie of animals known as the "Small Five". They may be less well known than Africa's Big Five (lion, elephant, rhino, leopard and buffalo) but they were more than worth every aching air mile to see. Akaroa is probably the best place to see one of the most beautiful and rarest dolphins in the world. Hector's dolphin is found only in New Zealand and numbers have declined by about 75 per cent since 1970, owing to damaging fishing methods." - Mark Carwardine, Zoologist and Wildlife Photographer
---
"I think they can recover if fishing impacts cease now. Survival of small populations is all about chance events and stochasticity—if they have a few good years they might be OK—if they have a few bad years they are probably doomed and there's nothing we can do about it. All we can do is control the things we can, i.e. the direct human impacts. Even then it might be too late, but we have to have the attitude that there's a possibility." - Will Rayment, Marine Mammal Research Group, Marine Science Department, University of Otago, NZ (took the iconic photo of the leaping dolphin)
---
"Dolphins and set nets - a fatal combination. One family wiped out in minutes. An entire sub-species in about 30 years. Shame on New Zealand. I hope you enjoy your fish & chips because the fish comes from catching everything in the nets' path, including the world's smallest, rarest and loveliest dolphin." - Christine Rose, Leading Dolphin Activist, NZ
UNITED WE SAVE: Individuals and organizations on this page are dedicated to this cause. This is not about fund-raising or organizational politics or professional competition: this page is about trying to save the Maui and Hector's dolphin before it is too late. This page acts as a 'hub' or 'portal' for outraged dolphin lovers, concerned world citizens, activists, media professionals and anyone else seeking information about this very serious situation. Please send any news, tips, information and quality content you'd like to add to zoe@cosmicsister.com. Let's do this thing!
The term "By-Catch" is not just a word to make this horrible reality easier to sweep under the rug. Net fishing in New Zealand and any areas where precious sealife must range in order to feed and breed—and simply live freely, as is their right—is unacceptable. Wiping out an entire species of anything for the sake of 'revenue' is shamefully sick, sad thinking. Share your outrage with New Zealand. New Zealand is a small, isolated country, and they depend on the global economy. Wherever you live in the world, you are part of that economy. If enough people shout out loud enough, the powers that be in New Zealand will be forced to listen. Please don't wait—this is a time sensitive matter.