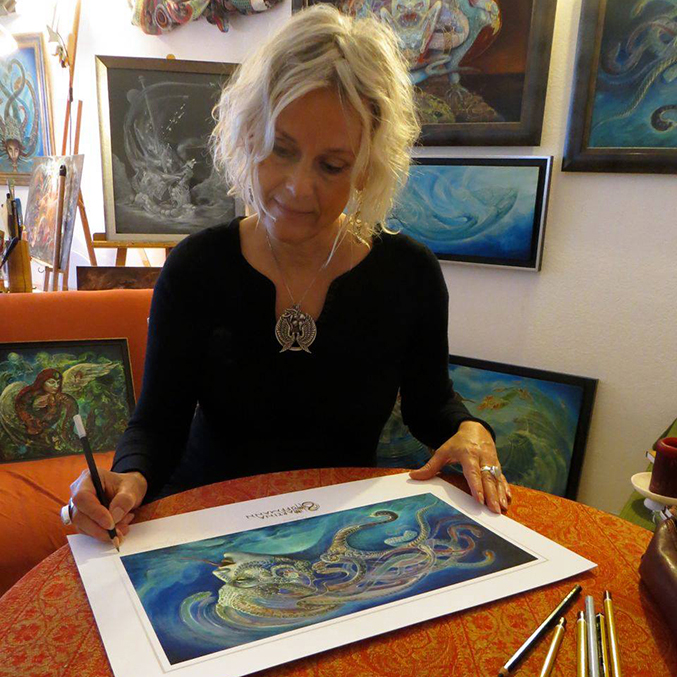 The Inner Journey and Transmutation Through Art
Women of The Psychedelic Renaissance
with Martina Hoffmann and Pascal Ferry
Martina Hoffmann (@martina_hoffmann_art) has been awarded a Cosmic Sister Women of The Psychedelic Renaissance (CS WPR) grant to present "The Inner Journey and Transmutation Through Art," with her partner Pascal Ferry (@pascal.ferryhf), at Spirit Plant Medicine Conference (SPMC).
Painter and sculptress Martina Hoffmann (@martina_hoffmann_art), a central figure in contemporary Visionary Art, offers viewers a detailed glimpse into her inner landscapes with imagery inspired by expanded states of consciousness. Her Visionary Realism places the Universal Woman in an intimate cosmos. Martina transcribes her ecstatic experiences and subtle reflections on the nature of women in a realistic style that marries the fantastic to the sacred.
The artist's mission is to make the subtle and intuitive states of our existence visible by portraying the mysterious energy that fuels the Universal Matrix of Consciousness and flows through humans. Her work lifts the veil between the infinite possibilities of form and content and the potential realms beyond consensus reality. "My paintings are access portals into realms, where the All exists as an undivided Universal consciousness and humanity resides in oneness, beyond the confines of cultural and religious differences," Martina says. "Here the global family lives in an awareness of the interdependency of all life on the planet and its interconnectedness with the Universe at large. This is a reality where disconnection has been healed and transformed into peace, harmony and love."
Born in Germany, Hoffman partially grew up in Cameroon, West Africa. While studying art education and sculpting at the Johann Wolfgang Goethe University in Frankfurt/Main, Germany, she met Fantastic Realist Robert Venosa, who inspired her work as a painter. The couple closely worked together, taught workshops worldwide, and shared studios in the United States and Europe for 30 years.
Martina has been exhibiting her work internationally since 1985 and is represented in the permanent collection at the Naia Museum in Rochefort en Terre, France. She has spoken on behalf of art and culture at events and conferences around the world, and her work has been published in numerous books and magazines. Martina has created original art and photography for numerous CD, book, and magazine covers.
"As artists, we bravely bare our soul to the world and create maps into our inner landscapes," Martina says. "My work is an attempt to portray spirit as the one universal force beyond the confines of cultural and religious differences. By embracing our oneness as a global human family, the interdependency of all life as well as our universal interconnectedness, we have a chance to heal and transform the planet's current state of woundedness. In this pursuit we may use art as a tool for transformation and, with it, have the opportunity to create a shared reality as beautiful, healthy and strong as our imagination permits."
Martina keeps studios in the United States and France. She lives and works with her new partner, French artist Pascal Ferry.
---
#MartinaHoffmann #PascalFerry #art #visionaryart #fantasticrealism #painting #VisionarySymbolism #artist #innerlandscapes #dream #dreams #womeninpsychedelics #earth #PsychedelicFeminism #CosmicSister #MAPSCanada #ZoeHelene #wildernesswithin #women #wilderness #wildlife #psychedelic #sacredplants #womensupportingwomen #plantmedicine