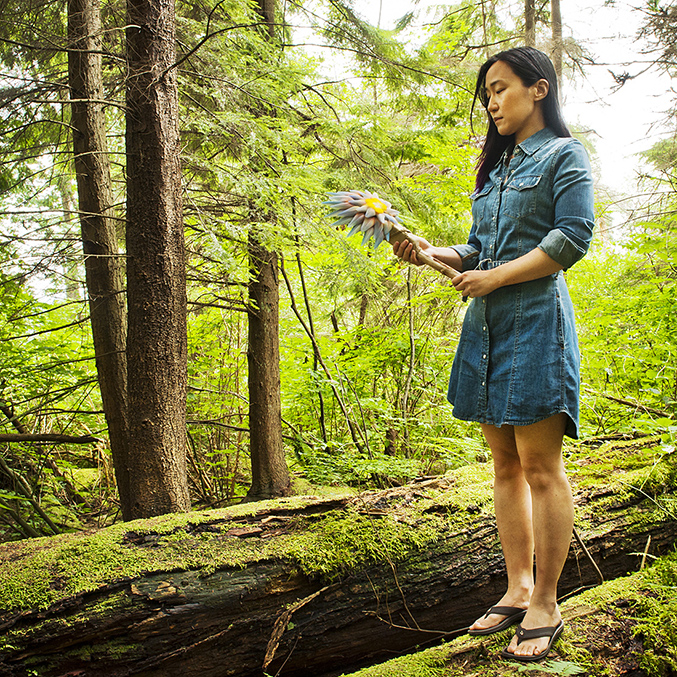 Mari Omori wins Cosmic Sister Emerging Voices Award
Cosmic Sister Emerging Voices Award
Congratulations, Cosmic Sister Emerging Voices Award (CS EVA) recipient Mari Omori!
Vancouver, BC-based Mari, founder of Trillium Healing Path (@TrilliumHealingPath), is a visionary artist and witch who offers Reiki and intuitive reading sessions for people, pets, horses and wildlife. Her exquisite smudging fans and fan/rattles inspired by sacred plant medicines can be found on Esty (TheSecretWoods) and in private collections worldwide.
Mari's paternal line is Ainu, an indigenous group in northern Japan. Omori means "deep forest" in Japanese, "like an endless exploration of mysteries," says Mari.
Mari's journeys with iboga, ayahuasca, Golden Teacher mushrooms and cannabis, coca leaf and blue lotus inspire her fans made from naturally molted feathers from bird sanctuaries and friends (which take some time to collect). She also uses 3D-printed animal bones and skulls made from vegan-friendly renewable material, relics of people's beloved animal companions, and snakes run over by careless drivers.
Mari works with the moon cycles, equinoxes and solstices and connects deeply with nature while she's channeling the fans. "I simply put them together," she says. "Each step in the creation is provided by Spirit."
Once or twice a year, depending on the number of naturally molted feathers she receives, Mari teaches smudge-fan workshops in Vancouver, BC, which incorporate sacred spirit plant medicines for creative guidance and inspiration. People from all walks of life come to her workshops, including "healthy sceptics," whom she welcomes. She believes many people have potential psychic skills.
In partnership with MAPS Canada's Examining the Psychedelic Renaissance, Season 2 (@MAPSCanada), the CS EVA increases visibility for talented women in psychedelics and cannabis who work tirelessly in behind-the-scenes roles, as well as newcomers who bring unique voice and talent to the community and/or who shine in spotlight positions.
---
#MariOmori #fan #visionaryart #art #artist #witch #feathers #ethical #psychic #spirit #ayahuasca #iboga #mushrooms #cannabis #coca #bluelotus #moon equinox #solstice #PsychedelicFeminism #CosmicSister #MAPSCanada #ZoeHelene #wildernesswithin #women #wilderness #wildlife #psychedelic #plantspirit #sacredplant #entheogen #womensupportingwomen #nature #plantmedicine #earth #womeninpsychedelics