Ayahuasca Boiling Brew Nihue Rao. Photo by Tracey Eller
The Visionary Behind L.A's Visionary Convergence
Zoe Helene, Reset.Me (part 1)
Cosmic Sister Zoe Helene Interviews Visionary Convergence Producer Sita Sitaramaya
Visionary Convergence in Los Angeles, September 25 – 27, 2015, at the Big Art Church in Hollywood. ‪#‎VisionaryConvergence‬ @ConvergenceLA
Plant teacher and shamanic practitioner Sitaramaya Sita produced Visionary Convergence Los Angeles to cultivate community and awareness for visionary plants such as ayahuasca, psilocybin mushrooms, iboga, peyote, cannabis, San Pedro cactus, and other sacred medicines. This boutique event will cultivate community and common ground, specifically in Los Angeles, where Sita says "communities tend to be fragmented and not cohesive."
Sita also produced the now legendary Amazon Convergence in the Peruvian Amazon in 2008. I was there with my husband, Chris Kilham, who was one of many experts invited to the gathering, which he recalls as "a nine-day, take-no-hostages gathering that stands as one of the great psychedelic conferences of our lives." I drank ayahuasca there for the first time, together with 75 others, lying on mats in the jungle under the light of a spectacular full moon. The medicine was muy fuerte, as they say… so quite the scene.
What inspired you to pull Visionary Convergence 2015 together? And why Los Angeles?
A long time ago I got a message that I should be working in my own backyard, but I really didn't know what that meant until I presented at The World Ayahuasca Conference in Spain a year ago. I saw people from all over the world coming together around ayahuasca. I saw the vine weaving her way across the globe, and I realized, here I am in Ibiza, and there's Breaking Convention in London and Horizons in New York and MAPS in Oakland, but nothing is happening in Los Angeles—and I live in Los Angeles! There's just no reason why we can't do this locally and build community right here.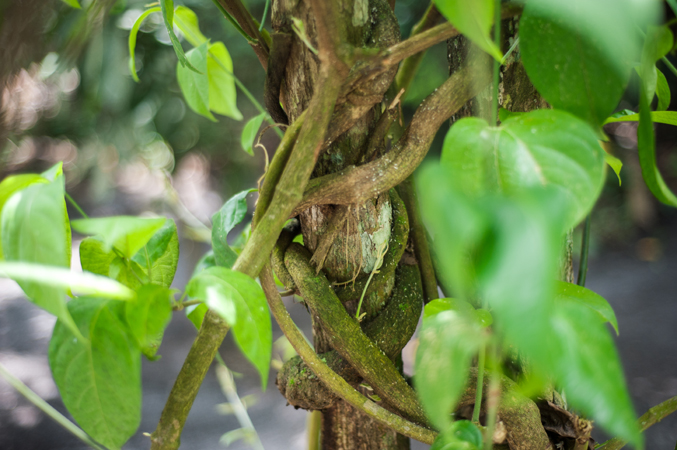 Ayahuasca (Banisteriopsis caapi),
La medicina
, the Vine of the Soul. Photo by by Tracey Eller
So it was more like a calling than concocting an idea?
Yes, and it was really clear, like, bing! It came like a flash: I have to do this. It was a download, a message: This is your next gig. My intention has really has been to cultivate community, specifically in Los Angeles where communities tend to be fragmented.
It also came from recognizing some important things about the other conferences that troubled me: the heavy weight on academics; the lack of women represented; not really hearing from practitioners and people who are doing the work with the plants; and the lack of art. It was a lot of, "We've standardized ayahuasca and are conducting this clinical research, and here are our results in PowerPoint." That's all really important but where's the heart?
And I thought, Wow! Look at this! What we have—again—is a bunch of middle-aged white guys. We're mirroring the culture at large. If we want to create a new paradigm, we need to create a new paradigm.
I so appreciate that you are focusing on plants (and fungi) rather than synthetics. Plants communicate with humans like they do with other living beings and with each other. I find that so fascinating.
You're talking about plant spirit, an element that is missing from synthetically produced medicines in the modern world and a major topic of conversation at Convergence. How do we want to define medicine in the 21st century? It makes so much sense to connect with the spirit of plants. They have healing properties and things to teach us. The spirits of the plants speak to the spirit inside ourselves, setting the stage for wholeness.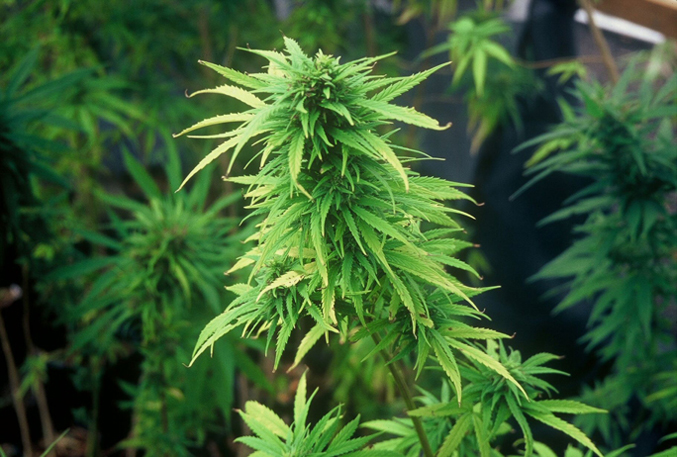 A beautiful, healthy cannabis plant. Photo by Chris Kilham
I'm especially looking forward to ethnobotanist Kat Harrison's "Who is Cannabis?" presentation.
Ethnobotanists understand how cultures often perceive powerful plant species, such as cannabis, as beings. Kat's talk is about "who" the cannabis spirit is in terms of her role and persona in personal and cultural experience and what she offers our times. Cannabis has a star lead role these days. She has helped humans grow throughout the ages and continues to help us steward our spiritual evolution—and there will be a lot of conversation about that at Visionary Convergence. I work primary with ayahuasca, but I had a visitation from cannabis, while working with ayahuasca, in which it revealed to me how it is a master plant and how it can be used. Many people have experiences of plant spirits as either feminine or masculine or both at different times. In this particular visitation, I had not ingested cannabis and it came to me as an omniscience without human assigned gender form. It was purely plant.
I applaud you for inviting both artists and scientists. The arts and sciences are great allies.
When we think of science and particles and quantum physics where nothing can exist without something else, you would think we were talking about Eastern mysticism. And we are. It's all the same. And this goes back to discovering that common ground—not looking at the arts and sciences as separate.
If you look at sacred geometry—it's just geometry. So we call it "Sacred Geometry," and suddenly it's "art." But it's still geometry, which is science—and it's also art. It's both.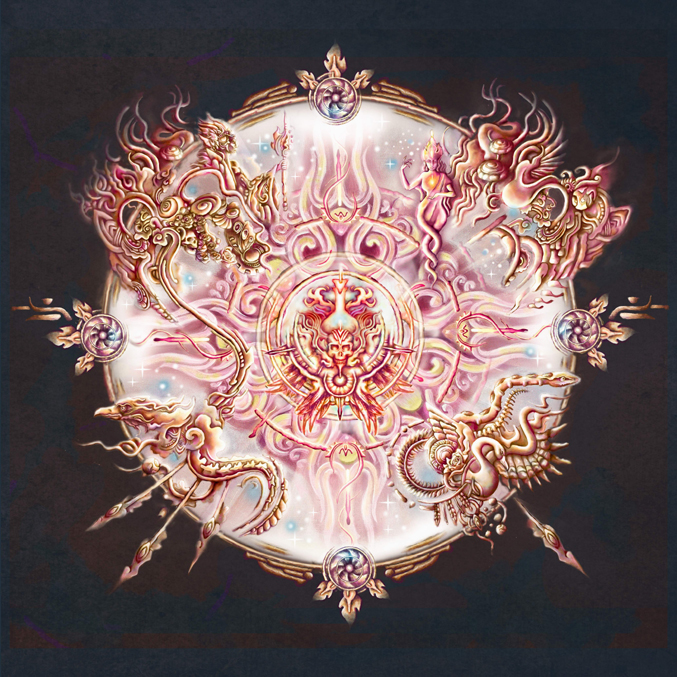 Celestial Remix. Visionary Art by Stuart Griggs
Art is a universal language that can lift you.
Yes! When I'm communicating with plants or looking at a painting and I'm really dialing into that energetic connection, there's massive communication going on. I don't have to talk—I can just be with it. And I think it opens up a part of our way of knowing that is really important.
You have a gift for bringing gifted people together. You did it in the Amazon, and you're doing it again in Los Angeles.
I invited visionaries, doctors, researchers, spiritual teachers, healers, therapists, filmmakers, and artists to come together and discover common ground. I'm so happy and honored and blessed to be able to put together a conference like this.
You invited many powerful women to present. Let's start with ethnobotantist Kathleen "Kat" Harrison, the keynote speaker.
Kat Harrison was the first person I invited. She's has been working for more than 30 years with indigenous people. She has a longstanding relationship with the Mazatec people of Oaxaca, Mexico, and with mushrooms and plants, including Salvia divinorum, which has a strong consciousness-altering sacred plant tradition. She's interested in how indigenous people perceive nature and how they express that in healing ceremonies, and she sees psychedelic plant and mushroom rituals as part of our relationship to nature. She also stewards an extraordinary Ethnobotanical Forest-Garden on the Big Island of Hawaii. She's a treasure, and I want everyone to know that.
How about Annie Oak?
Annie Oak, the founder of Women's Visionary Congress, has been an independent researcher and a writer and a supporter of women in the psychedelic movement for many years. She also created the Full Circle Tea House in San Francisco. She also hosts salons and is willing to address sexual misconduct—the dark side of the movement that people don't want to talk about—head-on without censorship.
Another woman I'm interested in learning more about is physician and neuroscientist Leanna Standish, PhD.
Leanna Standish is a naturopathic physician and neuroscientist specializing in naturopathic oncology. She works with stage four cancer patients and teaches at the School of Naturopathic Medicine at Bastyr University a science-based natural medicine university emphasizing mind/body/spirit integration and nature in wellness. She has spearheaded laboratory research to standardize ayahuasca preparations so that she can seek FDA approval to conduct ayahuasca clinical studies in the U.S., where herbal remedies for the marketplace must be standardized. And she's been doing it mostly on the sidelines, which I find interesting. She really gets the value of ayahuasca, including the ceremonial aspect, which I think is pretty phenomenal coming from the viewpoint of neuroscience.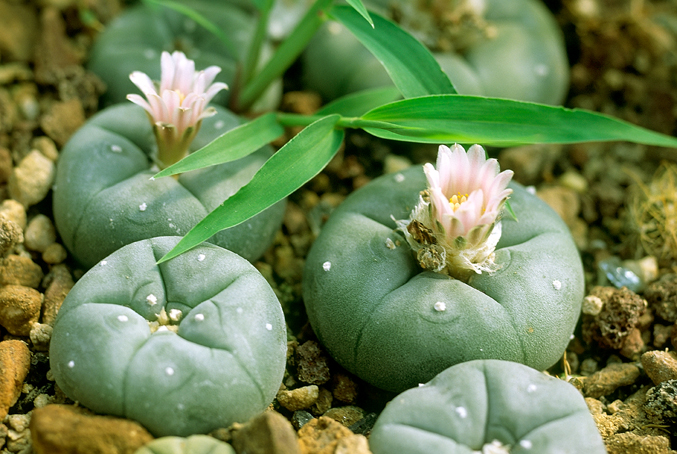 Peyote (Lphophora williamsii). Photo by Cristina Dini | Dreamstime
I also find German-Mexican psychotherapist Anja Loizaga-Velder intriguing. I'm very interested in peyote and the Huichol people.
She's a clinical psychologist who has been working with psychotherapy and the ceremonial use of psychedelic sacred plants for more than 20 years. She's a real pioneer in the healing benefits of plants and non-ordinary states of consciousness. She has a center in Mexico and works with the Huichol communities in rituals with sacred plants. She and her partner have an organization called Nierika in Mexico that works on preserving indigenous traditions and ceremonial use of sacred plants like peyote. She also is conducting research in working with ayahuasca in ceremony to heal eating disorders, and she'll be sharing her research and talking about that work at Convergence.
Psychotherapist Susana Bustos focuses on post-ayahuasca integration and on icaros, the ceremonial healing songs.
She teaches psychology and entheogenic shamanism at the California Institute of Integral Studies in Berkeley, and she's on the cutting edge of the use of entheogenics in psychotherapy. She and her husband, Robert Tindall, have been traveling to the Amazon for many years. She has also done quite a bit of research and field work on the effects of song (icaros) and plant diets on healing processes. Susana also understands how important it is to take care of people after the ayahuasca experience once they come home, so a lot of her focus is on integration.
Tell me about the frame drum artist Miranda Rondeau. Her bio reads, "She sings to remember and to connect to soul, chanting in a devotional language of her own."
Miranda Rondeau comes from an ancient tradition of women frame drummers. When she "sings," she is really channeling, and she is phenomenal and totally inspired. She is about inspiring women to have self-expression and about encouraging people to open their mouths and be who they are. And, by the way, she is L.A. born and bred.
TEDx poet Rachel Kann is so full of spirit! I watched her video on the site, and I love these words, "I need you to feel me or I will die."
Rachel Kann's poetry is true medicine and really a performance. Her word-smithery and modern-day mysticism is passionate, powerful and humble. And she loves collaborating with others, so often she'll perform poetry with musicians. Rachel is about bringing the poetry back to our lives.
The organic chef, Sarah Brewer sounds fantastic! It's wonderful that you took the time to find the right person to artfully create the food.
Sarah Brewer speaks from the heart through plants as food and medicine. She did a multi-month gig in the Amazon jungle as a chef at an ayahuasca center. Her food is vegan and non-vegan, but the only animal products that she'll serve are from humanely raised sources. All of the food that's coming in will be sourced at the farmer's market just days before the event. Her cooking is about consciousness and her esthetic is exquisite.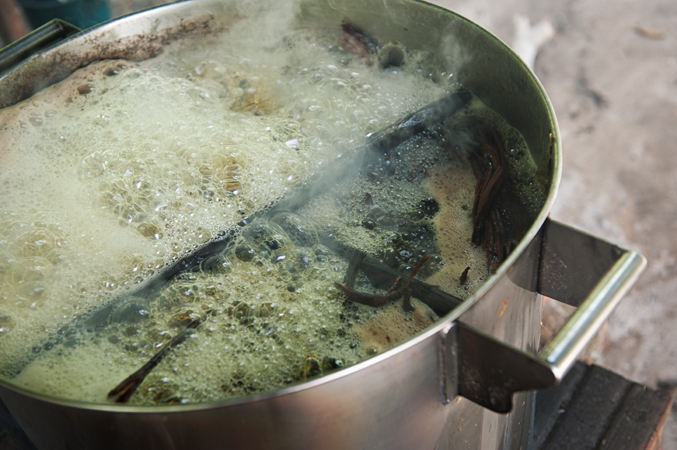 Ayahuasca leaf and vine is boiled down to a strong, thick brew. Photo by Tracey Eller
And then there's AyasminA, one of most talented and remarkable people in the scene.
I had the great good fortune of meeting AyasminA many years ago in Peru and cultivating with her one of my most sacred friendships. She is a cross-cultural bridge, helping us understand indigenous concerns in Peru. She is a multi-linguist interpreter and, more than that, has a keen inner sense that allows her to connect with people of different cultures and languages.
I've only met Cvita Mamic once, but I was so impressed by her feminine creativity, strength and wisdom.
Cvita Mamic is a wonderfully articulate artist and medicine woman who, together with Dr. Joe Tafur and Ricardo Amaringo, founded Nihue Rao Centro Espiritual, an ayahuasca healing center in Peru. Her artistic vision and deep understanding of non-linguistic expressions and work in the dreamtime has been a vital competent of Nihue Rao's success and vital – literally, life giving, to the people who have been treated there.
You've also invited some impressive and progressive men. I'm happy to see that integrative psychiatrist Dan Engle will be there. He's a brilliant man who truly cares about people.
I find Dan Engle, the medical director at Temple of the Way of Light healing center in Peru, so compelling, particularly his drive not to treat people psychiatrically with pharmaceuticals. He's doing important work integrating entheogens into the practice of psychiatry. Any time we can bridge or blend conventional Western medical training with indigenous medicine healing wisdom, that's a good thing.
And anthropologist Jeremy Narby?
Jeremy introduced me to Juan Flores, the Ashanika shaman whom he refers to in his book The Cosmic Serpent. He encouraged me to follow this path and shared his connections in Peru with me, so he's important in my life. He can't be here in person because he's writing a new book, but he's Skyping in. He was also part of the first Convergence in the Amazon.
I watched the video of Tony Moss and the LuvAmp Project on the Convergence site. Wow!
The LuvAmp Project is an artist's collective, and Tony Moss is the central guy. They're the Saturday night concert. His music is a combination of art, spirituality and science, and he's passionate about human potential and the evolution of consciousness. He also founded the I.AM.LIFE youth empowerment project that's all about interconnectivity. Every year he takes a group of young people down to the Peruvian Amazon, and some of them will be at Convergence.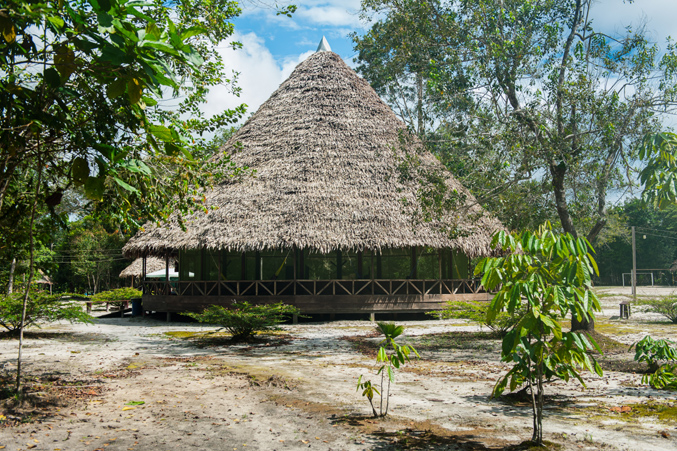 The Nihue Roa ceremonial moloka by day. Photo by Tracey Eller
And there's our friend Joe, who is doing astounding work.
I was just several years into my own training when I first met Dr. Joe Tafur in 2009. I was impressed by his keen awareness, as a young doctor practicing in the U.S. medical system, of the need for the spiritual component of medicine and healing. He has traveled to Africa and South America to experience and conduct firsthand investigations of ancestral healing practices. He has since engaged in additional training in the Shipibo system of medicine practice and now works with others at Nihue Rao to provide full-spectrum treatment for people: ancestral, contemporary, medical, plant-based, physical, spiritual and emotional healing work. I have had the great gift of watching his emergence to bring forth that component of healing work. He has a foot in both worlds, both here and in Peru, and he walks those two dual paths with integrity.
And of course… my sweet husband is a wonderful man.
When I think back to Chris Kilham at Amazon Convergence 2008, I think about his passion for the plants. How that spills over into his support for people is really powerful. He really is a true visionary, pioneer and renegade—and we need those people. He's on the frontline, out there in the jungle and trying that plant and talking to the locals and seeing, feeling, tasting, touching, being with the plants and the people. And he doesn't bat an eyelash in terms of using his visibility for what he believes in. Isn't that what we all want to be doing?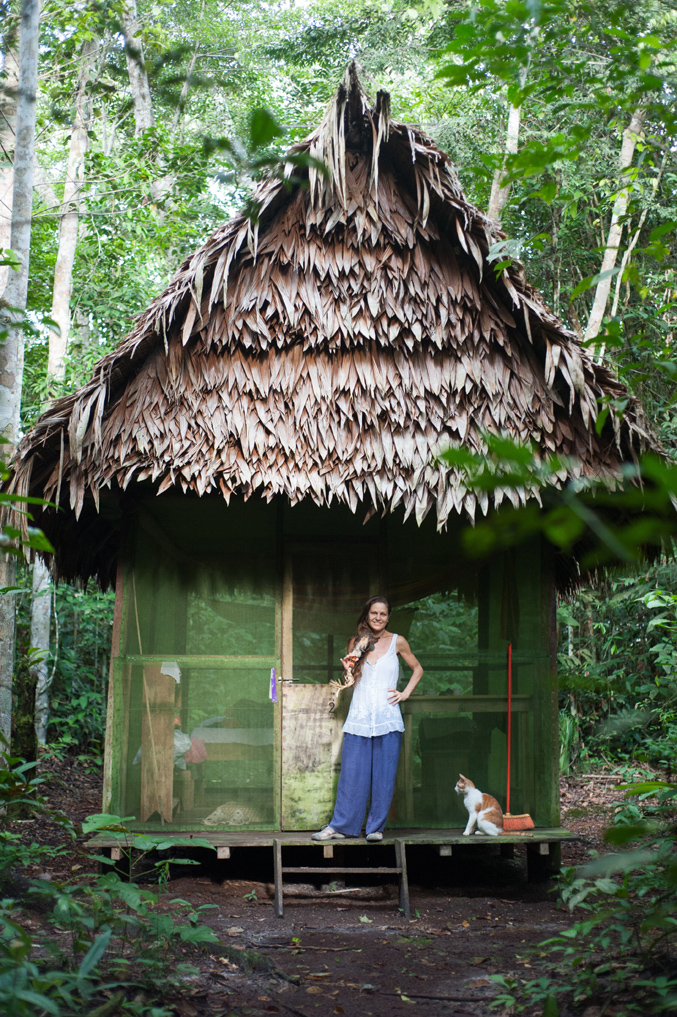 Sita Sitaramaya at her tambo, an ayahuasca retreat solo jungle hut. Photo by Tracey Eller
Visit Visionary Convergence 2015 for more information. With interest in psychedelics and cannabis at an all-time high, remaining tickets will go quickly.

--END--
Multidisciplinary artist and environmental activist Zoe Helene (@zoehelene) is passionate about promoting and connecting kindred-spirit trailblazers in mutually supportive ways. Through Cosmic Sister (@cosmicsister) advocacy projects, she helps communicate messages of love, liberty, and informed pro-activism. Zoe is a devoted wildlife advocate and Woman of the Psychedelic Renaissance.
--SUPPORT--
This story in was made possible through the Cosmic Sister Women of the Psychedelic Renaissance educational advocacy initiative.