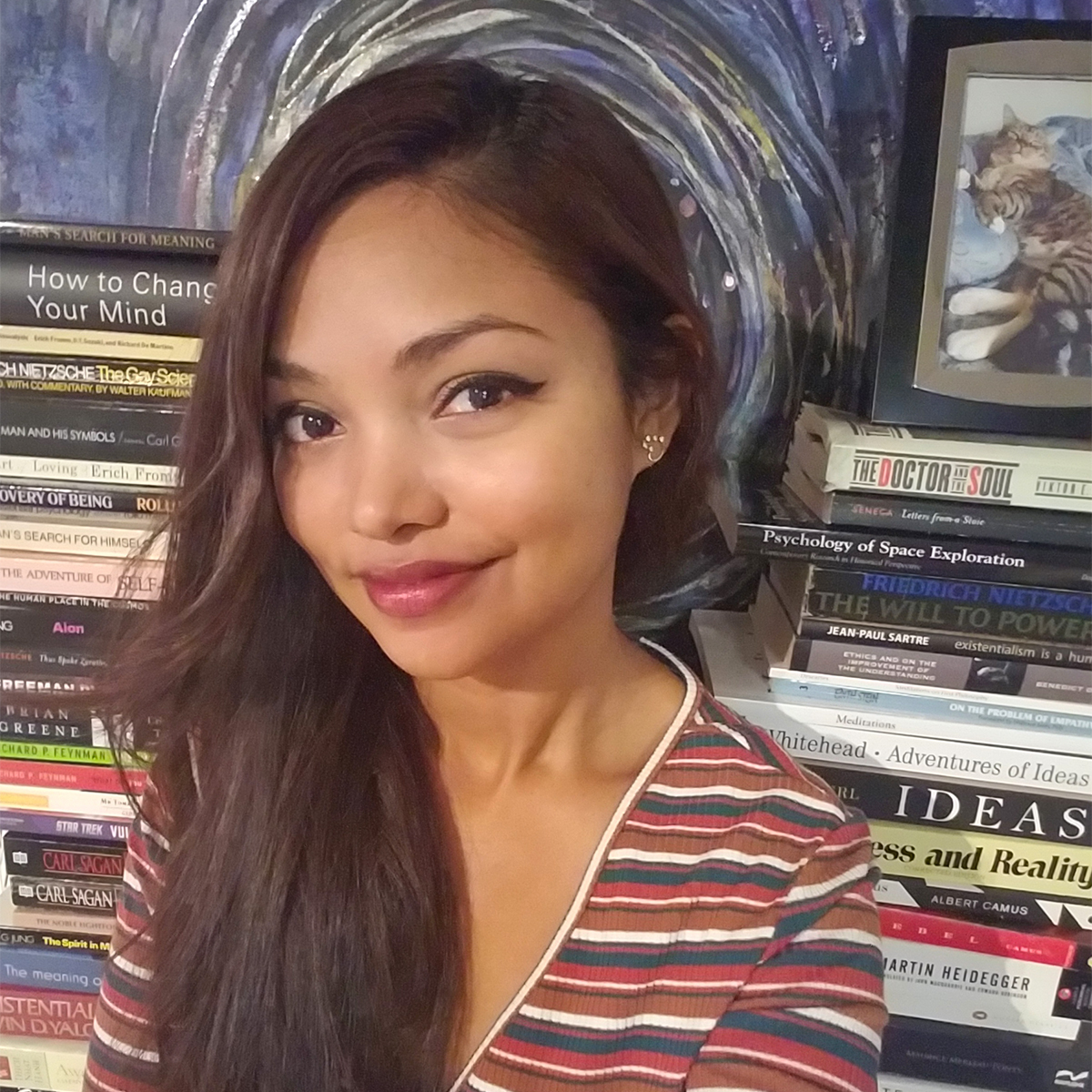 Lisa Marie Persaud, star gazer and psychedelic therapist in training, wins Cosmic Sister Ancestor Medicine Award
Cosmic Sister Ancestor Medicine Award
Lisa Marie Persaud (@lmariepersaud), visionary artist, star gazer, and psychedelic therapist in training, received a CS AMA to explore her pre-colonial Tamil Nadu (Southern India) and Uttar Pradesh (Northern India) ancestry with sacred medicine allies and to write about the experience.
---
Lisa Marie Persaud is an artist based in Phoenix, Arizona. She was born in Guyana, "the land of many waters", a tiny South American country bordering the North Atlantic coast. Lisa Marie grew up, and spent most of her life in Brooklyn, New York.
She enjoys painting and writing, existential and process philosophy, humanistic and transpersonal psychology, and deep ecology and cosmology. She created MorphogenicMe.com in 2013 to share her art and thoughts with the world. Lisa Marie's art is inspired by the human condition, the diversity of species on Earth as well as the heavenly bodies that adorn our universe, and the mysteries that underlie our cosmos. Her art is an expression of the harmony, inter-connectedness, and interdependence that exists between all forms of nature, and strives to offer the observer-participant a moment of awe and wonder.
Her interests include the healing potential of ecotherapy and non-ordinary states of consciousness. She is especially interested in sublime and awe-inducing experiences that catalyze holotropic states, spiritual experiences, and emotional shifts that foster insight, well-being, and a deeper connection to oneself, or the natural world. She believes that recognizing our being part of nature is necessary for mental health and social solutions to the global challenges facing us today (e.g., climate change; water, land, air, and space pollution; loss of biodiversity; racial, social, and economic injustice; famine, and war).
Lisa Marie attended The City College of New York and obtained her Bachelor of Arts degree in Theatre (2009). She received her Bachelor of Science degree in Psychology from Grand Canyon University (2018) and Master of Science in Education in Counseling and Mental Health Services from the University of Pennsylvania (2021). She is currently studying Professional Counseling at the University of Pennsylvania.
In 2020, Lisa Marie was awarded a Cosmic Sister Emerging Voices Award in partnership with MAPS Canada by Cosmic Sister founder, Zoe Helene, MFA. In 2021, she completed a Certificate in Ecopsychology through Pacifica Graduate Institute. In 2022, she was awarded a Cosmic Sister Special Talent Scholarship by Zoe Helene, and the first-ever Access to Doorways subsidy by Courtney Watson, LMFT, founder of Doorway Therapeutics to attend The River Course taught by Joseph Tafur, MD (founder of Modern Spirit). Lisa Marie is currently expanding on her training in entheogenic-, empathogenic-, and psychedelic-assisted therapies.
She is also a member of Frank White's (founder of the Human Space Program) Overview RoundTable, a network of STEAM visionaries inspired by the beauty, awe, and promise of the Overview Effect and space exploration. In 2020, Lisa Marie also participated in the first-ever 'Introduction to Astrobiology' virtual course conducted by the Amity Centre of Excellence in Astrobiology (Amity University, Mumbai). She is also SpaceKind Alumni (cohort 2, 2021). SpaceKind is a space leadership and development course taught by Loretta Hidalgo Whitesides, co-founder of Yuri's Night.
Lisa Marie is co-author of The Overview Effect and Well-Being (2021). She is also the Artistic Director and Curator of the Earthling Project's virtual Art Gallery.
Lisa Marie practices silent meditation and mindfulness, and she loves Sci-Fi and stargazing.