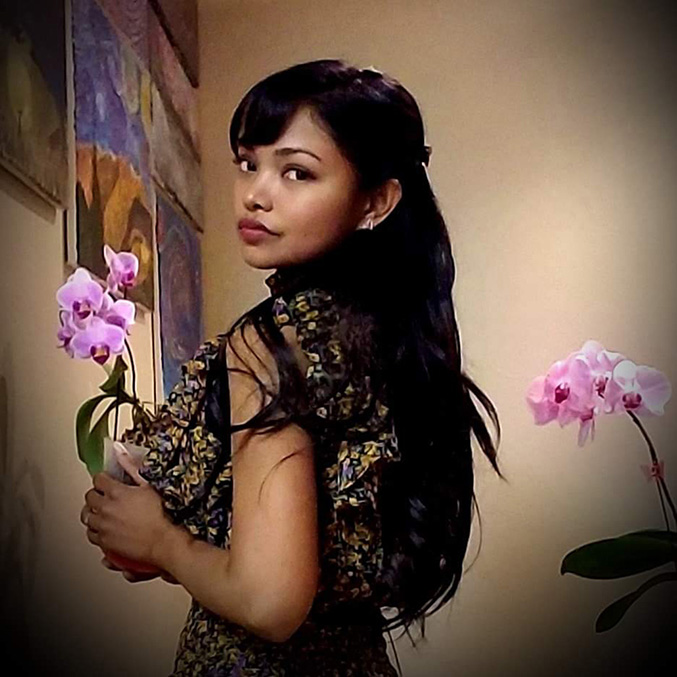 Lisa Marie Persaud wins Cosmic Sister Emerging Voices Award
Cosmic Sister Emerging Voices Award
Congratulations, Cosmic Sister Emerging Voices Award (CS EVA) recipient Lisa Marie Persaud (@lmariepersaud)!
Lisa Marie is an artist and psychology student at the University of Pennsylvania. Born in Guyana to a family of Indian origin, Lisa Marie loves the fusion of African, Indigenous, Indian, and Caribbean cultures that make Guyana so unique.
Lisa Marie created MorphogenicMe.com to share her art with the world in 2013. Her art is inspired by the human condition, Earth's diverse species, the heavenly bodies that adorn our universe, and the mysteries of our cosmos. Her mission as an artist is to communicate and promote the interconnectedness of life, the beauty of diversity, and awareness of our responsibility to all species on Earth.
Lisa Marie obtained a BA in Theatre from The City College of New York in 2009 and a BSC in Psychology from Grand Canyon University in 2018. While studying psychology, Lisa Marie centered her capstone thesis on LSD-assisted logotherapy as an avenue of treatment for major depressive disorder. Her thesis aimed to "reduce the stigma of LSD by illuminating the healing potential of novel experiences upon the human psyche."
"I have adopted as my mission the responsibility to help others better connect to themselves and the natural world through art, mental health counseling, earth/space exploration, and psychedelic integration therapy," she says.
Lisa Marie's long-term goal is to become a psychedelic psychotherapist and she is currently studying counselling at Penn State. "Plant medicines and other psychedelics are important to me because they offer great healing, can alleviate unnecessary suffering, offerings new ways of seeing and interacting with reality," she says. "Psychotherapy wants to understand how the mind behaves in order to alleviate suffering, and psychedelics provide the opportunity to do so."
In partnership with MAPS Canada's Examining the Psychedelic Renaissance, Season 2 (@MAPSCanada), the CS EVA increases visibility for talented women in psychedelics and cannabis who work tirelessly in behind-the-scenes roles, as well as newcomers who bring unique voice and talent to the community and/or who shine in spotlight positions.
---
#LisaMariePersaud #Psychotherapy #Guyana #India #BIWOC #artist #psychology #healing #humancondition #cosmos #space #naturalworld #PsychedelicFeminism #CosmicSister #MAPSCanada #ZoeHelene #wildernesswithin #women #wilderness #wildlife #psychedelic #plantspirit #sacredplant #entheogen #womensupportingwomen #nature #plantmedicine #earth #womeninpsychedelics