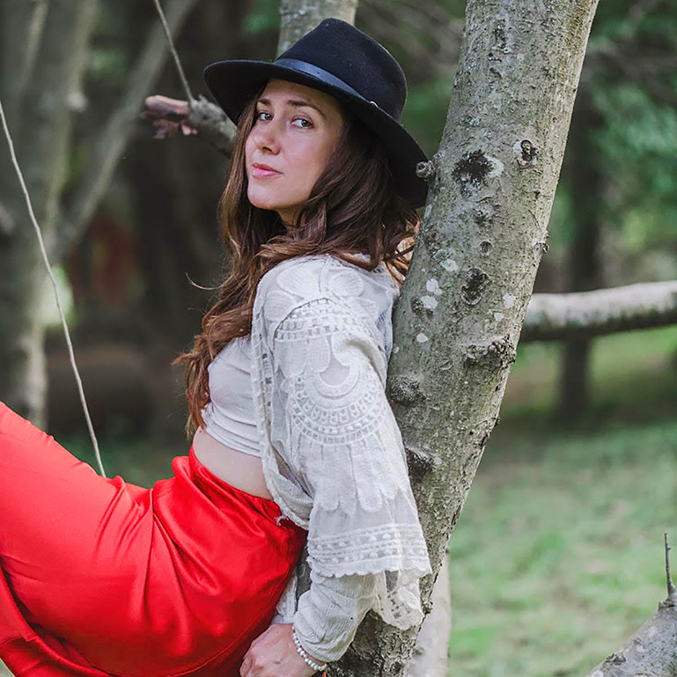 Katlyn Rose wins Cosmic Sister Emerging Voices Award
Cosmic Sister Emerging Voices Award
Congratulations, Cosmic Sister Emerging Voices Award (CS EVA) recipient Katlyn Rose (@cha_michi)!
Pennsylvania-based Katlyn Rose is a plant medicine advocate whose deep connection to nature inspired her to immerse herself in folk herbalism, which she began practicing under the mentorship of a naturopath 10 years ago.
Katlyn has done personal work with psychedelics for over 16 years. She spent a handful of years learning from Peruvian and Ecuadorian Amazon tribes and dieting alone in the jungle with master plants, further healing herself and sharing that wisdom found within her own healing by facilitating ceremonies alongside curanderos in Peru.
"I believe we are given gifts within our struggles and traumas, and as we begin to unravel and overcome them and find grace through the process, we are then able to pass these gifts of healing to others," she says. "Every time I shed another layer of trauma, it naturally reflects in the space I hold for other women on similar journeys."
Born prematurely, Katlyn was ill throughout her childhood. She has experienced profound healing from depression, PTSD, and physical ailments through her work with plant medicines. "My time in solitude with a variety of master teacher plants not only offered that physical healing but a much deeper connection to my own intuition and to the spirits of the plants," she says.
Katlyn founded the Psychedelic Club of Pittsburgh (@psychedelicclubofpittsburgh) to share her passion for the transformative power of plant medicines and is director of awards and operations with the Sleeping Octopus Assembly on Psychedelics (SOAP), co-hosted by MAPS and the Pittsburgh Psychedelic Society. Katlyn helped Cosmic Sister founder Zoe Helene manifest the first Cosmic Sister Emerging Voices Awards during the SOAP II conference.
In partnership with MAPS Canada's Examining the Psychedelic Renaissance, Season 2 (@MAPSCanada), the CS EVA increases visibility for talented women in psychedelics and cannabis who work tirelessly in behind-the-scenes roles, as well as newcomers who bring unique voice and talent to the community and/or who shine in spotlight positions.
---
#KatlynRose #ayahuasca #peru #trauma #depression #PTSD #healing #intuition #PsychedelicClubofPittsburgh #Pittsburgh #SleepingOctopusAssemblyonPsychedelics #folkherbalism #nature #plants #PsychedelicFeminism #CosmicSister #MAPSCanada #ZoeHelene #wildernesswithin #women #wilderness #wildlife #psychedelic #plantspirit #sacredplant #entheogen #womensupportingwomen #nature #plantmedicine #earth #womeninpsychedelics