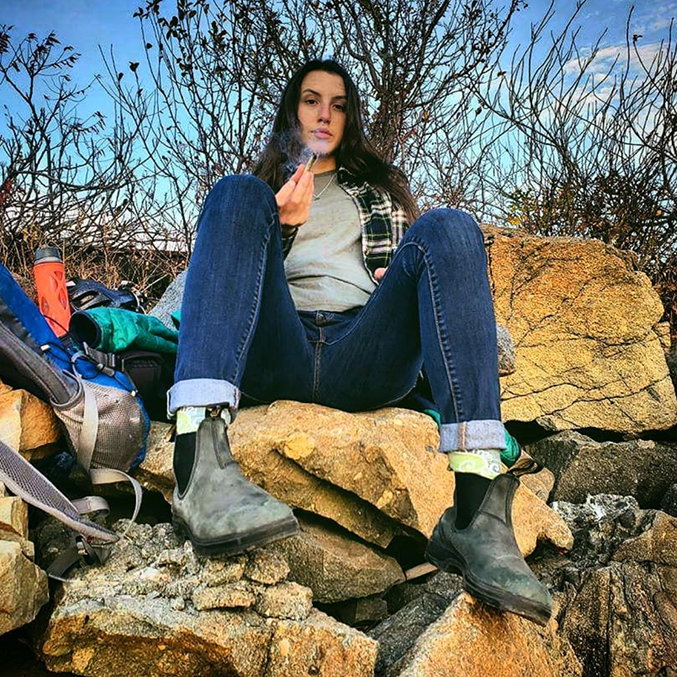 Julia Jerome wins Cosmic Sister Emerging Voices Award
Cosmic Sister Emerging Voices Award
Congratulations, Cosmic Sister Emerging Voices Award (CS EVA) winner Julia Jerome (@juliaexplores)!
Raised in New York's Hudson Valley, Julia developed ulcerative colitis that went undiagnosed for two years while she was in college. After medications provided nothing but side effects, she began researching how people were using cannabis and hemp to treat bowel disease and became a medical patient. Julia healed herself through cannabis, clean eating, exercise, and nature. Since she began making her own clean cannabis medicines, her flare-ups don't last as long and her inflammation is nearly gone.
"Cannabis is a huge part of my plant medicine healing journey," she says. "The day I started listening to my body over doctors' opinions, everything changed. Nature provides all the nutrients we need, and I began consuming things that made me feel nourished."
Julia is actively involved in the New England cannabis industry. For the past two years, she has been the production manager for The Healing Rose Company (@thehealingrose_), a woman-led, family-owned business handcrafting cannabinoid-infused wellness. She speaks on panels about her experiences with cannabis and CBD and leads CBD demos, often introducing people to topical products to break the stigma. She is a CannAthlete at Chronic Trips (@chronictrips), a community of adventure, fitness, and wellness enthusiasts that teaches environmental stewardship, builds community, fosters a sense of place, and helps people live healthier lives through shared experiences.
"Cannabis brings you to an elevated state of awareness that allows you to tune in to what's going on around you," Julia says. "I become spiritually in tune with listening to the wind, watching a critter run through the woods, and the way light peeks through the trees that I might not otherwise be present enough to notice."
In partnership with MAPS Canada's Examining the Psychedelic Renaissance, Season 2 (@MAPSCanada), the CS EVA increases visibility for talented women in psychedelics and cannabis who work tirelessly in behind-the-scenes roles, as well as newcomers who bring unique voice and talent to the movement.
Special thanks to Laura Beohner (@laurabeanaa / @thehealingrose_).
---
#JuliaJerome #TheHealingRose #cannabis #weed #ganja #CBD #hemp #greatoutdoors #outdoors #cannathlete #chronictrips #awareness #healing #adventure #fitness #wellness #hiking #health #PsychedelicFeminism #CosmicSister #MAPSCanada #ZoeHelene #wildernesswithin #women #wilderness #wildlife #psychedelic #plantspirit #sacredplant #entheogen #womensupportingwomen #nature #plantmedicine #earth #womeninpsychedelics