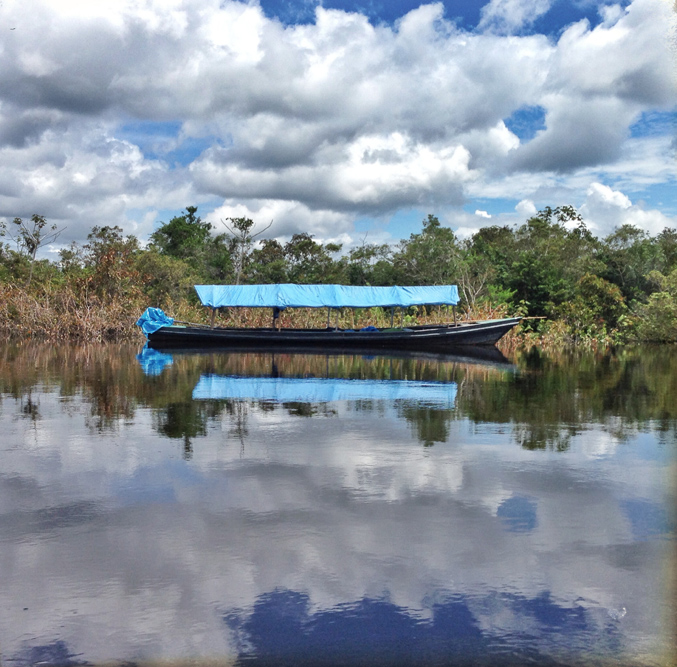 In My Element: Amazon Ayahuasca Adventure
photos by Tracey Eller, words by Zoe Helene
Documentary photographer Tracey Eller was awarded a Cosmic Sister Plant Spirit Grant so she could experience the healing and consciousness-expanding journey of ayahuasca ceremony at Nihue Rao Centro Espiritual in the Peruvian Amazon. Ayahuasca, a traditional psychedelic brew, is not only legal in Peru but is designated as a "cultural patrimony" by the Peruvian government. Eller was on assignment for Utne Reader, sponsored by the Cosmic Sister Women of the Psychedelic Renaissance educational initiative. A visual storyteller who describes her camera as "a gateway to understanding myself and the world," Eller was completely in her element when she stepped out of a moto-taxi and into the jungle.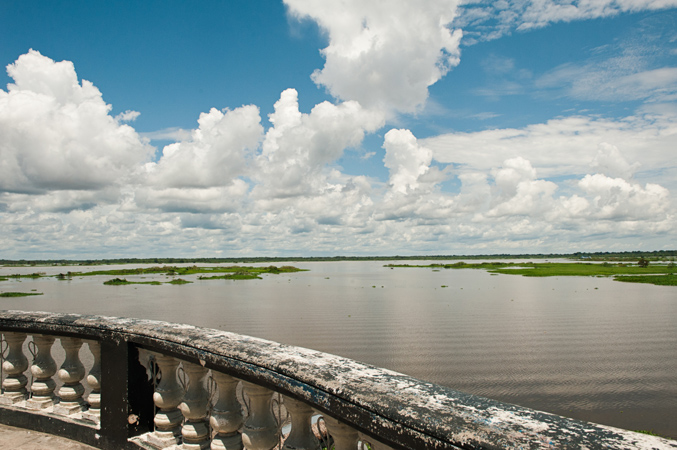 The view from Captain Bill's
Amazon Explorer's Club
in Iquitos, Peru, a bustling river town where an estimated 25 percent of the tourists are ayahuasca journeyers on their way to or from retreats.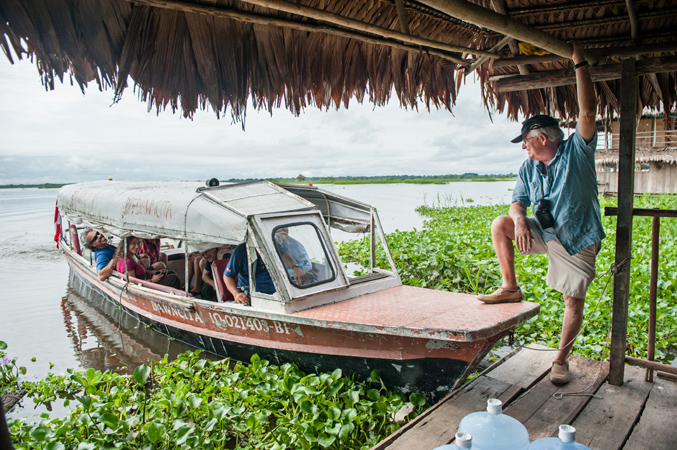 During a private river dolphin tour on Captain Bill's boat Dawnsita we saw two species of camera-elusive dolphins: the remarkable bubble-gum pink Boto (Inia geoffrensis) that has inspired many local myths, and the Tucuxi (Sotalia fluviatilis), a small, lovely dark silver dolphin with a bright pink underbelly.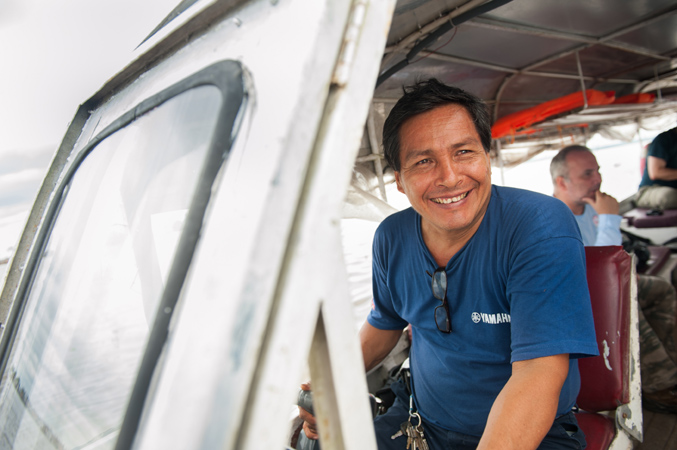 An experienced driver takes us out on the river. Cedric Gilleman is in the background, founder of
Solinia
, an Iquitos-based nonprofit working to protect the river dolphins of Peru, at the confluence of the Amazon and Ataya rivers, where Boto and Tucuxi dolphins feast on fish that are confused by the chaotic currents.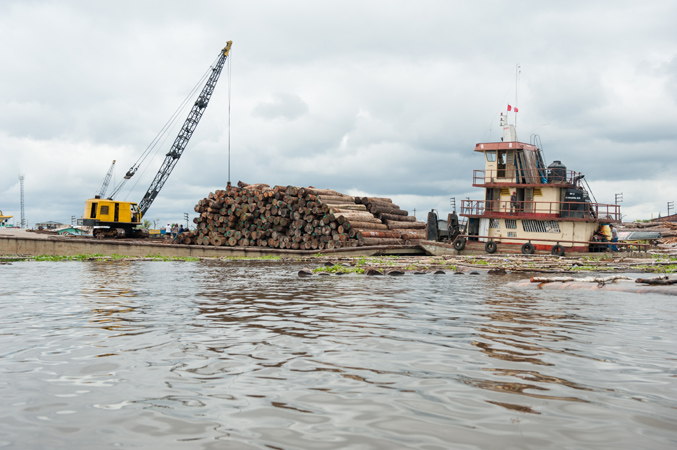 Old-growth lumberyards line the banks of the Amazon and Ataya rivers. Sadly, the destruction of the world's primary rainforests continues to accelerate as 7.5 billion people compete for natural resources. Water pollution caused by timber production and other extractive industries also puts dolphins and all wildlife at risk.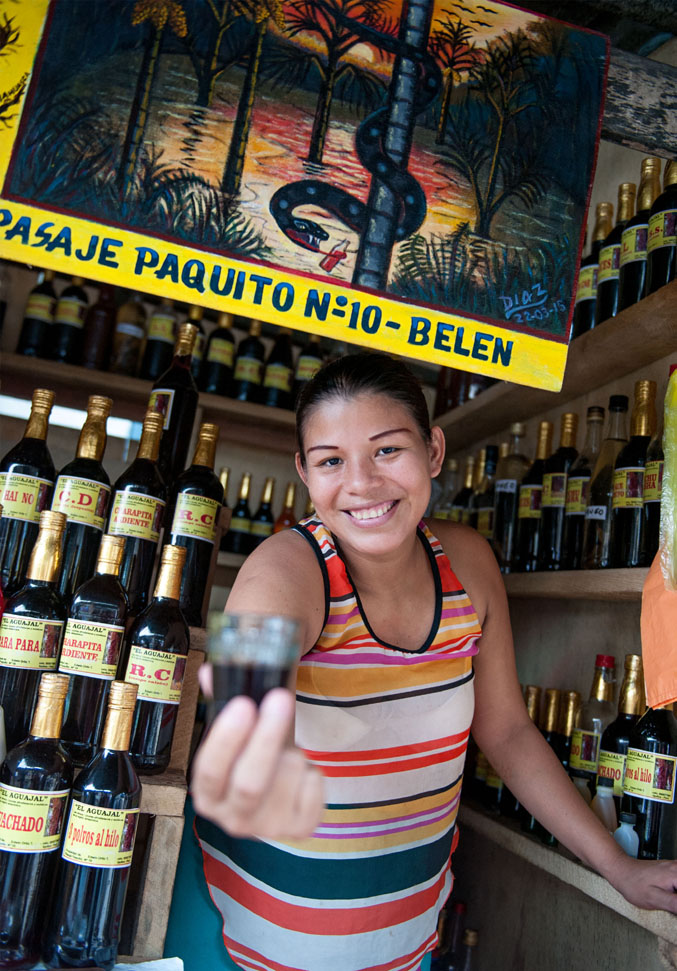 A vendor at Witches Alley, a medicinal plant market section in the Belene Mercado in Iquitos, offers a sample of the famous mojo-boosting 7 Roots Tonic.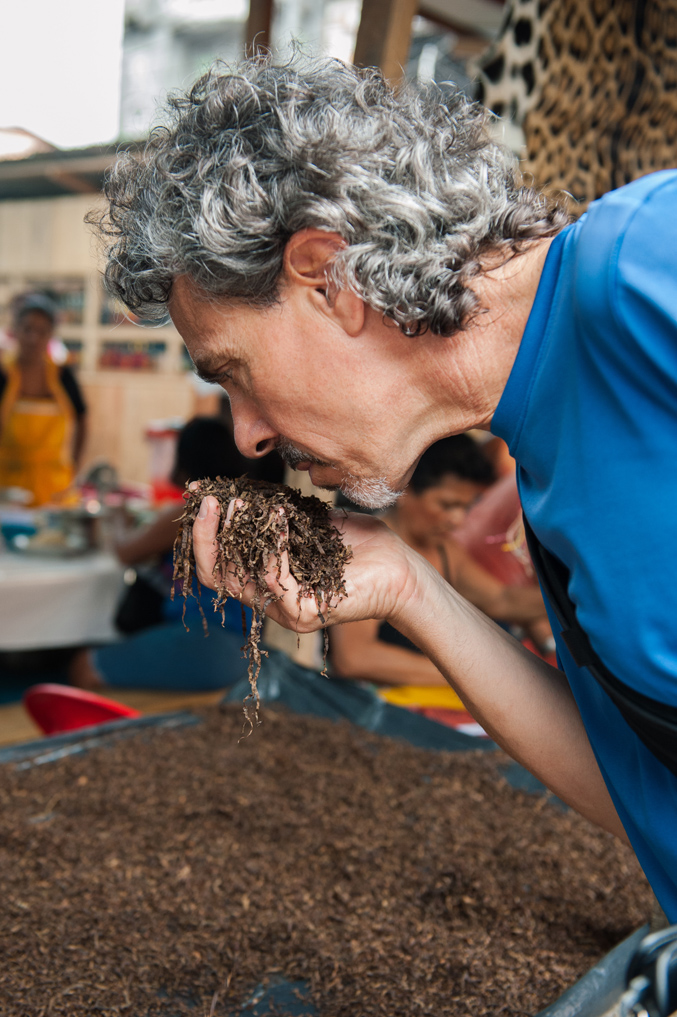 Ethnobotanist
Chris Kilham
, founder of the
Ayahuasca Test Pilots
, smells mapacho, a sacred tobacco native to the Amazon that shamans use in ceremonies for cleansing and protection.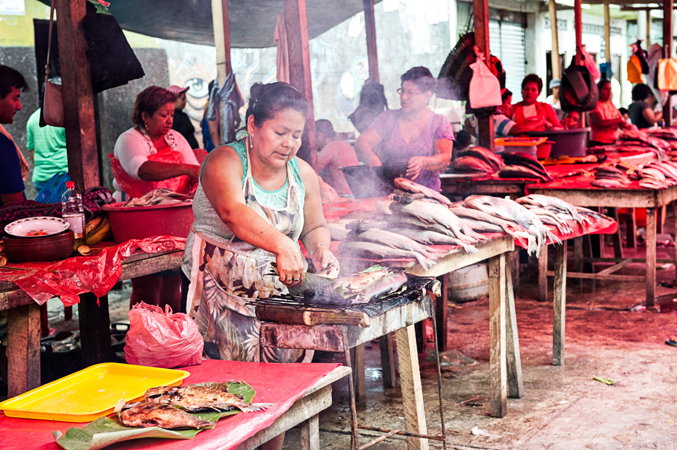 In the market, as women display and grill the catch of the day, the air is thick with smoke and the strong smell of fish.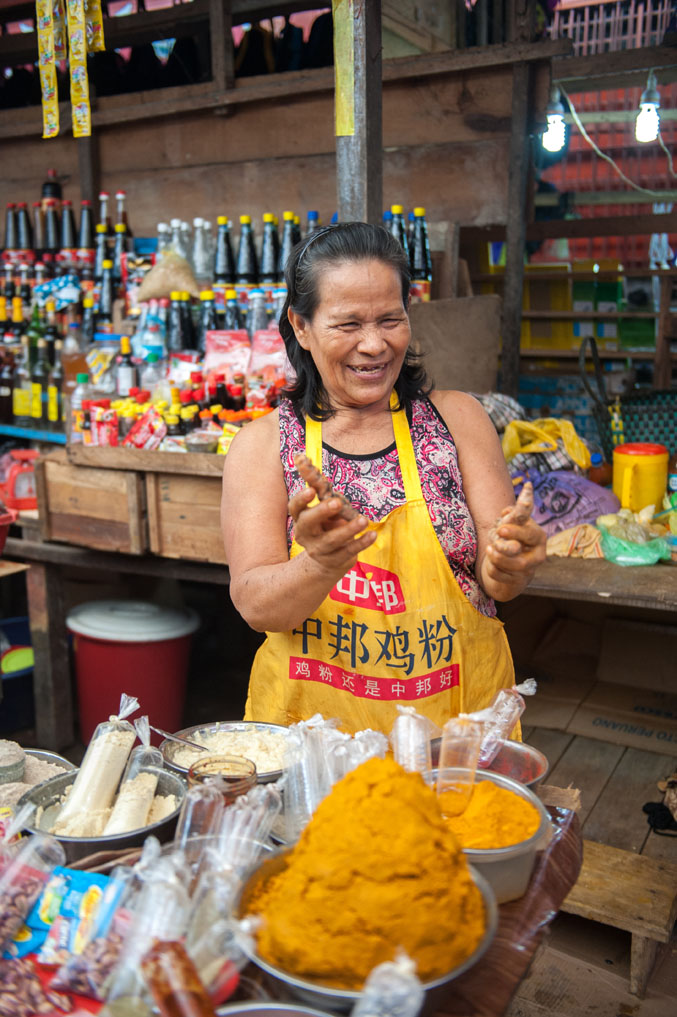 In the market, a woman offers colorful turmeric root, powerful medicine and delicious spice.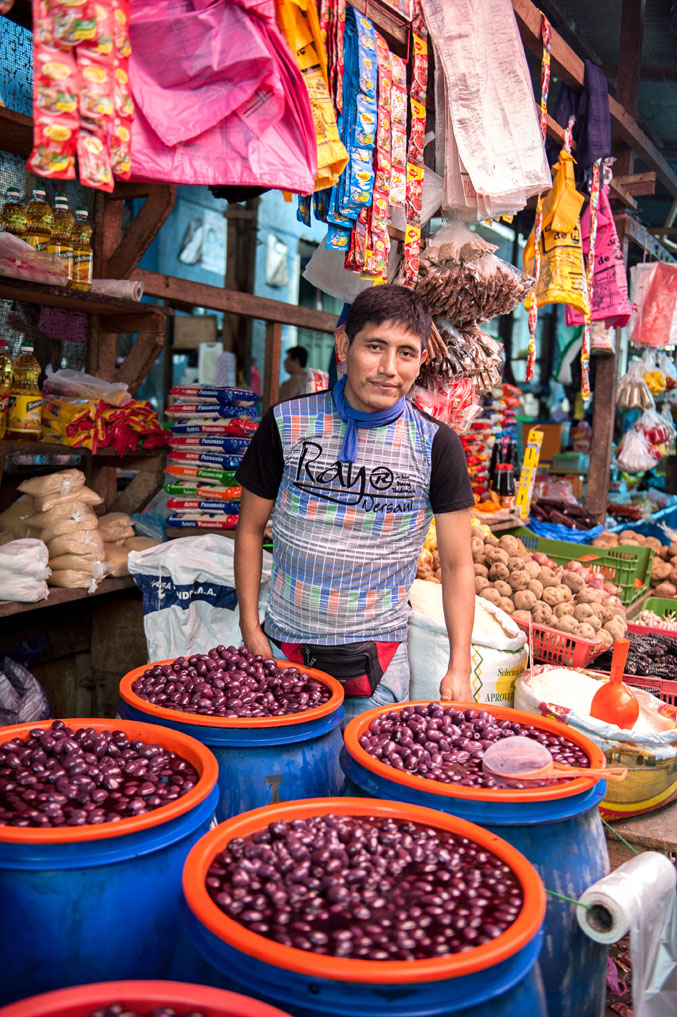 In the market, a man displays magnificent barrels of fresh olives.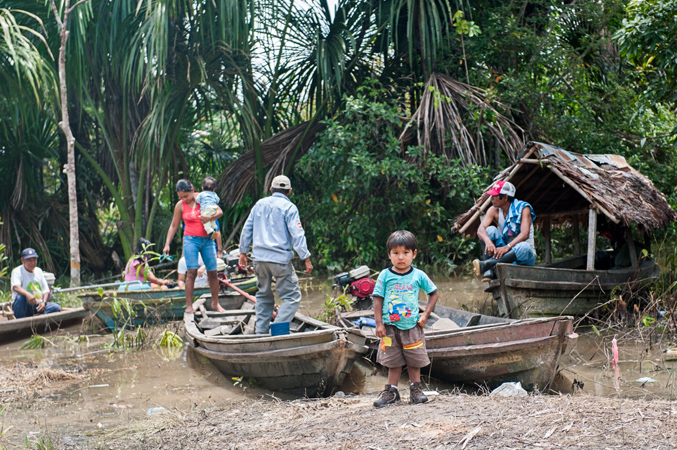 Getting to Nihue Rao is a process entailing a long, muddy motorcar ride and waiting on flooded banks in the heat of high noon for a boat. During the wet season, families travel in boats of all shapes and sizes.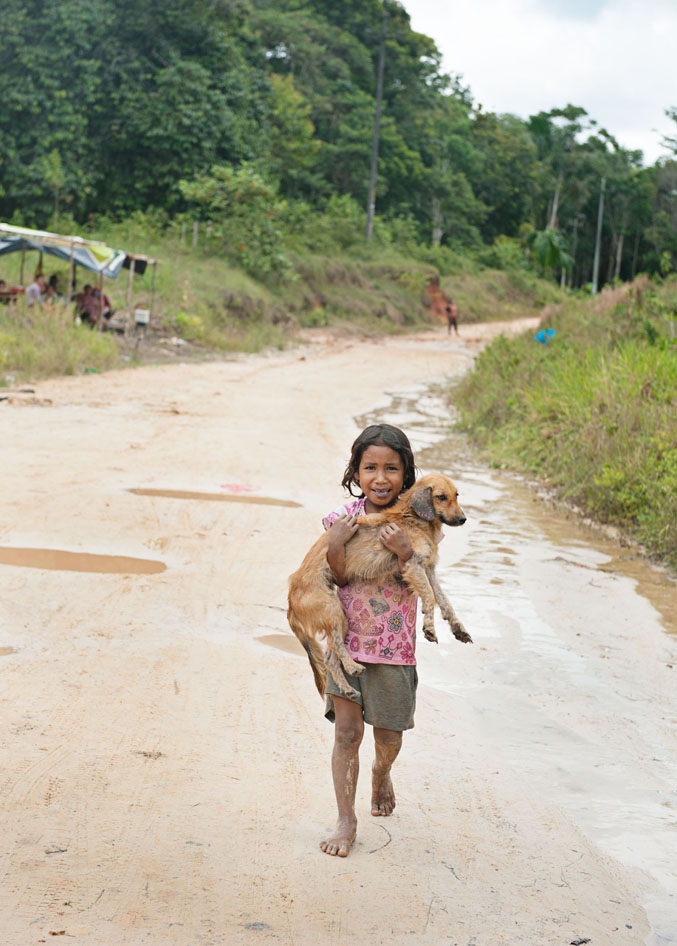 A little girl carries her dog through the mud to meet us.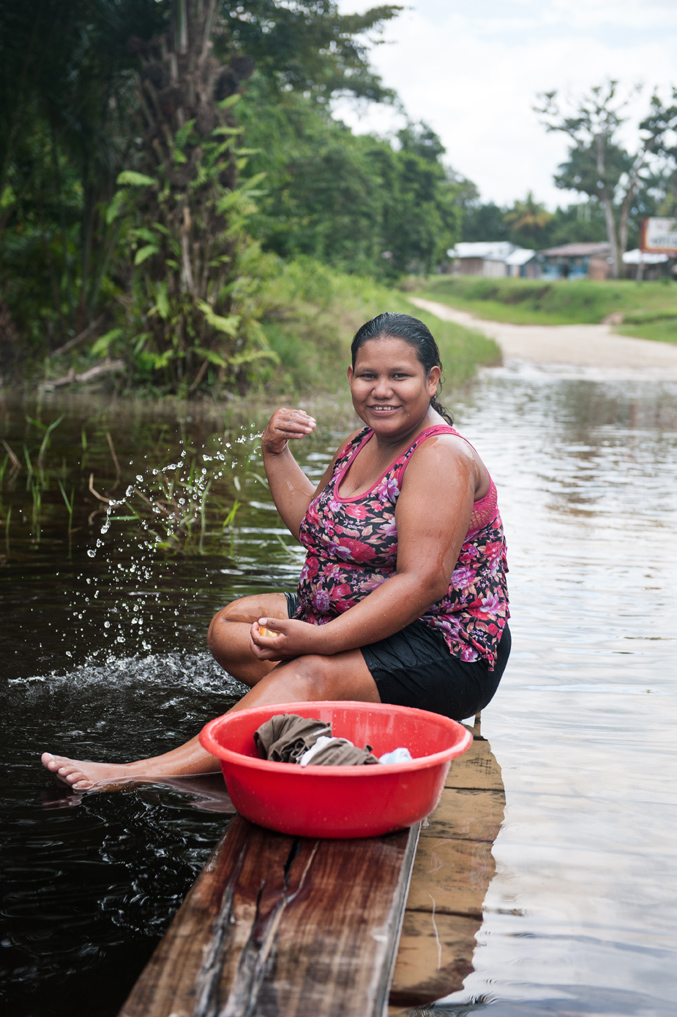 A señora makes use of a flooded bridge to wash her family's laundry while soaking in cool water.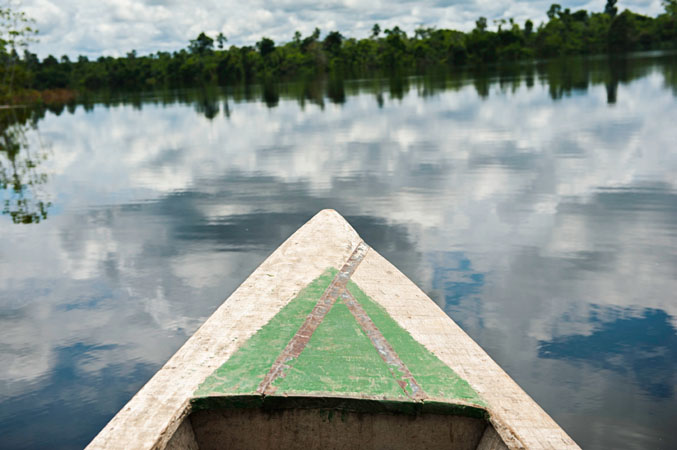 The bow of our covered riverboat taxi frames blue skies and fluffy clouds reflected in the clear, still water. For much of the year, this area is dry jungle land.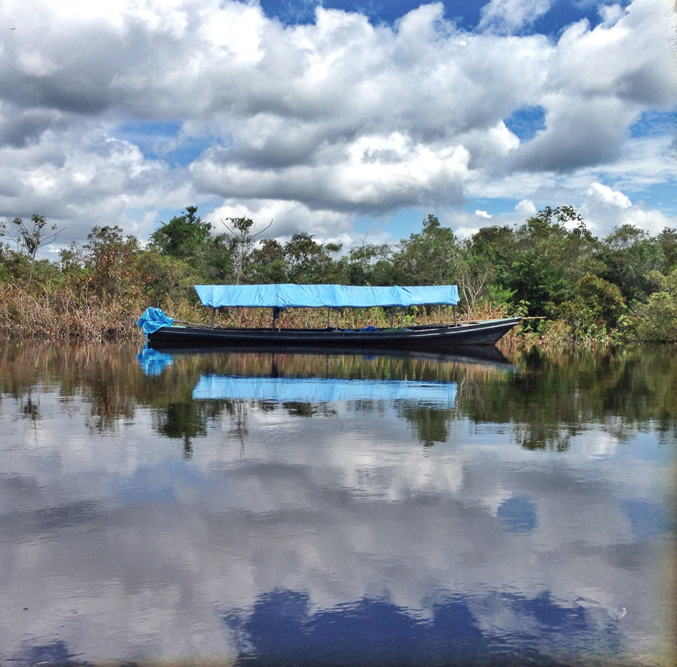 Amazon boat reflecting in the high waters, on the way to Nihue Rao.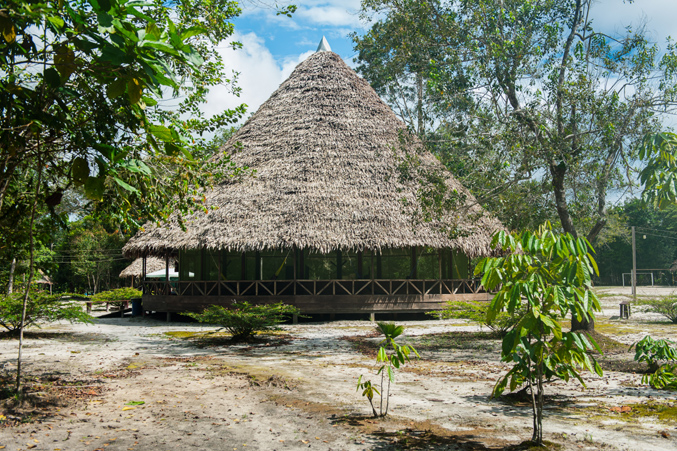 In the Shipibo language, "nihue" means air (breath/wind) and "rao" means medicine. A master plant used in the advanced stages of a healers' traditional training. The plant thrives around the Nihue Roa ceremonial maloka and throughout the center.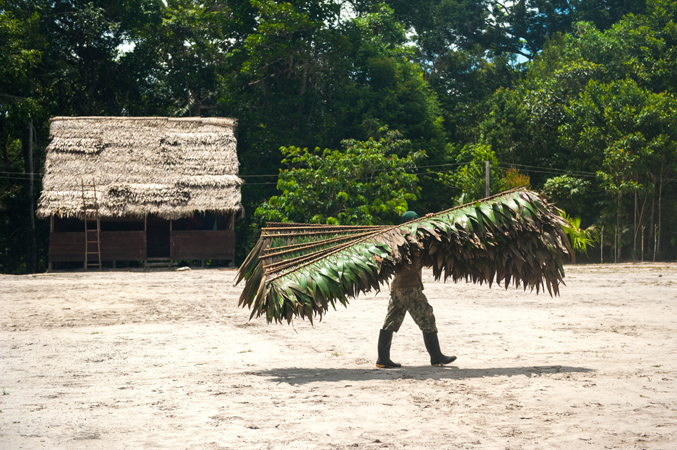 A Shipibo man with expertise in local building techniques carries traditional, sustainable leaf roofing sections to a bungalow at
Nihue Rao Central Espiritual
. When the palm leaves wear out, they're completely biodegradable.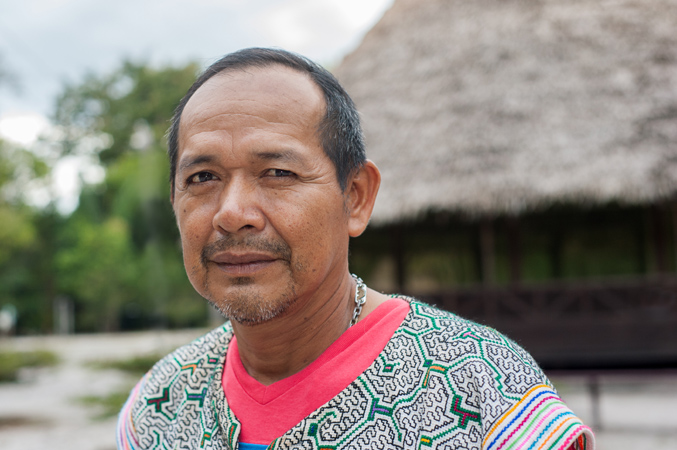 Shipibo Maestro Shaman
Ricardo Amaringo
, one of the most talented and respected ayahuasca shamans in Peru and one of Nihue Rao's three founding partners, leads ceremonies in the maloka.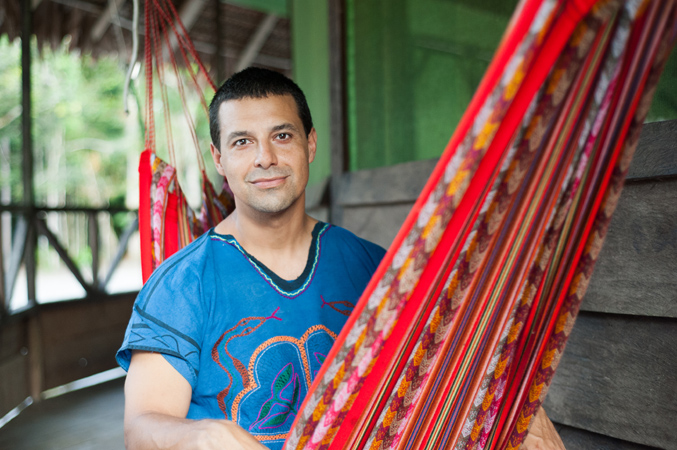 Colombian-American integrative family physician Dr. Joe Tafur, M.D., relaxes in one of the colorful hammocks around the maloka. One of three founding partners of Nihue Rao, Tafur has completed his shamanic initiation under Amaringo. He's a welcome and comforting presence in ceremony.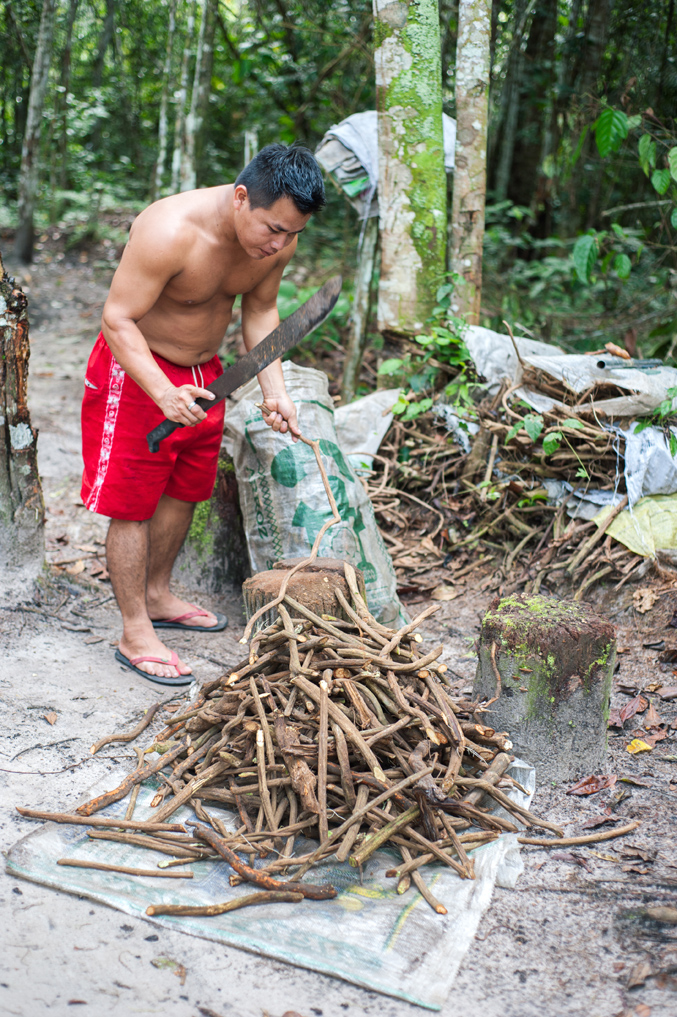 Gilbert pounds the Ayahuasca vine at Nihue Rao, a retreat known for their especially fine, traditional Shipibo Ayahuasca, which they make on site.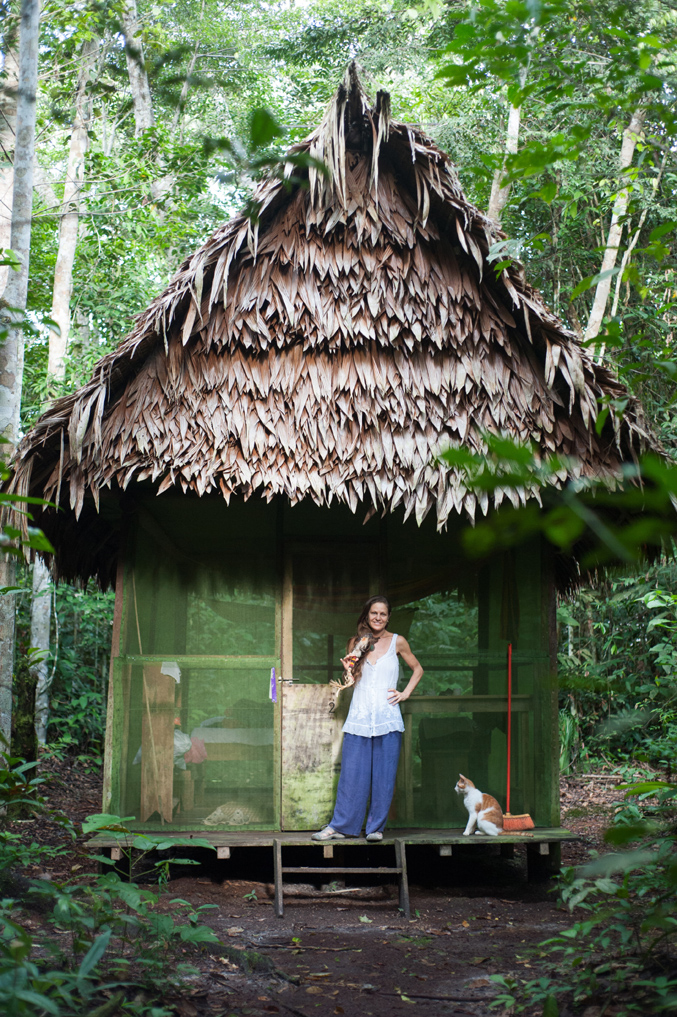 Sitaramaya
, an environmentalist and plant healer trained in the Shipibo tradition, at her tambo, a solo jungle hut.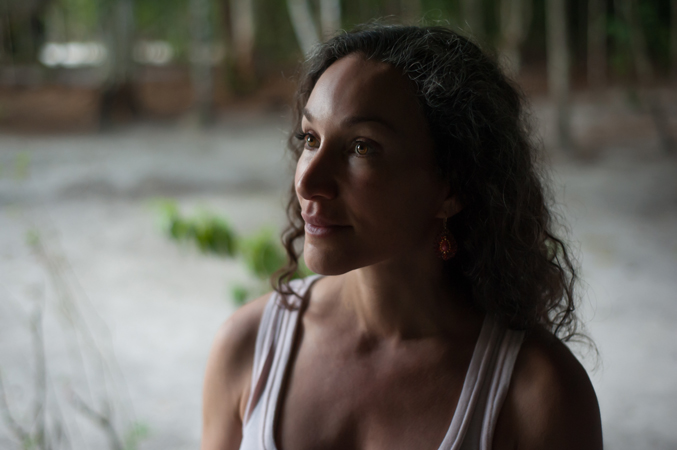 I visit the Amazon for ayahuasca ceremony with my husband, Chris Kilham, and Cosmic Sister Plant Spirit Grant recipients at least twice a year. When I visited the medicine house, I was surprised to see much this ayahuasca caapi vine (see next image), which is planted on one of the posts, had grown.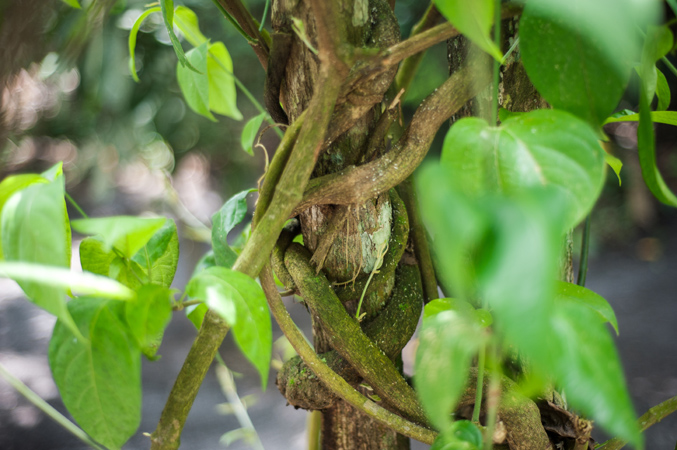 Ayahuasca is a combinatory plant medicine made from Banisteriopsis caapi (often called caapi) and the leaf Psychotria viridis (known as chakruna). Caapi is often referred to as ayahuasca, "the vine of the soul."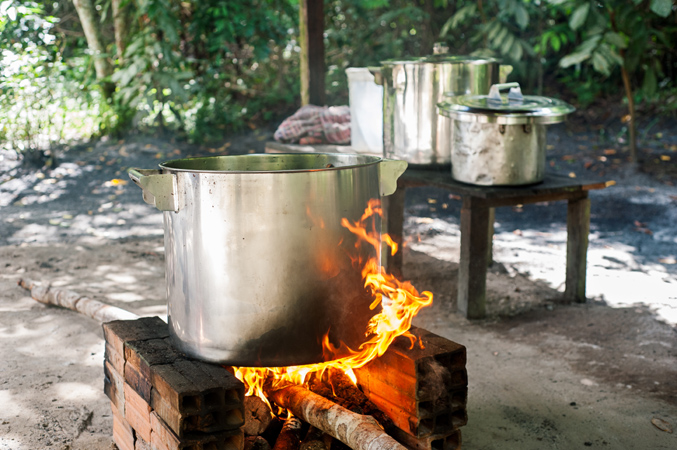 Nihue Rao ayahuasca, small-batch crafted on site, is made exclusively from caapi vine purchased from local growers and chakruna leaves from Shipibo cultivators in Pucallpa.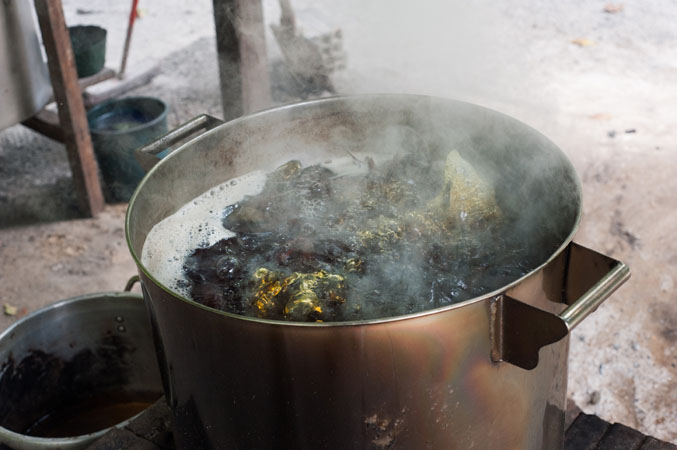 Boing the water, leaf and vine down to a bitter, thick, gooey liquid takes many hours. The quality of the ayahuasca is very important and not something to be taken lightly.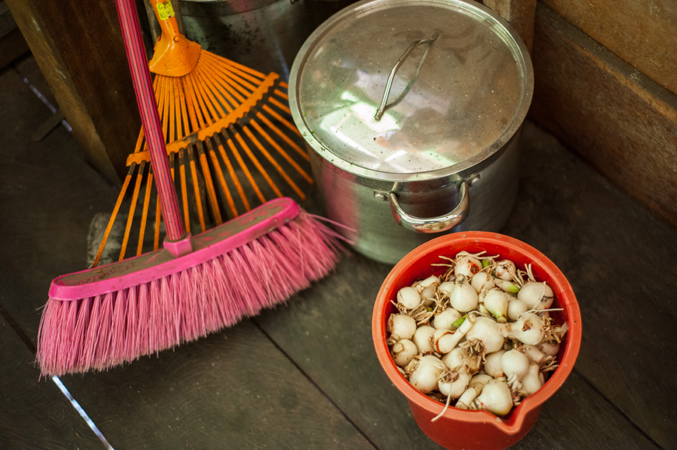 Cleaning tools, cooking pots and freshly harvested ingredients in the medicine house, where traditional medicines are handcrafted from plants indigenous to the Amazon jungle every day.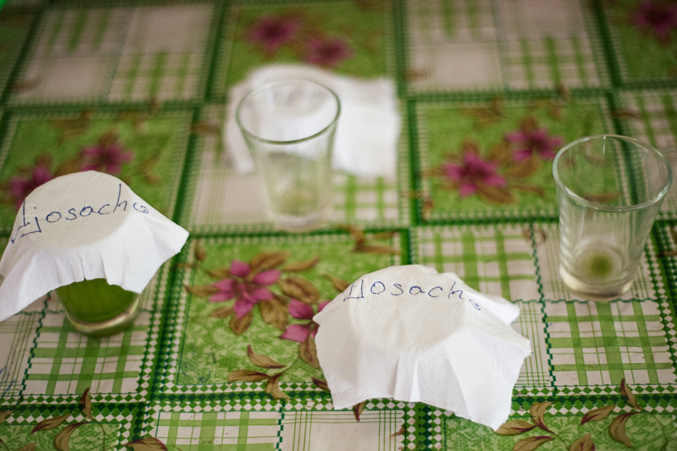 Often, but not always, guests are advised by Shaman Ricardo Amaringo to diet on fresh, masterfully prepared Amazonian plant medicines while staying at the center.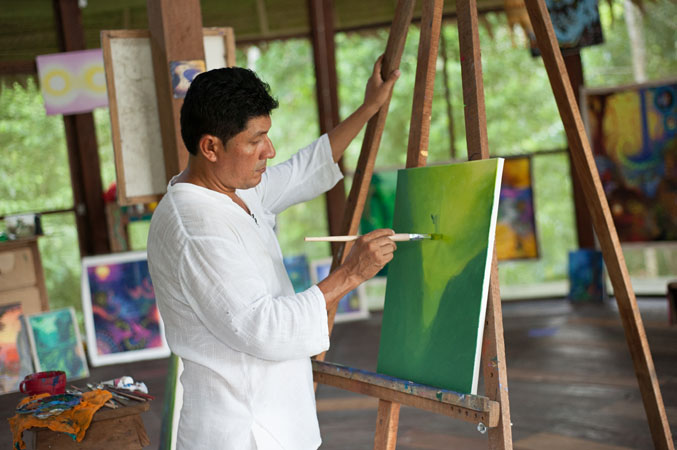 Visionary artist Mauro Reategui Perez teaches ayahuasca-inspired painting in the art maloka, a creative haven at the center conceived by Canadian artist and healer Cvita Mamic, one of three founding partners of Nihue Rao.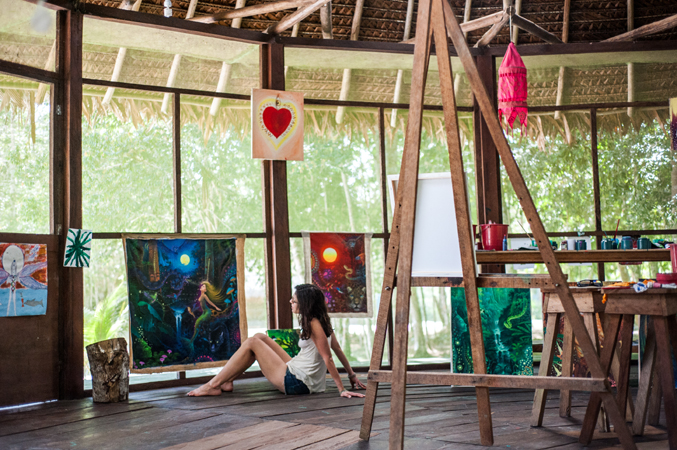 Writer Laura Miller, who also received a Cosmic Sister Plant Spirit Grant, meditates on a jungle river mermaid in a painting by visionary artist Mauro Reategui Perez.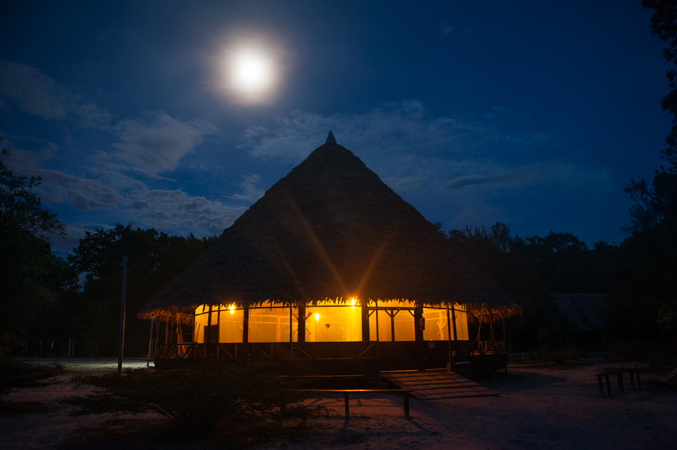 The Nihue Roa ceremonial maloka just before "lights out." Ceremonies are held in darkness. That's when the magic happens.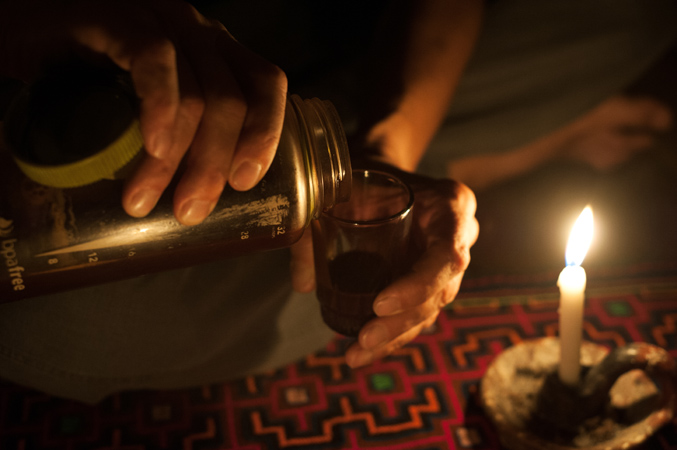 Chris Kilham pours a glass of potent ayahuasca, la medicina, in the maloka. If you're willing to do the work, ayahuasca has the power to help you heal, find clarity, and discover new insights.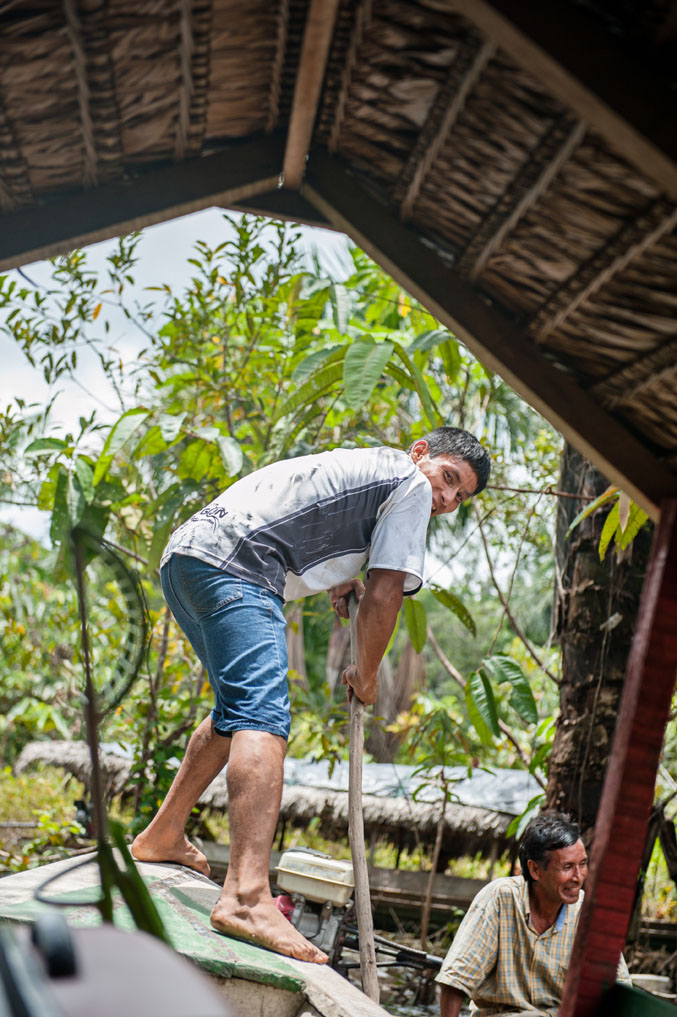 Our driver steers our covered boat taxi as it pulls out onto the river for our journey back to Iquitos.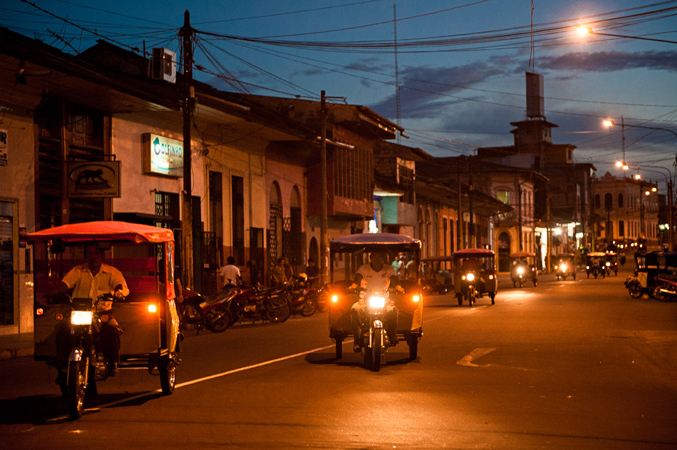 Back in Iquitos, festive motorcars zoom down the avenue on Saturday night in Iquitos.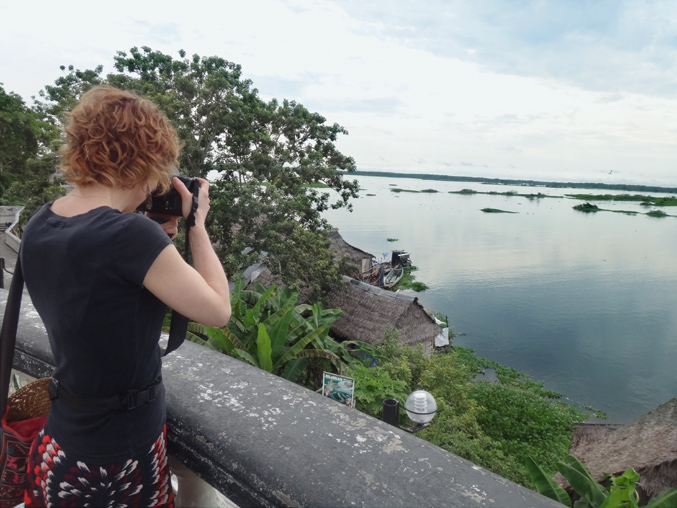 Tracey Eller takes a last shot of the river view from the Amazon Explorer's Club. Photo by Zoe Helene
See also: Empowering Women's Voices of the Psychedelic Renaissance, by Lynne Woodward, Utne Reader
See more of Tracey's photographs at www.ellerimages.com

--END--
Multidisciplinary artist and environmental activist Zoe Helene (@zoehelene) is passionate about promoting and connecting kindred-spirit trailblazers in mutually supportive ways. Through Cosmic Sister (@cosmicsister) advocacy projects, she helps communicate messages of love, liberty, and informed pro-activism. Zoe is a devoted wildlife advocate and Woman of the Psychedelic Renaissance.