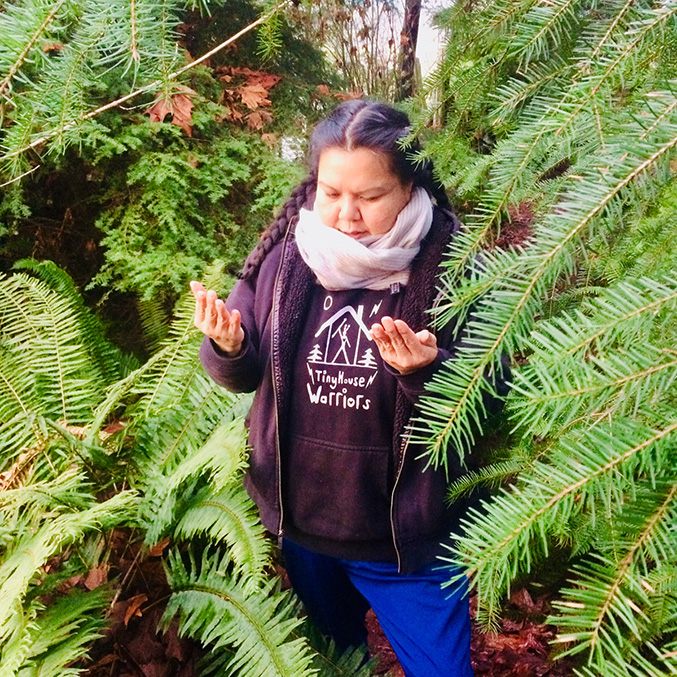 Ida Manuel wins Cosmic Sister Emerging Voices Award
Cosmic Sister Emerging Voices Award
Congratulations, Cosmic Sister Emerging Voices Award (CS EVA) recipient Ida Manuel (@ida.manuel)!
Ida is an Indigenous activist and the youngest child of the late Dr. Grand Chief George Manuel and the late Marlene August, both of First Nations Neskonlith and Secwepemculecw. Known for her prayers in Secwepemctsin, and through song, Ida often leads prayers based on childhood memories of gatherings her father brought her to. A traditional Secwepemc singer and hand drummer, she works with sacred tobacco, lavender, sages and mint.
Ida is "aunty and mother" at Tiny House Warriors (@tinyhousewarriors), a group of land and water protectors building tiny homes for Secwepemc families, who face a housing crisis because of deliberate colonial impoverishment, as an act of resistance and creation. The tiny homes are re-establishing village sites and asserting Secwepemc authority over unceded territories by standing in the way of #KinderMorgan's #TransMountain pipeline, which threatens their land, water, and everything they love.
"Indigenous Freedom and getting our land back is my inspiration, so our children do not have to deal with the kind of genocide that we've been facing for generations," Ida says. "It's time to not only talk about the elephant in the room, but to take action."
The "ongoing battle against Canada's genocidal tactics" includes resource extraction, Indigenous child apprehension threats, incarceration, abuse of power by health care and other officials (including Canada's legal system), police brutality, and white nationalism.
Ida describes herself as "an apprentice of Nature under the guidance of my ancestors and Creator." She channels and honors her ancestors and "all my stolen sisters" in her prayers and stewardship work. "When I am fully open, they can travel through me," she says.
In partnership with MAPS Canada's Examining the Psychedelic Renaissance, Season 2 (@MAPSCanada), the CS EVA increases visibility for talented women in psychedelics and cannabis who work tirelessly in behind-the-scenes roles, as well as newcomers who bring unique voice and talent to the community and/or who shine in spotlight positions.
Nominated by Antoinette Cruz (@dabzilla_antoinette). Special thanks to Celina Archambault (@plant_tigress).
#IdaManuel #TinyHouseWarriors #StopTMEP #stoptransmountainexpansionproject #NoManCamps #NoSecwepemcConsent #FirstNations #Neskonlith #Secwepemculecw #water #prayer #PsychedelicFeminism #CosmicSister #MAPSCanada #ZoeHelene #wildernesswithin #women #wilderness #wildlife #psychedelic #plantspirit #sacredplant #entheogen #womensupportingwomen #nature #plantmedicine #earth #womeninpsychedelics