Rachael Carlevale wears a cannabis crown by Laughing Moon Flower Farm @LaughingMoonFlowers. Photo by Tracey Eller
Higher Love: A Cannabis Plant Spirit Wedding
Civilized | The Cannabist
When Rachael Carlevale and Matt Davenport invited my husband and me to be part of their cannabis wedding in Steamboat, Colorado, we leapt at the chance to be part of history while celebrating their sacred union and the liberation of a sacred plant we all love and respect. A handful of brides and grooms in legal states like Colorado and Washington have begun to incorporate bud-tended weed bars, cannabis-infused edibles, cannabis-pairing dinners and cannabis floral arrangements into their weddings, but the movement is just beginning to blossom. Cannabis weddings remain a novelty for most people—and for far too many, they're illegal and taboo. We wanted to support Rachael and Matt as they celebrated with family and friends, some of whom were unfamiliar with and even afraid of a plant that has been unjustly demonized for decades. There's a lot of undoing of propaganda to be done.
I met Rachael, a certified yoga teacher and former ballerina, six years ago when she was a pre-med student at the University of Massachusetts-Amherst. She traveled with us to the Peruvian Amazon to participate in first The Shaman's Pharmacy field immersion course led by my husband, Chris Kilham, and we became friends. Three years later Rachael traveled with us again to Peru, where she participated in ayahuasca ceremonies on the first-ever Cosmic Sister Plant Spirit Grant. She had developed a uterine tumor that often left her immobilized, and conventional doctors had recommended a full hysterectomy, which she knew wasn't right. Rachael brought the tumor under control through a combination of ayahuasca in Peru and clean, medicinal cannabis cultivated and organically grown in Colorado by her then-boyfriend and future husband, a certified permaculturist who consults for cannabis growers. She's regained a full, active life and developed Ganjasana, a system that combines cannabis and yoga in sacred ritual space.
Naturally, when Matt and Rachael planned their wedding, they both wanted cannabis to be honored. "Cannabis is a sacred plant," Rachael says. "She's our ally. We didn't want to hide her like she was something to be ashamed of."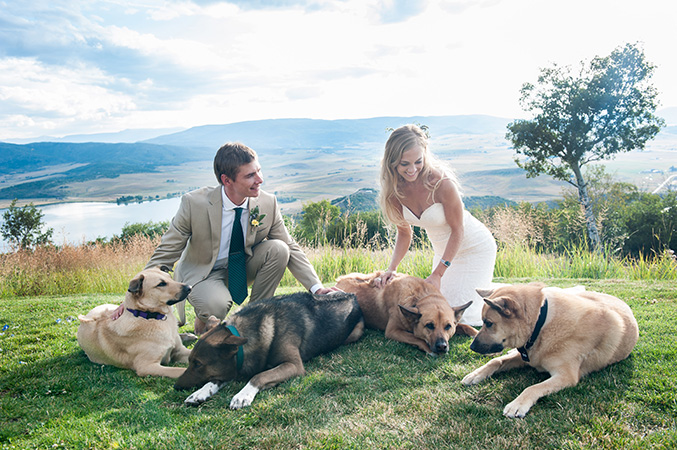 Immediately after the couple said their vows, Matt set their four dogs into a howl that echoed throughout the valley as the wedding party and guests joined in. "They're our family," Rachael says.
Rachael and Matt are Massachusetts natives who moved to Colorado to be part of the legal cannabis industry (our loss, Colorado's gain—but we hope that will change since Massachusetts legalized adult recreational use in November, yay!). Planning their cannabis wedding called for "coming out" to their conservative families back east. Rachael says it wasn't easy, but it was time. "There comes a point when you have to do what you know and feel is good and right. Cannabis is medicine that saves lives."
Rachael told her family that she believes cannabis helped saved her life, that she was developing Ganjasana and that she and Matt would be openly including cannabis in their wedding. Her family was shocked but receptive, largely because they could see that their youngest daughter, who had suffered so terribly with the uterine tumor, was her bright, vibrant self again.
Rachael's older sister and maid of honor, wellness professional Jacqui Carlevale, says Rachael opened up space for the family to talk about "a plant that for so long has been seen as taboo." While in Colorado for the wedding, the family also saw the support for cannabis from many diverse communities as well as the state of Colorado—which took away a lot of stigma.
"Rachael is living the life she loves and loving the life she lives," Jacqui says. "I commend her for staying true to herself and helping others along her journey."
After years of having to hide his passion for growing clean, safe and effective medicine from his family, Matt felt free and liberated when he told his family about Permalos, his consulting business, and his and Rachael's plans for a cannabis-friendly wedding. His family was open to it, he says, and "the presence of these sacred herbs had a profound impact on us." Being able to enjoy cannabis freely and openly allowed everyone to "truly be ourselves."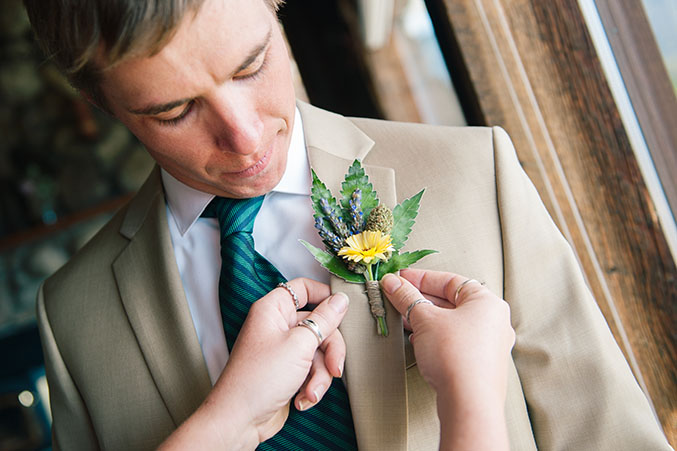 Matt Davenport and his groomsmen wore cannabis boutonnieres created by Bec Koop of Buds & Blossoms (budsandblossomsco.com).
Chris, who officiated the wedding, describes the couple and the day well. He witnessed "a sweet couple connected through cannabis, both of them in various ways on the cutting edge and surrounded by other people who are also deeply involved in cannabis and making a living with it, and you hope they have a long and happy life together."
Respect for Plant, People, Planet
Respecting people, plant and planet by growing the cleanest chemical-free cannabis in living soil is what Matt and Rachael are all about. Their regenerative cultivation system makes soil better over time. For the wedding, they grew special cultivars that were offered for smoking and eating throughout the weekend and worked into the floral arrangements. "It was really important to us that we used cannabis that was grown with regenerative agricultural practices because that's everything that we stand for," Rachael says. "We wanted to share our love for an organic lifestyle and for creating safe, mindfully grown plant medicine."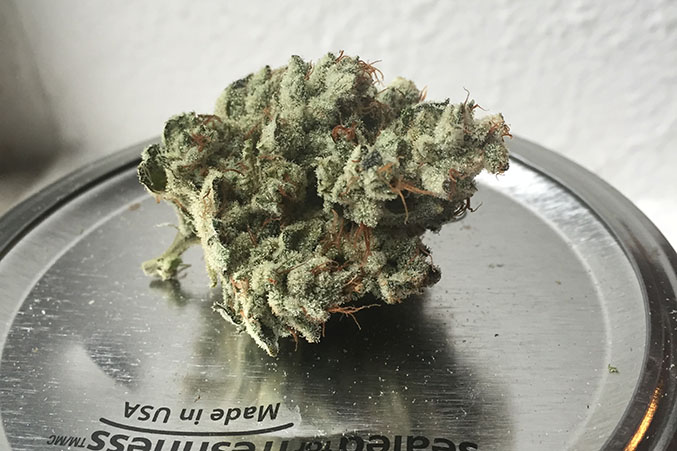 The groom's Permalos cannabis grown with regenerative agricultural practices.
Matt says cannabis grown using living and biological systems has enriched cannabinoid and terpene profiles, giving it more profound effects, flavor and aroma. "We can think of it from the standpoint of artisanal, boutique, small batch, bioregional cannabis," he says. "When looking for quality in cannabis, there is no better way than through a living soil. Conventional agriculture—tillage, synthetic fertilizers, genetically modified crops, synthetic pesticides, etc.—leads to the death and destruction of a living soil. The resulting death and destruction is called dirt, and that's the opposite of a living soil. No bueno."
Throughout the wedding weekend, guests were encouraged to freely share Matt's Sour Diesel and Gorilla Glue #4, which he cultivated specifically for the occasion. The offerings were plentiful and varied. Large Mason jars of cone joints rolled by groomsman Skylar Thayer, a carpenter Matt refers to as a "joint roller extraordinaire" and "cannabis sommelier," were scattered throughout the Bella Vista resort, where the nuptials were held.
A friend from the European hash and tobacco culture taught Skylar how to roll "proper cones" in high school, and he estimates he's rolled more than 100,000 in the past 20 years (he's regularly the designated joint roller at friends' events). As he sat and rolled joint after wedding joint, Skylar told me why he left his job growing legal cannabis in California after witnessing several other legal growers get raided. "There's nothing that breaks your serenity in the greenhouse more than a Black Hawk hovering above your head," he says. Now back in Massachusetts, Skylar shares our concern for the heavy use of agrotoxins in cannabis being sold in state medical dispensaries. (He's one of Matt's best friends, after all.) "If you're smoking the residual chemicals in these plants, then you're doing yourself a disservice and you shouldn't call it medicine. I'm interested in growing in a clean and friendly way," he explained. "Start with organic, live soil and compost as the input and go with that."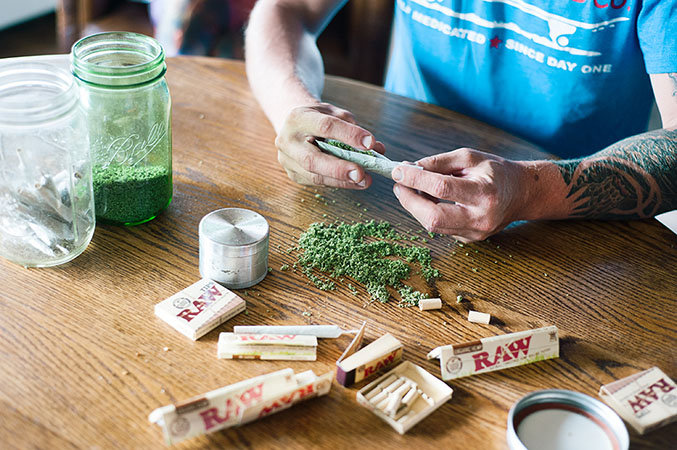 Large Mason jars of beautifully rolled joints were everywhere thanks to groomsman Skylar Thayer, a carpenter whom the groom refers to as "joint roller extraordinaire."
Chris and I—and all the other wedding guests who chose to smoke or eat cannabis—were grateful for Matt's spectacular cannabis grown without chemicals in living soil. Chris is a longtime advocate for organic growing because, he says, "there's no such thing as a truly healthy plant that is bombed with toxins. Pesticides, fungicides, vermicides of all different kinds are genuine poisons, and there's no good reason to poison the soil, the water, the air, the farm workers and the resulting product that people consume, therefore subsequently poisoning the people." I couldn't agree more. That's neither true sustainability nor true medicine.
Chris spent hours in the kitchen performing what he calls a "highly intentional preparation" as he chopped organic nuts and dates by hand, then mixed bonzo butter, sweet spices and coconut oil infused with Matt's cannabis flowers to make his famous majoon love balls, featured in The Cannabis Kitchen Cookbook by Robyn Griggs Lawrence, who was also in attendance. Adventurous guests snapped up the exotic date and nut confections, stacked high in a pyramid shape on a square platter. Some psychonauts ate more than one despite Chris's warning that "edibles go deeper and last longer." They survived, though they journeyed long into the night. Edibles are my preference, and half of one majoon ball was perfect for me.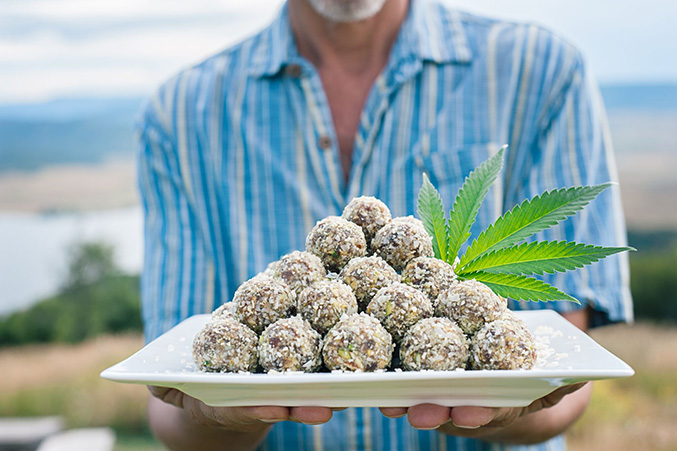 Chris patiently hand-chopped the fine organic majoon ball ingredients, which included regenerative cannabis cultivated by the groom.
Guests who enjoyed Skylar's joints smoked openly but were careful to keep smoke away from people who chose not to commune with the plant. "It felt so comfortable to be able to smoke if that was how the celebration was going," says bridesmaid Mackenie Mathieu-Busher, a domestic violence and sexual assault survivor advocate says it was a relief to celebrate "without any feelings of being covert." Plus, she says, "the fact that joints were all over the place and people were smoking comfortably added a nice vibe."
For bridesmaid Kara Siedman, a registered dietitian and nutritionist who describes herself as "not the type to flaunt smoke in people's faces," not having to worry about being discreet while smoking was a huge bonus. "Enjoying cannabis openly at a wedding is a wonderful opportunity for people who might have preconceived notions or negative viewpoints to see good people from all generations having fun and acting responsibility while indulging in an illegal (per federal laws) substance," she says. "Guests at weddings represent all generations, so for them to see and witness that is pretty cool."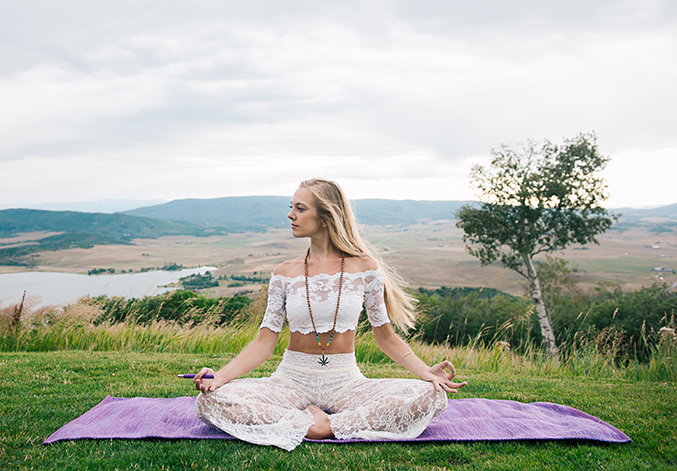 As "mentor of honor," my gifts to the bride included a custom sandalwood and chakra bead mala necklace from
LovePray Jewelry
with a handcrafted silver fan leaf pendant by
Pete Conder
, a cannabinoid molecule necklace by Aroha Silhouettes, a "Venus" vape pen by
Kandypens
, an "Ether" yoga mat by
Yogasana
.
The Bride and Her Circle
I was grateful to be Rachael's "mentor of honor," and my gifts to her included a custom sandalwood and chakra bead mala necklace from LovePray Jewelry with a handcrafted silver fan leaf pendant by Pete Conder, a cannabinoid molecule necklace by Aroha Silhouettes, a "Venus" vape pen by Kandypens, an "Ether" yoga mat by Yogasana and a cannabis-yoga themed studio portrait photoshoot with Tracey Eller.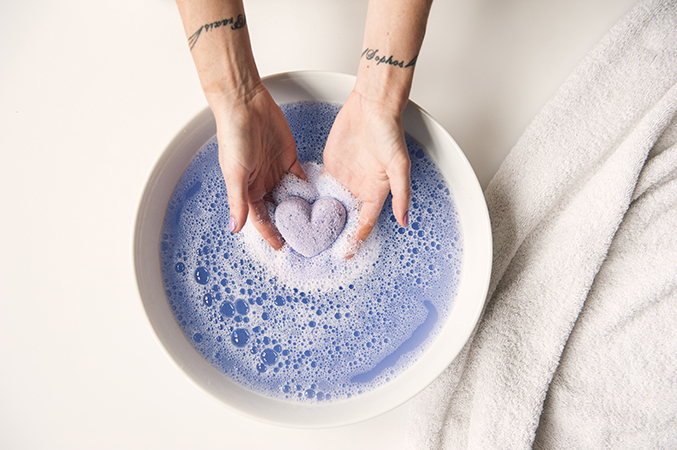 I helped Rachael co-create what I call "Budmaid Goodie Bags" full of organic, earth-friendly, handmade gifts like this lavender
Dank Essence CBD bath bomb.
For the bridesmaids, whom I dubbed "Budmaids," for the occasion, I also helped Rachael co-create "Budmaid Goodie Bags" full of organic, earth-friendly, handmade gifts with her wedding themes of plant spirit medicine, cannabis, yoga and (of course) love. On the day of the wedding, as the budmaids gathered in a circle to have their hair and makeup done, they pulled out gifts ones by one as I told them a little about the special people who put love into creating the products and how they share the mission to liberate cannabis. One of my curation goals was to "prove the concept" by representing multiple dimensions of plant from the perspective of the relationship between people, plant and planet, offering exciting, creative new opportunities for independent brands and the wedding gift market. The gift categories included body care, textiles, paper, food and more.
Throughout the four days we spent at Bella Vista, I was overjoyed to see the love and support Rachael received from her circle of women—and beyond.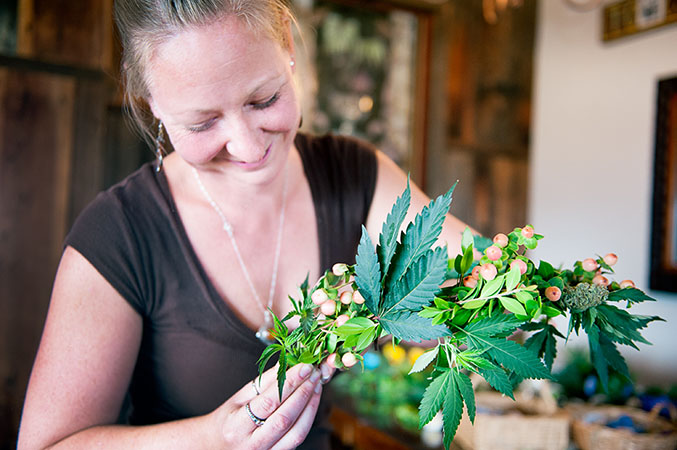 Bec Koop of Buds & Blossoms (budsandblossomsco.com) creates a cannabis plant spirit wreath.
Bec Koop gifted a portion of her company Buds and Blossoms' services in celebration of the cannabis liberation movement because "the ultimate goal is to get cannabis normalized in our communities and to let go of previous stigmas." Bec worked with Matt's cultivars along with Colorado-native medicinal plants to make a medicine wheel bouquet for Rachael, goddess headdresses for the "budmaids" and "bud-tonniers" for the groom and groomsmen. The cannabis flowers' beauty and aroma "enhanced the aesthetic quality of the wedding," says budmaid Jenny Hart, a Colorado-based barista.
Bec, who looks like she stepped out of a Renaissance movie set, was a delight to watch. She's friendly yet focused and works in a flurry of flowers, fan leaves and plush, dank little buds to craft individual crowns and accent pieces. "I love working with canna-couples," Bec says, "They let their true personalities shine on their big day and don't seem to be tied down by everyday wedding traditions or expectations." Bec also loves working with cannabis. "I love the way its colors, shapes and smells complement the rest of the flowers, and I love that it's truly medicinal. Just simply working with the cannabis plant—not even smoking it—puts me at ease and into an instant relaxation."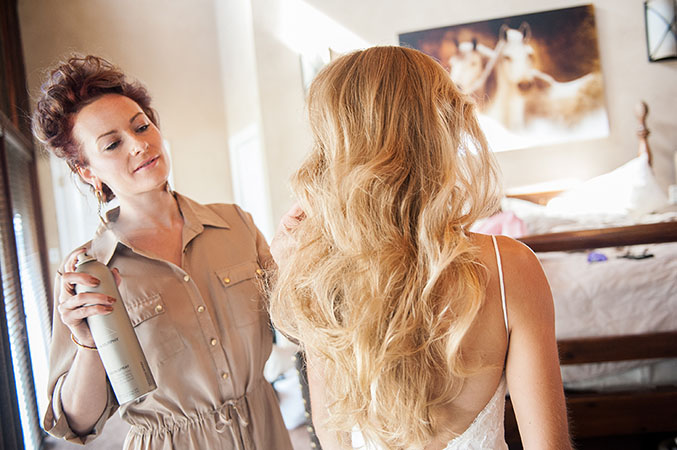 Salon owner and hair and makeup artist Talie Ayers of Denver-based 3 Little Birds (3littlebirdssalon.com) applies final touches on the bride's hair moments before she walks down the aisle.
Talie Ayers of 3 Little Birds, a Denver-based salon that Rachael describes as "a cultural center," also donated a generous portion of her hair and makeup services for the bride and budmaids in the name of cannabis liberation.
Charming and professional, with a gift for creating calm within chaos, Talie worked her magic as if it were the easiest thing in the world. One by one, the budmaids were transformed. "At 3 Little Birds salon, we celebrate transformation and all the ways to get there and experience yourself differently," Talie explains, adding that she loves to help guide clients to "speaking their truth."
Talie has been styling weddings for more than 15 years, and she's excited about the cannabis-friendly wedding movement. "I think it's added an element of truth and relaxation," she says. "More and more guests prefer smoking to drinking, or a little of both. I think Colorado's decision to legalize and the burst of cannabis weddings is a trend that will become normal."
Tapping into the Pathways of the Ancients
Immediately after the bride and groom said their vows, Chris performed perhaps the first-ever cannabis soplar. Soplars are an Amazonian tradition in which medicine men and women, or "shamans," blow clouds of smoke over and around "passengers" to bless and protect them on their journeys. In the Amazon, where we travel extensively, shamans use sacred tobacco for soplars. Chris, who has experience with both tobacco and cannabis in sacred settings, feels an interchangeability to the plants, though he greatly prefers cannabis. "To do a soplar with cannabis seemed to me to be seamlessly right," he says.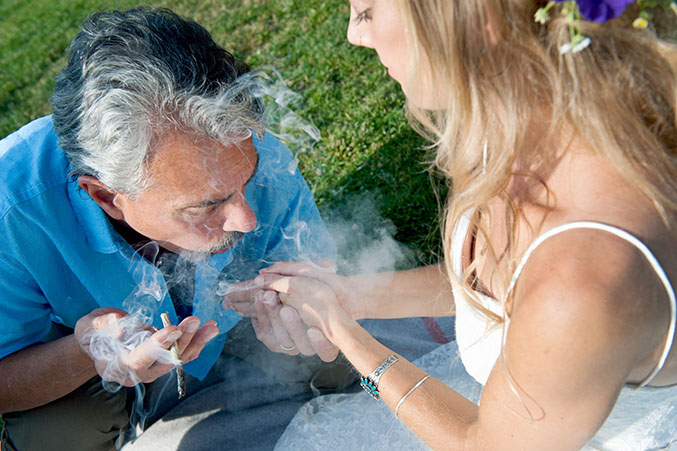 Chris Kilham performs a traditional Amazonian soplar ritual using the sacred plant cannabis.
On a cliff overlooking panoramic valley and mountain views, Chris chanted as he blew cannabis smoke on, over and around Rachael and Matt, opening himself and clearing away any thoughts or notions, bringing forth the medicine. For Rachael, who has experienced soplar with tobacco in the Amazon, having the ritual performed with cannabis felt divine and sacred. Matt, who was new to soplar, felt like he had "tapped into the pathways of the ancients," and both bride and groom said it was a highlight that sealed the deal.
Throughout the wedding, the goal was to "present cannabis in a classy, respectful way so people could really appreciate and get a different perspective," Rachael says. She's pleased with how it turned out. "We weren't smoking bongs at the dinner table or acting like fools. It wasn't a stereotypical stoner situation. Cannabis was present throughout the entire day, but it didn't really come out full force until the after-party."
That party really began when the elders (or most of them) took their leave and the bride and groom gathered alone with core tribe, a group of friends who came together and have stayed together because they share a vision for creating green, sustainable lives. As she and her friends sang, danced and passed a cannabis peace pipe around the fire pit, Rachael realized again how blessed she is.
"It was a magical moment of our nearest and dearest friends celebrating in the mountains with the man I just married while celebrating our union with the plant medicine," she says.
"It was a magical moment of our nearest and dearest friends celebrating in the mountains with the man I just married while celebrating our union with the plant medicine," she says.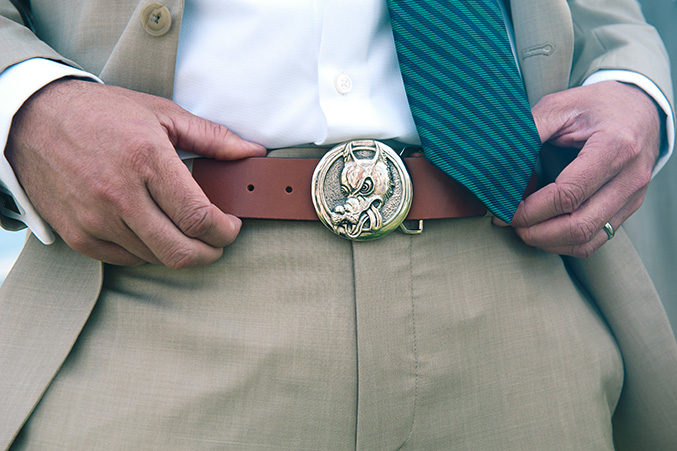 Wolf dog spirit is in the 100 Mics belt buckles crafted after Jerry Garcia's guitar called Wolf, which Matt gave his groomsmen. "We love the Grateful Dead and in many ways found another through a love for this band," Matt says.