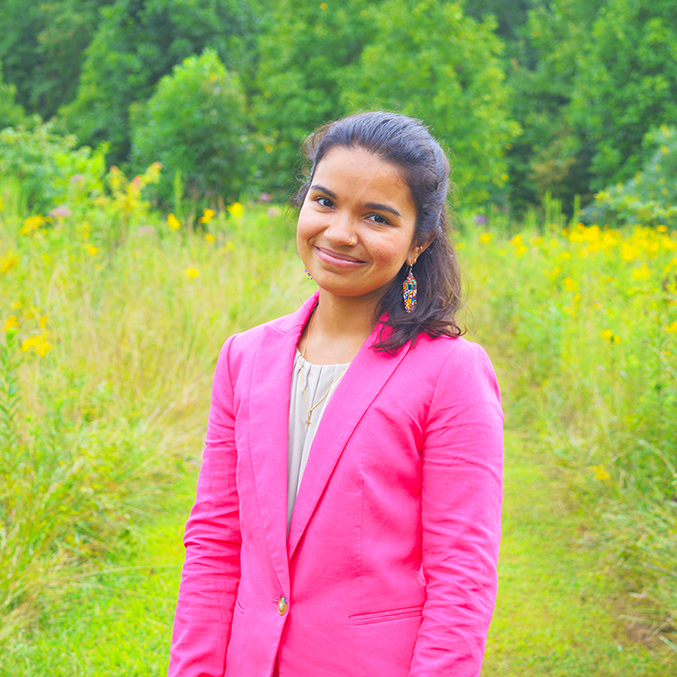 Emily Cribas wins Cosmic Sister Special Talent Scholarship to participate in The River Course
Cosmic Sister Special Talent Scholarship
Congratulations to Emily Cribas (@emilycribas), winner of a Cosmic Sister Special Talent Scholarship to participate in Dr. Joe Tafur's The River Course!
Emily Cribas is a first-generation Honduran-American PhD candidate at the University of Pennsylvania, where she broadly investigates how the immune system and gut microbiome work together to protect against infectious disease. This work has inspired her independent research exploring the intersection of psychedelics with gut health and gut-related disorders.
Emily is a co-founder and media liaison for the Intercollegiate Psychedelics Network (IPN) (@intercollegiatepsychedelics), a student-led organization creating personal and professional development opportunities for psychedelic scholars. Each year, PsychedelX hosts a free virtual conference, talk competition, and idea incubator. She also volunteers for PhilaDelic (@pennphiladelic), a transdisciplinary psychedelic conference happening July 13-15 at the University of Pennsylvania.
How have psychedelics enriched your life?
Psychedelics, through my own journeys and through volunteering at Fireside Project and IPN, have catalyzed profound psychological and behavioral changes around how I relate to myself, others, and the environment. They have expanded my capacity to see myself as more than a scholar, but also an organizer, advocate, and, most recently, a student of the healing arts. I am passionate about making psychedelics – including research, harm reduction, and integration – accessible to everyone, and I see them as valuable tools in cultivating creativity and pleasure.
What draws you to The River Course?
In December, I took a leave of absence from grad school after a significant heartbreak because I was not expressing myself or creating in ways that were helpful or meaningful and I couldn't hide it anymore. The systems to move through the grief, depression, and anxiety so many grad students face are not (easily) found in academia, and the irony of trying to improve health while seeing my own decline told me I needed to reassess my life and priorities. While re-learning safety within myself, I became fascinated and benefited immensely from other types of knowledge (meditation, music, DMT, kambo, and books).
I've been aware of this course for a couple of years, and this feels like the right time for me to receive and engage with it in a way that feels exciting and generative. I've been drawn to healing for a long time, mostly through biomedical research or public health coursework, and I'm thrilled to learn about a modality that resonates more deeply with my lived experience. I hope to directly apply some of what I learn to my service/dharma.
Is there a psychedelic theme to your thesis?
My thesis is not directly related to psychedelics—it's on understanding how different players in our immune system, e.g., those that promote tolerance vs inflammation, work together to protect us against infectious gut disease (specifically C. difficile, a bacterial pathogen that typically causes disease after antibiotic use and is fatal in elderly populations). These responses are directly shaped by the bacteria in our gut, which fascinates me in terms of the implications for gut health/diet in healing such conditions. Studying this ecosystem has inspired me to think more deeply about how psychedelics interact with other living things (parts of ourselves) and with the immune system to support the healing of our mind.
What is Psychedelic Feminism to you?
Some of the most influential people in my life have been women, especially women of color. The academy is often portrayed as masculine, and it's easy to see why. I'm exhausted from approaching the world through a purely thinking and material lens, and Psychedelic Feminism, to me, means re-balancing this extreme with the more feeling and energetic aspects of the world, revealing more of ourselves to create flourishing for everyone. Resting, communing with nature, playing, dancing, creating, even exploring uncomfortable emotions (including the sexual and seemingly bigoted ones) in a place that is safe and curious—some would say motherly—that's what Psychedelic Feminism looks like to me. I struggle with disentangling Psychedelic Feminism from just feminism. I guess I'd say the former requires leading from the heart and soul, but I hope they become one and the same one day.
How has being a first-generation Honduran shown up for you in your personal psychedelic work and integration?
Many times, the bulk of the burden around breaking intergenerational traumas falls on first-gens. Whether I wanted to or not, I was not going to live the same way my predecessors did nor was I assimilating completely to American culture while remaining connected to my family. I have had no connection to any ancestors beyond my grandparents and am jealous of people who say they reconnected with them on their journeys (I'm still hopeful!). Traumas inevitably came up, of course, and a lot of my work has been on resolving them into this new ever-changing identity.
I don't know many Latinas or Catrachas (Hondurans) in the medicine space, and that initially made it very difficult for me to accept psychedelics as an important part of my life. For now, representation matters, and so I'll wear the flag (and its colorful music, language, and food) with pride.
What excites you about the PhilaDelic conference?
I'm especially excited about how PhilaDelic integrates multiple disciplines, from art and sociology to neuroscience and immunology (and more), and also because it was created with the intention to capture enough faculty interest at our institution to eventually have our own psychedelic research center.
THE RIVER COURSE
Registration is now open for the next session of The River Course with Dr. Joe Tafur, integrative family physician, curandero, and author of The Fellowship of the River. Designed for healthcare providers and healers, this live online course introduces students to the art and science of ancestral spiritual healing techniques and their relevance to the expanding world of psychedelic-assisted therapies. The seven-week course will include weekly classes with Dr. Tafur on Wednesday nights, February 15 – March 29, 6:30-8:30 p.m. PST.
Dr. Tafur's book, The Fellowship of the River: A Medical Doctor's Exploration into Traditional Amazonian Plant Medicine, will serve as the guiding text as this course explores the role of spiritual healing in modern healthcare and the intersection between biology, emotion, and spirituality.
COSMIC SISTER SPECIAL TALENT SCHOLARSHIP
The merit-based Cosmic Sister Special Talent Scholarship helps people explore unique educational opportunities in support of environmental and psychedelic feminism—and beyond.