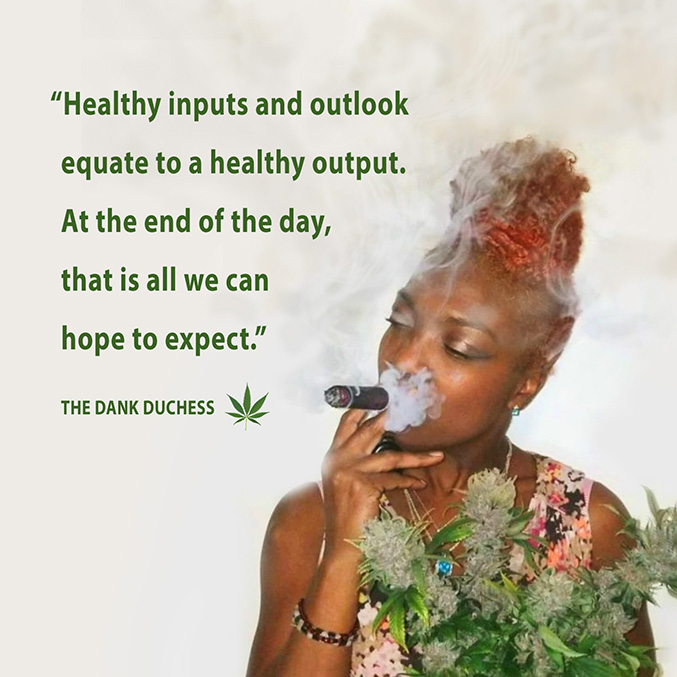 The Dank Duchess, international hashish consultant and cannabis cultivator, wins Cosmic Sister Women of The Psychedelic Renaissance Award
Cosmic Sister Women of The Psychedelic Renaissance Award
Please join us in congratulating The Dank Duchess (@TheDankDuchess), who has been awarded a Cosmic Sister Women of The Psychedelic Renaissance (CS WPR) grant to write "Growing Cannabis: Submitting to the Wisdom of the Plant" for an upcoming sacred medicine anthology led by Stephen Gray of Spirit Plant Medicine Conference, and published by Inner Traditions (@inner_traditions). Stay tuned for more info!
"We establish our personal ethos based on the mores of our society. We translate our personal beliefs into our everyday routines that inform how we show up to ourselves and others. A broken-down society is an unfortunate role model as we unknowingly incorporate greed, selfishness, and apathy into our everyday dealings. A cannabis garden is infinitely easier to handle than an entire complex society yet its management and our personal relationship to it is relatable. Healthy inputs and outlook equate to a healthy output. At the end of the day, that is all we can hope to expect." The Dank Duchess
The Dank Duchess is an international Hashish Consultant, Cannabis Cultivator, and Public Speaker using all available media to achieve her mission to help spread cannabis and psychedelic wellness awareness globally. With 18 years of cultivation experience to her credit, and trained by Hash Master Frenchy Cannoli, she has dedicated the last 7 years to educating hundreds of thousands of people via print, film, and social media about high quality cannabis and Hashish. Formerly the Managing Editor of Skunk Magazine, dozens of her hash stories and hash tutorials have appeared in Weed World UK, Weed World Italia, Cannabis Now, Skunk Magazine and in Ed Rosenthal's books. Duchess has also made several media appearances including Seasons 1 and 3 of VICELAND's Bong Appetit. As a Hashish consultant she travels to small farms and large cultivation facilities to teach hash making and increase efficiency. She is a respected public speaker; featured at conferences including Spirit Plant Medicine Conference, Boston Freedom Rally, Outside Lands, and the Emerald Cup.