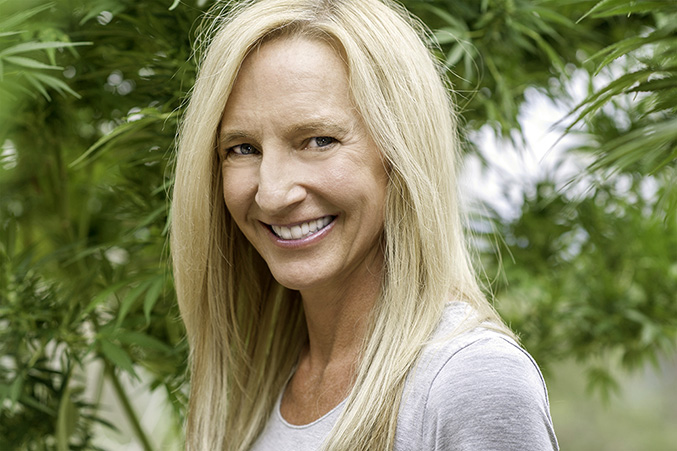 Robyn Griggs Lawrence by Tracey Eller for Cosmic Sister
Cosmic Sister Robyn Griggs Lawrence
Author, Editor, Cannabis Historian and Educator, Mom
Year born: 1964
Year of grant: 2013 (49 when received grant)
Connect: @cannabis_kitchen
Robyn Lawrence, a writer/editor, cannabis historian and educator, was 49 when she went to Peru for the first time. During those initial encounters with ayahuasca, Robyn felt a lifelong emotional wound—the death of her father before she was born—begin to heal. Robyn found herself—surprisingly, and without effort or inner turmoil—shedding the emotional and physical manifestations of that wound, including an eating disorder, that had plagued her for much of her life.
Robyn returned to Peru on a Cosmic Sister grant to explore her life's direction and realized that educating people about how to safely and responsibly prepare and imbibe organic, sustainably grown cannabis for health and wellbeing was the next important extension of her work promoting healthy, natural lifestyles. When she returned home, she signed a book deal for her groundbreaking bestseller The Cannabis Kitchen Cookbook, which was published by Skyhorse Publishing in 2015 and has been featured in Bloomberg, Forbes, The Guardian, LA Weekly, LA Yoga, Publishers Weekly, Boulder Daily Camera and many more.
"Before ayahuasca, I spent my life trying to find the love I thought I was born without, clutching desperately to the ghost of a father I never knew. Mama Aya helped me find forgiveness, strength and a deep reservoir of love within myself. Wrapped in ayahuasca's grace, I no longer feel the need to deprive myself of food or love." — Robyn Griggs Lawrence
Robyn, a seasoned public speaker in the natural lifestyle space, was sponsored by the Women of the Psychedelic Renaissance to present "Cannabis as Medicine, Culinary Herb and Superfood" at Visionary Convergence in Los Angeles and was awarded a Cosmic Sisters of Cannabis grant to speak at the Spirit Plant Medicine Conference at the University of British Columbia-Vancouver, October 29-30, 2016.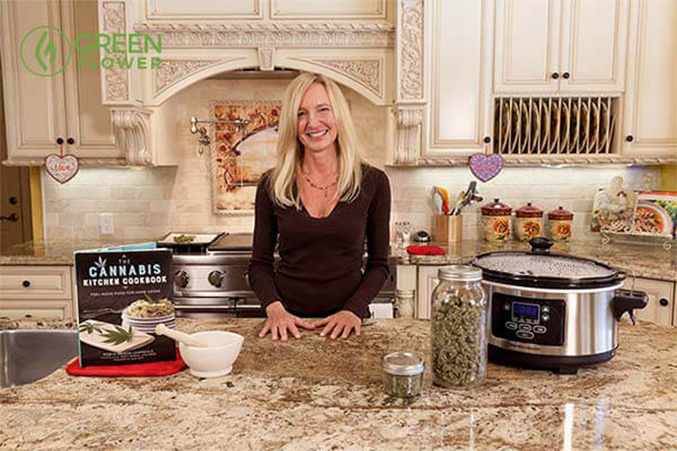 People tend to think you have to be an experienced chef or have a long history in cannabis to make your own cannabis-infused foods and drinks. But what if it was MUCH easier than you thought? What if you could make incredible cannabis-infused foods easily and quickly? In fact, there are countless ways to harness cannabis's flavorful and therapeutic qualities.In this Greenflower Learning video
5 Benefits of Cooking with Cannabis
cannabis cuisine expert Robyn Lawrence reveals how simple cooking with cannabis can be.
"Cooking with cannabis can be a life-saver for people who have medical conditions or compromised immune systems. For a lot of people, cannabis-infused food delivers the medicine their bodies need – with or without the psychoactive effects. Cooking is really one of the healthiest ways to get the substance without putting your lungs at risk." — Robyn Griggs Lawrence
Plant Spirit Grant 2013
Women of the Psychedelic Renaissance 2015
Cosmic Sisters of Cannabis 2015