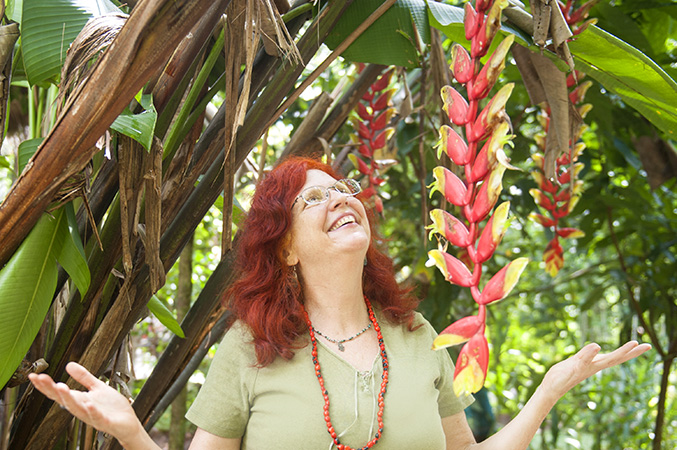 Sandy Griffin at Temple of The Way of Light. Photo by Tracey Eller for Cosmic Sister
Cosmic Sister Plant Spirit Grant 2018
Artist, Illustrator, Author, Educator, Mother, Grandmother
Date of Birth: 01/21/1958 (will have just turned 60 in ceremony)
Lives in St. Louis, Missouri
Artist, illustrator, author and educator Sandra "Sandy" Ure Griffin transforms her fascination with ecology and the environment into art "inspired by the joy and beauty and terror inherent in nature." In the medicine space, she intends to find out how she can best use her creative gifts and what wisdom she can impart to her grandchildren (and other children in this world) during increasingly challenging times.
"I feel like there is a stream of knowledge much greater and deeper than my limited brain -- and that the wise and ancient One who is the Source of that stream knows the answers I seek far better than I know the questions I need to ask!" she says.
Sandy holds a Bachelor of Fine Arts (BFA) in Printmaking from the Kansas City Art Institute and did graduate work at the University of Missouri at Columbia. Instead of completing her planned Master of Fine Arts (MFA) she welcomed a second child and began her teaching career.
A longtime member of the Society of Children's Book Writers and Illustrators, she has published several picture books (Earth Circles, Only One Wish and The Big and Little ABC) and received numerous awards and grants for her work. Sandy's artwork is exhibited in many galleries in the Midwestern region. She is working on a graphic novel titled Enkidu's Drum based on Gilgamesh, the oldest written story, dating from the time when humans first adopted agriculture and a lifestyle that would change history – in sometimes frightening ways.
Sandy's extensive anti-war print series, "Make-BLANK-Not War," can be viewed at artworkforpeace.com. She plans to add a print called "Make Ayahuasca Not War" to the website sometime next spring!
Through Picture Book Making, a writing and art program that she developed, Sandy has helped more than 2,200 inner-city children make picture books.
"My creative work depicts our relationships to each other and our planet," Sandy says. "I believe that our most important tasks are taking care of Mother Earth and learning to live peacefully with one another. I hope my art and writing can help us with these tasks."
Sandy was awakened to "the ultimate One-ness of All" during a psychedelic experience when she was 17. She hopes ayahuasca can help her to understand why so many people seem unable to recognize the One-ness. She also hopes to garner wisdom from the medicine that will help her utilize her art, writing and teaching skills to encourage others to reconnect with their forgotten truths.
"Our disconnection from Mother Earth has wounded too many of us, and in turn we are wounding others and fouling our own paradise," Sandy says. "For the sake of my grandchildren and for all young life on this precious planet, new visions must arise, new stories must be told, and new songs must be sung."
Sandy, a grandmother of four, lives and works in the St. Louis area.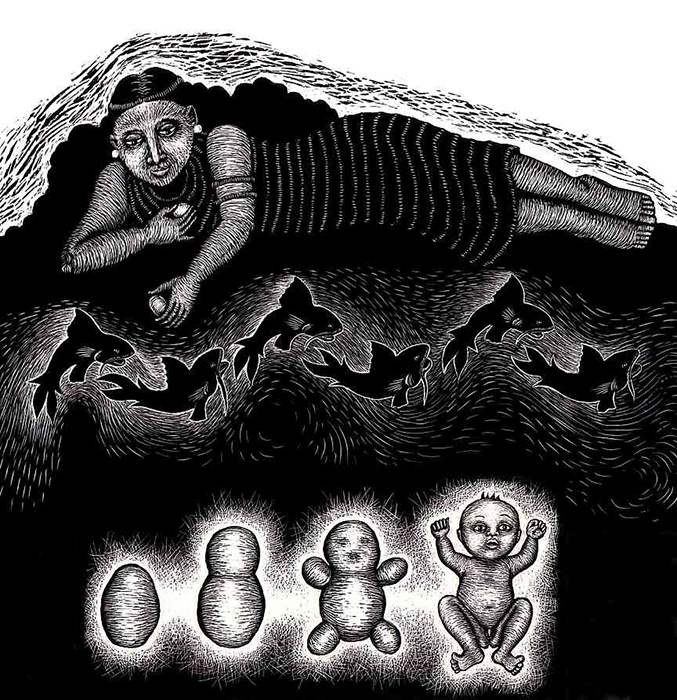 "My creative work depicts our relationships to each other and our planet. I believe that our most important tasks are taking care of Mother Earth and learning to live peacefully with one another. I hope my art and writing can help us with these tasks."
- Sandra Griffin
Image: Creation of Enkidu by Sandra Griffin
Cosmic Sister Plant Spirit Grant 2018
Women of the Psychedelic Renaissance Grant 2018
Ayahuasca Retreat: Temple of The Way of Light