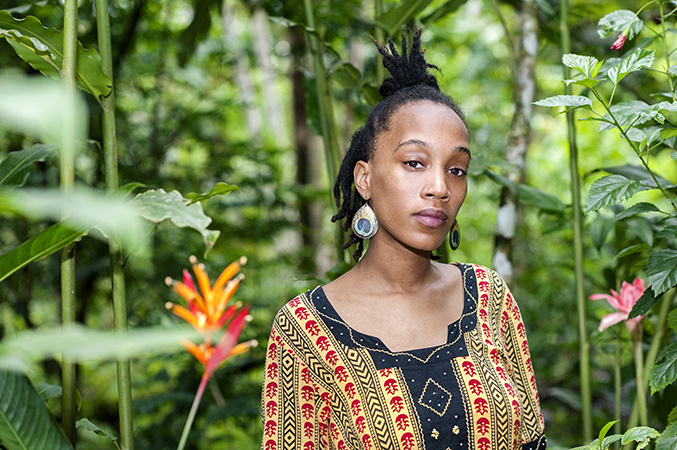 Sabrina Pilet-Jones at Temple of The Way of Light. Photo by Tracey Eller for Cosmic SIster
Cosmic Sister Plant Spirit Grant 2018
Date of Birth: 09/22/1988 (29 in ceremony)
Community Artist, Certified Doula, Urban Farmer
Lives in Massachusetts
Sabrina Pilet-Jones, a community artist and certified doula who helps women work through and prevent postpartum depression and birth trauma, is passionate about herbs and natural healing, and strives to be a healing force for her community. In the medicine space, she intends to work on her own body image and acceptance.
Sabrina was born and raised by relatives in the South End of Boston. She struggled with depression stemming from the identity confusion of being adopted and not liking her own physical appearance because she has more dominant African-American features than her adopted family, which modeled her beauty standards of fairer skin and straighter hair. "They were standards that I would never fit into," she says. "Constantly feeling ugly and out of place became normal for me."
By age 15, Sabrina was abusing alcohol, self-harming, and running away. She was sent to McKinley Prep, an alternative high school that provides a variety of counseling services to "at risk" teenagers, where her interest in art was piqued and she began working as a peer leader helping to fight gang territorialism through art and activism. Sabrina credits the McKinley staff with going above and beyond to help her work through issues and make sure she stayed in school.
Her son Nashawn – "a beautiful, interesting, spiritual addition to my life that I've come to realize has come to show me lessons that no other being could/can" – was born when she was 17. She relied on her own mother to help her through the fear of being a single teenage mother and often carried Nashawn on her chest as she taught art workshops for community youth. She continues to homeschool (and "unschool") him.
While she was a student at Community College for Human Services, Sabrina moved up the ranks at the youth center to become a female youth advocate and created a Female Empowerment and Mentorship program (FEM) for young women growing up in urban settings. That experience showed her that her life's work is in helping women.
When circumstances forced Sabrina to drop out of college and leave her parents' home, she moved to Haverhill, Massachusetts, where she had time to explore women's need for healing over issues including repressed sexuality, trauma with birth experiences, and motherhood guilt. She studied tantric techniques for womb healing and got her doula certification, then returned to Boston, where she provides creative relaxation workshops for youth, women, and families as well as face and body painting for events through her business, Moonbeam Creative Empire. Sabrina supports women before and after they give birth through spiritual belly painting and smudging as well as "creating a healing space to help new mothers enter this new phase of life."
"I just want women to feel special and cared for – definitely before the baby arrives, but ESPECIALLY after!" Sabrina says.
A deeply spiritual person who began practicing Wicca at age nine, Sabrina explored spiritual/magical studies, including hoodoo and shamanism, throughout her life. She studied with Dr. Nteri Nelson and learned about African American spirituality and contributions to world civilization before the invasions of Africa. Learning about ancestral universal laws of living in harmony empowered Sabrina to continue her own personal spiritual exploration and help others heal.
Sabrina recently graduated from The Urban Farming Institute and is entering the apprentice program. She hopes to get her herbal apprenticeship and Yoni steaming certification and grow medicinal herbs and flowers to create and sell tinctures, flower essences, salves, and tea. She has created a micro urban flower farm and is developing a farm stand "to take our health into our own hands by bringing produce to areas that have the absolute worst choices for food."
"I have been working so hard to take all of the pain and obstacles and transmute it for healing," Sabrina says. "One day at a time, one dream at a time, I will make it happen. I can't save the world, I know, BUT if I can help some people in my community, I have done something!"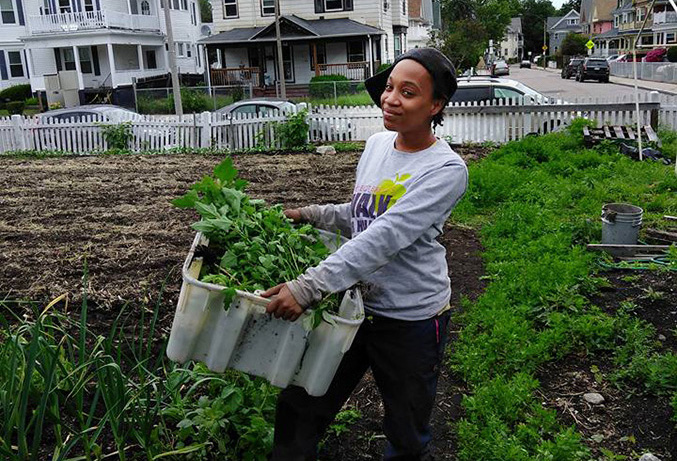 "I have been working so hard to take all of the pain and obstacles and transmute it for healing. One day at a time, one dream at a time, I will make it happen. I can't save the world, I know, BUT if I can help some people in my community, I have done something!"
-- Sabrina Pilet-Jones
Cosmic Sister Plant Spirit Grant 2018
Women of the Psychedelic Renaissance Grant 2018
Ayahuasca Retreat: Temple of The Way of Light