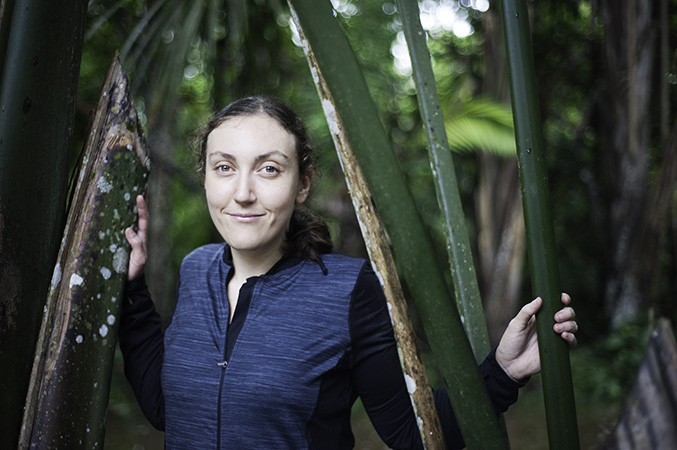 Neşe Devenot at Dreamglade. Photo Tracey Eller / Cosmic Sister
Cosmic Sister Plant Spirit Grant 2016
Neşe Devenot, PhD
Psychedelic Scholar, Educator, Mother
Date of Birth: 6/22/1987 (29 in ceremony)
Neşe Devenot (29), an Andrew W. Mellon Postdoctoral Fellow in Digital Humanities at the University of Puget Sound, has been awarded a Cosmic Sister Plant Spirit Grant to travel to the Peruvian Amazon in December of 2016. Shortly upon returning home, she will celebrate her 30th birthday.
Neşe received her PhD from the Program in Comparative Literature and Literary Theory at the University of Pennsylvania, where she studied psychedelic philosophy and the literary history of chemical self-experimentation ("trip reports"). She was the 2014-15 Critical Speaking Fellow at the University of Pennsylvania, the 2014-15 Andrew W. Mellon Graduate Research Fellow with the Penn Humanities Forum, and the founder of the Psychedemia interdisciplinary psychedelics conference. She authored "This Week in Psychedelics," a Reality Sandwich column about psychedelics in the media, from 2011 to 2013. She has become known as a strong woman's voice in the psychedelic scene, having presented at numerous conferences nationally and internationally. Neşe received her bachelor's degree in 2009 from Bard College in Annandale-on-Hudson, New York, where she double-majored in Philosophy and Literature.
Breaking Convention, the premier psychedelic studies conference and nonprofit educational foundation in Europe, awarded Nese for the "best humanities publication" of 2015 in psychedelic studies for her dissertation chapter on Aldous Huxley as part of its international First Annual Psychedelic Research Awards. Nese presented at Breaking Convention's first conference in 2011 and will speak again at the 2017 conference.
Nese teaches two sections of first-year writing for the residential Honors Program at the University of Puget Sound, which incorporates psychedelic literature from the twentieth century into a larger conversation about consciousness, neuroscience, and the concept of the self. "The students are hungry for different perspectives and for learning about plant medicines and subcultures from a more nuanced perspective," she says. "The school is very supportive of my work and lets me do what I want to do, which I really appreciate." Unlike women who wrote about psychedelics in the 1960s, Neşe does not publish under a pseudonym or find male doctors to write prefaces validating her words.
Though she's experienced with psychedelics, Neşe has drunk ayahuasca only once and said it was "a very narrow experience." Through the grant, she will experience her first series of ayahuasca ceremonies in a traditional Amazonian jungle setting. One of her key long-term interests is "going outside the purely therapeutic program" to allow everyone—not just people who have suffered trauma or psychological issues—to see their lives from a different perspective. In the medicine space, she intends to explore themes related to "Chemical Poetics," a book she is writing about the relationship between language and psychedelic experiences. Neşe argues that literary theory and poetic interpretation are as crucial as chemical analysis for generating data in psychedelic science and the scientific study of consciousness.
"My book project has been really focused on how psychedelics exercise language," she says. "Because there's no easy way to talk about these experiences, psychedelics push the evolution of language, because we have to work so hard to get in there and describe what's going on. And I think that has a feedback effect on what we can say, even in other settings."
As a scholar who studies how individuals over the past several centuries have described psychedelic experiences, Neşe is grateful for the opportunity to explore her research focus from a personal perspective. "As a mother and a teacher, I hope that my work with this grant contributes to broadening our cultural appreciation for non-ordinary states of consciousness in order to cultivate a more empathic and compassionate world."
---
"I released my lingering attachments to my ex-partner, and I processed a great deal of the underlying emotional pain associated with freeing myself from this (abusive) marriage. The sisterhood aspect of the experience was a big factor in this, since our experiences of sharing and bonding with each other as a group worked synergistically with the ayahuasca, allowing each of us to process and release emotions that were holding us back in our important life work." – Neşe Devenot
"This trip to Peru blew my mind wide open! I am still processing the infinite range of sensations and emotions from our 4 ayahuasca ceremonies and the adventures in between: Operatic 3D puking from all sides of the maloka. All-consuming stomach pains literally sucked out of my body and puked out on my behalf by a shaman. Cosmic visions about the role of suffering in the universe and pain as information. Intense mental concentration through nausea that worked on me like a purifying flame, burning away my attachments and my conditioned reactivity. Intimate visions of healing through trauma and the importance of reaching out to family. Off-the-charts synchronicities. New best friends who I will cherish for the rest of my life. I can't even begin to thank Cosmic Sister, Zoe Helene, Chris Kilham, and all the cosmic sisters for embarking on this life-changing journey with me. Profound appreciation for the plants and the rainforest, and for Dreamglade and the Ayahuasca Foundation for inviting us into their sacred spaces. Deep respect to the Shipibo people for carrying this wisdom tradition and psychedelic technology into the modern world, where effective mind-body-spirit healing is so sorely needed." – Neşe Devenot
---
Plant Spirit Grant 2016
Women of the Psychedelic Renaissance Grant 2016
Ayahuasca Retreat: DreamGlade / Ayahuasca Foundation