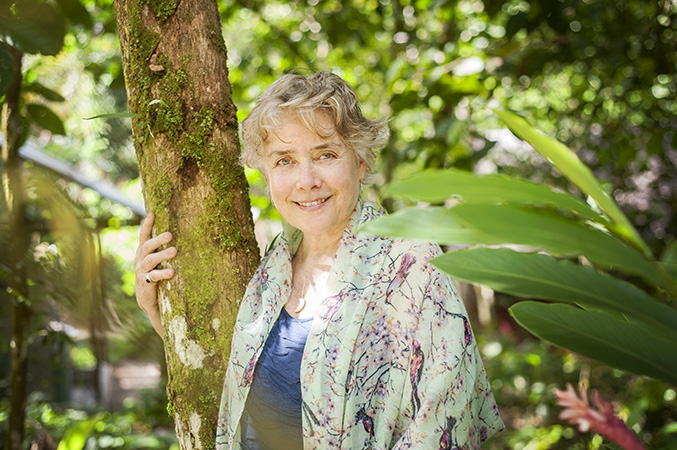 Marie Frohlich on location at Temple of The Way of Light, Peruvian Amazon. Photo by Tracey Eller
Cosmic Sister Plant Spirit Grant 2018
Herbalist, Health and Wellness Coach, Mother
Date of Birth: 08/08/1951 (66 in ceremony)
Lives in Vermont
Certified holistic health coach and herbalist Marie Frohlich teaches self-care and stress reduction and helps people connect with plants through herbal retreats and workshops. In the medicine space, she intends to clear her own personal stress, including ancestral stress inherited from the women in her family.
"I think when we reach our 60s, and if we are truly open to self-discovery, we can find our ultimate purpose and at least feel grounded and more accepting and grateful about who we are on this plane and planet in presence," Marie says. "I have been on a mission of sorts since turning 60 to get clear and grounded in mind, body and soul. I love opening to this journey as the next step to that end."
Marie has realized that her own hypothyroidism is likely related to chronic low-grade anxiety/stress that she's experienced all her life, and this has pushed her to help others reduce stress and anxiety. "I am very open to self-discovery and understanding how being seen and not heard as a child has affected my self-confidence and finding my voice," she says. Specifically, she hopes to clear "maladaptation to stress" and "ancestral stress many of the women in my family bequeathed me via their genes, which goes deep."
Born and raised in Indiana, Marie and her siblings enjoyed "Lord of the Flies" freedom and were immersed in nature. Her parents' alcohol addiction forced the family to move in with a strict German grandfather who imposed the "seen-and-not-heard" rule when Marie was in high school. After graduation, Marie began an eclectic career. She attended John Carroll University in Ohio with an initial major in childhood development, staffed an alternative daycare center at the Elmer Fudd Chancery group house in Washington, D.C., spent a summer in California, and worked at a winery in the Blue Ridge mountains.
In the late 1970s and early 1980s, Marie was a site supervisor for archaeological digs in Jordan, where she met her physical anthropologist husband, Bruno, whom she married in 1985. She has participated with him on various projects around the world. Marie finished her degree in Anthropology and Geography at George Washington University while working for an electronic industries nonprofit that helped disabled people excel in careers, then moved for Bruno's work to Bahrain, where her twins, Else and Thomas, were born. After a few years in Denmark, Marie and Bruno built a home in Vermont.
Marie and Bruno spent many years navigating a "commuter marriage" when Bruno landed a job at the National Museum of Natural History of the Smithsonian Institution in Washington, DC. Marie and the twins joined him for three years, and Marie worked as a curriculum coordinator for the National 4-H Council. Back in Vermont, she launched Taproot Consulting, a company that coordinated conferences and promoted healthier eating for children nationwide for clients including Cabot Creamery.
In 2008, Marie graduated as a certified holistic health coach from the Institute of Integrative Nutrition in New York City after completing her first apprenticeship of many, including advanced work with renowned herbalist Rosemary Gladstar. Marie, whose motto is "co-creating health from the heart," teaches and presents workshops integrating herbalism and health coaching topics and promotes workplace health efforts as a vitality champion for the Coaching Center of Vermont. As part of her mission to help individuals who seek strategies to reduce stress and sustain balanced energy, Marie formulates adaptogenic herbal products such as tinctures using chaga and rhodiola. "Plant spirit medicine," she says, "Keeps her essence wild and rooted."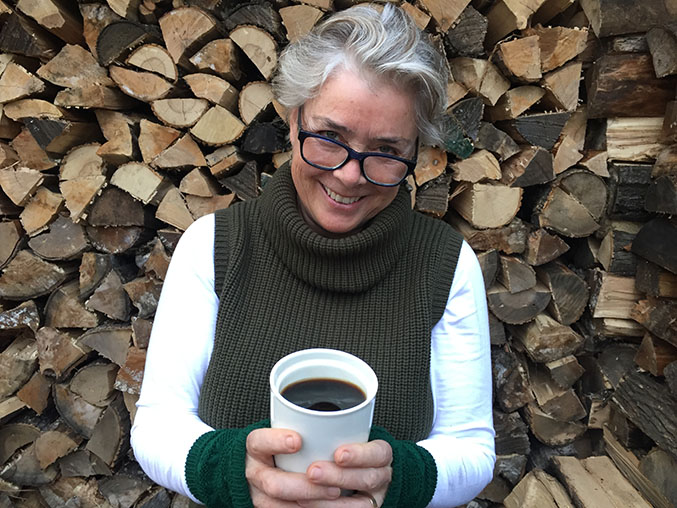 Marie Frohlich with freshly brewed Chaga tea. Photo by Bruno Frohlich (her husband!)
Cosmic Sister Plant Spirit Grant 2018
Women of the Psychedelic Renaissance Grant 2018
Ayahuasca Retreat: Temple of The Way of Light