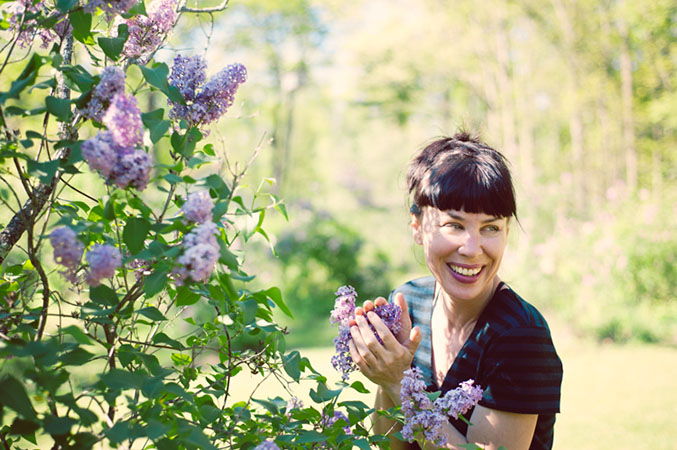 Kristine Anne by Tracey Eller
Cosmic Sister Plant Spirit Grant 2018
Filmmaker, Cannabis Advocate, Animal Rights Advocate
Date of Birth: 03/08/1970 (will have just turned 48 in ceremony)
Lives in Western Massachusetts
Kristine Anne is a multi-media project coordinator who focuses on arts and culture-based strategies for community-powered economic development, including food and transportation, to foster local sustainability. Kris has experimented with psychoactive agents and found that she is "well-suited to continue exploring more and different plants that can yield higher forms of intuition and spiritual investigation that I know brings me closer to acceptance of the world around me along with a more definitive acceptance of myself." She hopes the ayahuasca experience will help "guide me back to the smart, resourceful, happy human I know I am in order to use my talents to better effect."
Kris began her career in the performing arts, acquiring a degree in acting/directing from Tisch School of the Arts at New York University, but went on to pursue photography and ceramic design. Eventually, she returned to her "first love of film and story," teaching video-making and visual art in a Brooklyn Montessori school. She moved to Western Massachusetts ten years ago to grow vegetables following permaculture principles and continue her education, earning a Master of Science (MS) in Sustainable Science by way of architecture, regional planning, and urban sustainability from the University of Massachusetts.
Through her video work, which Kris calls "therapy combined with outreach storytelling," she hopes to help people emotionally connect through telling and listening to stories. She created a web series about human consumption habits and the ramifications of our fossil-fuel-addicted culture and is now interested in telling the stories of women working in Massachusetts's newly legal cannabis industry. She is also a field organizer with the nonprofit Friends of Northampton Trails and Greenways, which supports local rail trails that preserve open space, increase recreational access, and enhance air and water quality.
"My intense connection and love for insects and animals sometimes overwhelms me and others, but the older I get, the more I allow myself to revel in the spiritual connection I have with the plant and animal world," Kris says. A lifelong traveler, Kris lived on beaches and chased after Mayan ruins during a college sabbatical and lived in South Korea, which she used as a base to travel around Asia. She lives in Northampton, Massachusetts, with her partner and two black cats.
"My beautiful cats save me every day. Being around highly aware and loving creatures on a daily basis is a necessity. Meeting cats at their hypersensitive level calms my nervous system better than anything else and tuning into their powerful tranquillity calms the noise of my ego. For twenty years I have been adopting only black cats, as they are prone to being abused for reasons wildly ignorant and superstitious. My life without the gift of felines would not be as rich."
Nomination + Sponsorship
The "pay it forward" model is a core Cosmic Sister concept. Kris was nominated and sponsored
by BFF Tracey Eller, who received a Cosmic Sister Plant Spirit Grant in 2014. "Kris is a super-sensitive soul and an amazing woman. I think ayahuasca can help her know her own talent and beauty," says Tracey, whose own work in the medicine space helped her "know my true nature and my power" and gave her "the freedom to know that life doesn't have to be a struggle."
---
Cosmic Sister Plant Spirit Grant 2018
Cosmic Sisters of Cannabis Grant 2018
Women of the Psychedelic Renaissance Grant 2018
Ayahuasca Retreat: Temple of The Way of Light