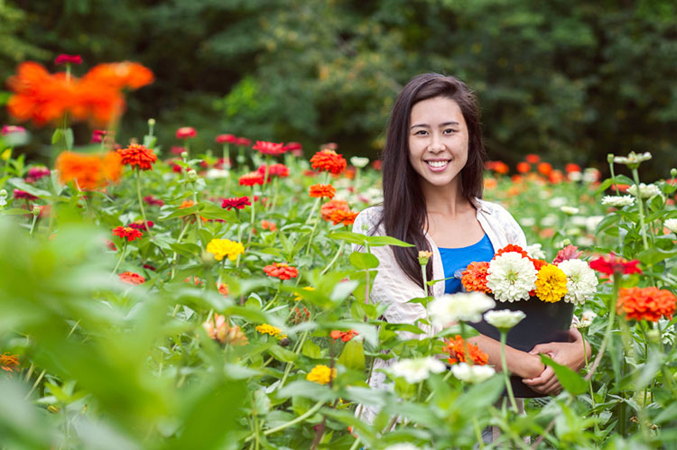 Cosmic Sister Plant Spirit Grant 2015
Sustainable Food & Farming Student (now graduated)
Organic Flower Farmer, Floral Designer, Mother
Year born: 1991 (24 in ceremony)
Julia Moore, a Sustainable Food & Farming senior at the University of Massachusetts, is the 8th recipient of the Cosmic Sister Plant Spirit Grant for our upcoming trip to the Peruvian Amazon, November 2015. Julia worked during the summer growing ornamental flowers at a local organic farm to save money for her final semester. She is looking forward to a "flower bath" at the healing retreat. Julia is passionate about helping to create stronger community food systems, about women's rights, textiles, and body movement healing systems. She is interested in "reclaiming my roots as a sister of the earth," which is a beautiful intention to bring to ceremony. Another of Julia's intents is to get in tune with her ancestral roots and "to be open to receiving knowledge they have to share." On the maternal side, she comes a line of healers and midwives in the Philippines but says that many of her people's traditions have been "erased and destroyed by colonization, militarization, and imperialism." Julia is blending the elements of both of her cultures and "searching for balance in that respect."
Julia just returned from her beautiful and poetic healing journey in the Amazon and is taking some private space to process and integrate. She looks forward to sharing her story when the time is right.
Julia graduated in December and has decided to continue on to earn a master degree in Sustainability with a concentration in Food Systems, in the Fall of '20, but is taking a year off of academia, "to center myself, and learn in other ways outside the university." She says that the ayahusaca experience inspired her to grow flowers on her own. She's named her baby (as in brand new) organic flower farm, "Laughing Moon Farm" and she plans to grow and sell "fresh-cut flowers and handmade flower crafts, such as crowns and wreaths" this Spring.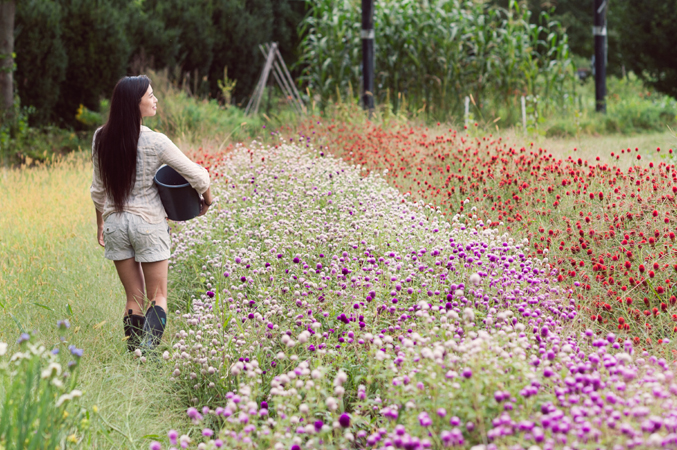 THE SPIRIT OF EARTH
Julia Moore (24), a senior studying sustainable food and farming, went to Peru to reclaim her roots as a "sister of the Earth." During ceremony, she felt herself blasted into space until she became aware of her relationship with the universe, the greater cosmos and the Earth. She experienced Earth as a living, breathing organism.
"I heard the sounds of the jungle, the bugs, the beetles, the thousands of little lives surrounding us," Julia says. "I could really hear the breathing of the trees." She fell into a trance, lying on a lush, moss-like belly surrounded by flowers and birds that gently lifted and lowered her with each inhale and exhale. She experienced "all the cycles of growth and dying and then seedlings popping out" and understood implicitly that she was one with the Earth. "I can't untangle myself from it," she says.
Julia plans to earn a master's degree in sustainability. Now, she's growing organic flowers on her farm, Laughing Moon Farm, and selling fresh-cut flowers and handmade flower crafts, and she has a happy, healthy, beautiful baby boy!
Julia's message: "I am one with the Earth."
Nomination
Julia Moore was the first woman to be nominated by a previous recipient of the Cosmic Sister Plant Spirit Grant. Amy Love, who received a grant in 2013, nominated Julia because she recognized in her a rare strength and beauty of heart and mind.
---
Cosmic Sister Plant Spirit Grant 2015
Ayahuasca Retreat: Nihue Rao