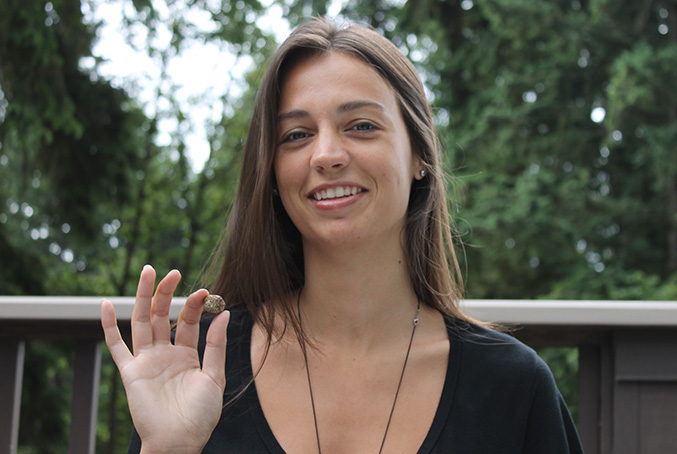 Hayley Prescott holding a node from Mandragora (Mandrake). "My plant ally," she says. Photo by Patricia Overton
Cosmic Sister Plant Spirit Grant 2018
Whole Plant Medicine Scientist, Student, Hiker
Date of Birth: 08/28/1993 (24 in ceremony)
Lives in Connecticut
Hayley Prescott received a Bachelor's of Science in Herbal Sciences from Bastyr University in 2016, and she believes her life's work is to be a healer, bridging the medicine gap between indigenous people and the Western world. She intends to address depression and self-mutilation stemming from childhood trauma and later, a sexual assault. She understands that healing self is the first step in helping to heal others.
"I have seen the black jaguar inside of me, guiding me," Hayley says. "I want to meet her and awaken to my true potential."
While at Bastyr, Hayley became fascinated by plants "seemingly written off as harmful or dangerous in the herbal world," the "powerful plant allies who in their darkness exhibit the strength of gods and ability to work with the dark and incorporate it with the light." She helped Dr. Leanna Standish, ND, PhD, develop a project called, "Standardization of Banisteriopsis caapi: Towards an FDA-approved phase 1 trial of B. caapi in Parkinson's disease." (Banisteriopsis caapi is a sacred plant essential to the making of ayahuasca, which is a combinatory brew.) The mentorship was a deeply enriching experience and provided Hayley with a role model for a strong female scientist. "I am beyond blessed to have worked with her in this capacity," she says.
The Plant Spirit Grant will support Hayley, an academically gifted student, as she experiences the arch of a series of ayahuasca journeys led by highly trained, indigenous healers in the Amazon rainforest, adding an essential balance to her scientific laboratory work. Rather than "promoting isolated molecules" Hayley will "Bear witness to the centuries-old relationship Shipibo healers have with these powerful plants," which will strengthen her advocacy work promoting "whole plant medicine."
Hayley's research was showcased at two Bastyr symposiums, Psychedelic Science 2017, and was selected for the National Society of Pharmacognosy's 2017 annual meeting. After spending a gap year continuing her research and exploring the United States extensively via road trips – Hayley plans to study the pharmacognosy of ethnobotanical medicine as she begins pursuing her PhD this year (stay tuned!)
Hayley has some experience with psychedelics and hopes the shamans in Peru can help guide her through "darkness" that she fears could lower her vibrations. She is dealing with relationship and family issues, a debilitating perfectionist streak, and past trauma including abusive relationships, and a gang rape. "I would like to reclaim my body," she says of the sexual assault. "I feel like my soul fragmented that day."
"I struggle with true happiness. I'm tired of over-analyzing and criticizing," Hayley says. Though she is terrified of bringing her darkness into the medicine space and possibly "affecting others with it," she is ready to face it head on. "I want to explore my darkness," she says. "I want to learn how to let go and trust my intuition."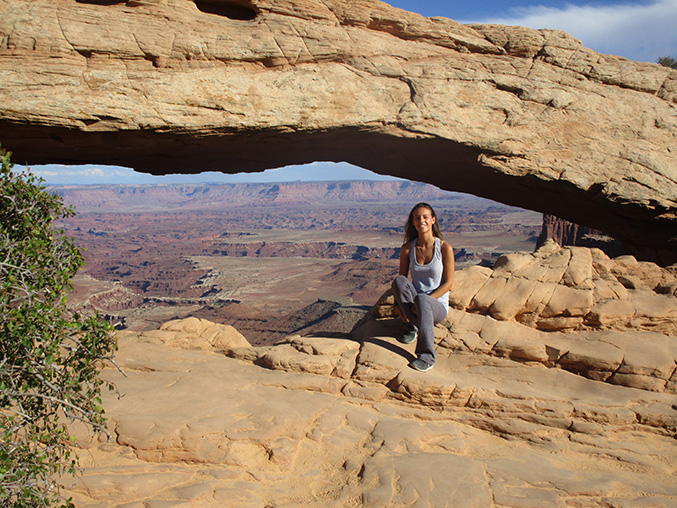 Hayley hiking at Mesa Arch in Canyonlands National Park in Utah. Photo by Edward Prescott
Cosmic Sister Plant Spirit Grant 2018
Women of the Psychedelic Renaissance Grant 2018
Ayahuasca Retreat: Temple of The Way of Light