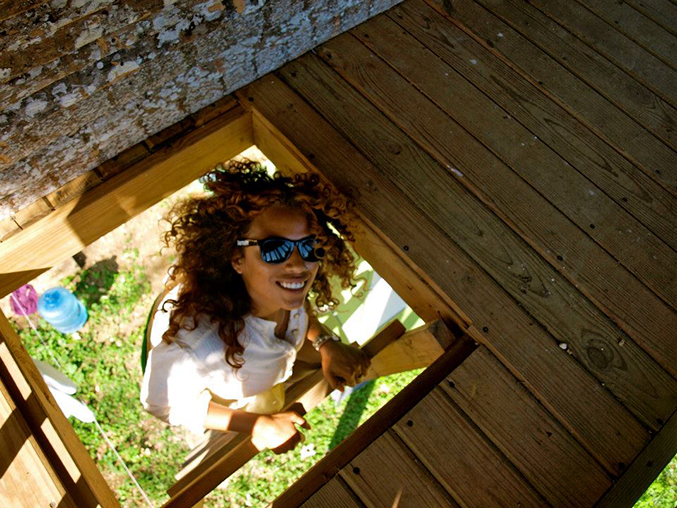 Estefani Vidal in a permaculture tree house in the Dominican Republic
Cosmic Sister Plant Spirit Grant 2018
Fitness Enthusiast, Humanitarian, Cannabis advocate, Permaculture Student, Traveler
DOB: 01/28/1981 (37 in ceremony)
Lives in Florida, born and raised in NYC, Caribbean roots
Estefani Vidal, the group interpreter for the 2018 Cosmic Sister expedition to the Peruvian Amazon, is experiencing a spiritual awakening and hopes to reconnect with her ancestors and work on self-nurture in the medicine space. She believes nature is the greatest teacher and that the most important thing she can do is "empower others—by example—to turn to nature for healing and restoration, not just for us but for the planet we call home."
Estefani has traveled to Italy, Germany, Spain, Peru, Mexico, the Caribbean, and Thailand. She loves to explore how cultures express creatively through food, especially spices. She owns land in the Dominican Republic and dreams of building a retreat "designed to help heal people and their surrounding community" through different forms of medicine and traditions, including ayahuasca, psilocybin mushrooms, cannabis, and detoxing through nature. "I feel it would also help the community around the land, bringing in eco-tourism and forming an identity and opportunities in the community so they can be proud," she says. She also plans to incorporate healthy eating and fitness into the program because she understands how profoundly they factor into stress management and promote self-confidence.
A few years ago, Estefani traveled to her mother's native country, the Dominican Republic, to search for her roots and study permaculture at Taino Organic Farm, a permaculture inspired, agro-tourism education center just outside the surf town of Cabarete. While studying, she was hired by Taino to work as community outreach coordinator, where she started a popular interactive learning program teaching local kids English because she understands how helping children become bilingual opens doors. She incorporated creative writing, games, problem solving, permaculture, and our role and responsibility with nature into her curriculum, and the children thrived. "These are the things that make my heart sing: learning, teaching, community, and personal development for others and myself," she says.
Estefani received a Mentor Award from Florida nonprofit Educate Tomorrow for her work with homeless teenagers.
Estefani grew up in New York City, the middle child between two brothers, with a single mother who owned a salon and spa. She describes herself as "the enforcer in my family – always very passionate, opinionated, and mature for my age." When her older brother was diagnosed with schizophrenia at age 25, Estefani took food to him in the psychiatric ward every day and inquired about the medications he was taking and his overall physical state. "The meds were giving him adverse reactions," she says, "from his skin to the shakes." This experience sparked a keen interest in advocating for alternative medicine and "in general, the need to address the way sick people are treated in our culture."
"I realized the ones who didn't have people to speak up for them were doomed, and that made me angry," she says. "I was only a teenager, but I observed everything about these places from design to food and would think of ways how I would make it different, especially coming from a spa background. I thought they had it all backward. These people shouldn't be on meds; they should be healing with nature and these special plants that were put here to heal people."
After 10 years of taking care of her mother, who has ALS, Estefani wants justice for people with medical needs. "I have learned a lot through this journey," she says. "It has increased my awareness of how broken the system is, and how poorly the establishment takes care of our sick and elderly. I've also learned a lot about people in general, what real friendships are, what real love is, what's really important to me, and what I am made of, how powerful and strong I am."
Estefani's maternal great-grandmother moved from Spain to the Dominican Republic, where she was a healer and partera (midwife) who would "go into the jungle to consult the plants," she says. Estefani is passionate about plants and once had a profound experience after meditating when she went into the woods and could see plant auras, which she says "blew my mind and changed my relationship to nature."
She is especially excited about Temple of the Way of Light's permaculture and community outreach projects and working with indigenous guides who "learn from source, which is nature."
"What intrigues me about ayahuasca is there is only truth, no hiding, no pretending," Estefani adds. "You're stripping everything you think you know and facing yourself."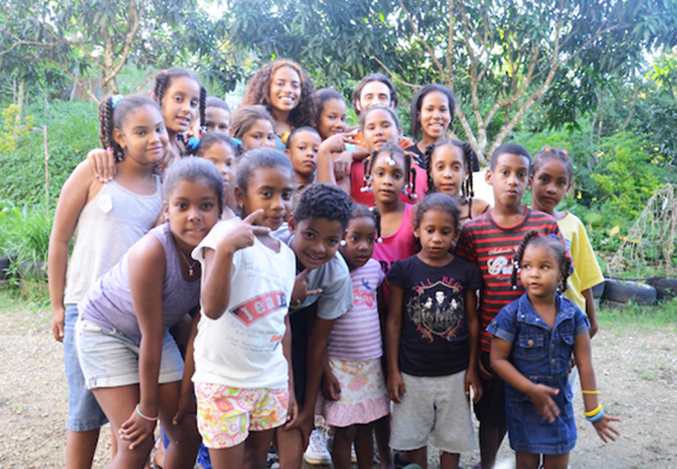 "I went to the Dominican Republic to study permaculture and explore my roots and ended up starting my own program after class. I taught local kids English, which turned onto me designing my own curriculum based on how I would have liked to be taught in school. The curriculum involved English, permaculture, creative writing, dancing, games, problem-solving, observation of our role and responsibility with nature and plants its importance. These are the kind of things that make my heart sing—learning, teaching, community, and personal development for others and myself."
-- Estefani Vidal
Cosmic Sister Plant Spirit Grant 2018
Women of the Psychedelic Renaissance Grant 2018 / Translation
Ayahuasca Retreat: Temple of The Way of Light