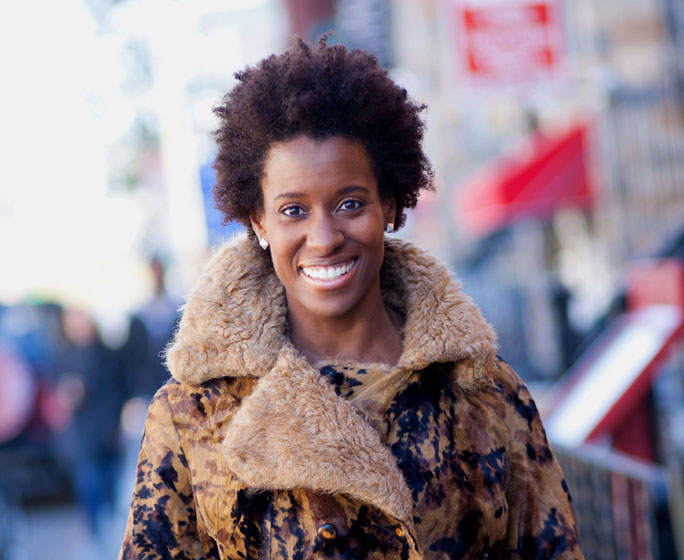 Bianca Alexander's Tips for Channeling Your Eco-Fashionista
Huffington Post STYLE, PULSE
Emmy Award winner Bianca Alexander, Esq., Host of Conscious Living TV, yoga instructor and producer of the T.H.R.E.A.D.S. and Vert Couture Eco-Fashion Shows across the country, caught up with Zoe Helene to share tips on versatile clothing brands, authentic personal colors, and the winter season's happening sustainable design.
What are some of your favorite tips for channeling your eco-rashionista?
Style is about more than just looking good. The old rules of fashion no longer apply -- style at the price of people and the planet is not beauty-ful. When shopping for feel-good fashion, keep these fundamentals at top of mind (and heart):
1) Know Your Fabrics
It takes nearly one-third of a pound of pesticides to make one conventionally grown cotton T-shirt. These chemicals are harming our planet, polluting our drinking water, and killing the bees. Opt instead for pesticide-free organic cotton, or renewable materials like Sashawashi (seaweed), buttery soft Bamboo, Tencel and Modal, and animal-loving fabrics like Ahimsa, or Peace Silk.
2) Color Theory
Study up on dying processes and production practices so you can support designers and brands who are proactively employing sustainable coloring methods, like no-impact dyes and all-natural plant- and earth-based dyes. Natural dyes are not just good for the environment. They're better for your body, since our skin -- the largest and most absorbent organ in our bodies -- soaks up toxins that are harmful to our health. They're also an ethical choice. Fine imported dyes preserve traditional artisan dye-making knowledge and can support poor rural communities.
3) Avoid Fast Fashion
"Fast fashion" -- stocked at most big box and novelty fashion stores -- is often manufactured in sweatshops that deny humane working conditions to women and children laborers in China and other developing countries. Instead, vote with your spending dollars for garments manufactured locally in accordance with fair trade principles, which help preserve the environment, indigenous culture, and ensure artisans rare paid a fair living wage for their work.
4) Rock Vintage
Freshen up your wardrobe with classic retro looks that never go out of style. You may have to do some treasure hunting but that's half the fun, and well worth it! Vintage clothing keeps trash out of landfills, and will keep you looking like an original. Plus, it's a great chance to get off the computer and head out to your favorite artsy neighborhood for window shopping!
5) Think About It
Before you make an impulse buy, think about where and how that product was made. Will it fall apart in a few months and eventually end up in a landfill? Was it made by child hands? Do you already have something in your closet just like it? If you don't know the answer to these questions, you may want to hold out for a more sustainable option. Accessories matter, too. When in doubt, follow the chain of production. It will always lead back to a set of values -- make sure they match yours.
6) Vote With Your Money
Informed choices support artisans who make the garments you wear, and companies who are doing their part to take care of Mother Earth. Though it might cost a little more than what you may find at Wal-Mart, it feels good knowing you are a part of the solution, not a part of the problem.
For more info on Bianca, visit ConsciousLivingTV.com