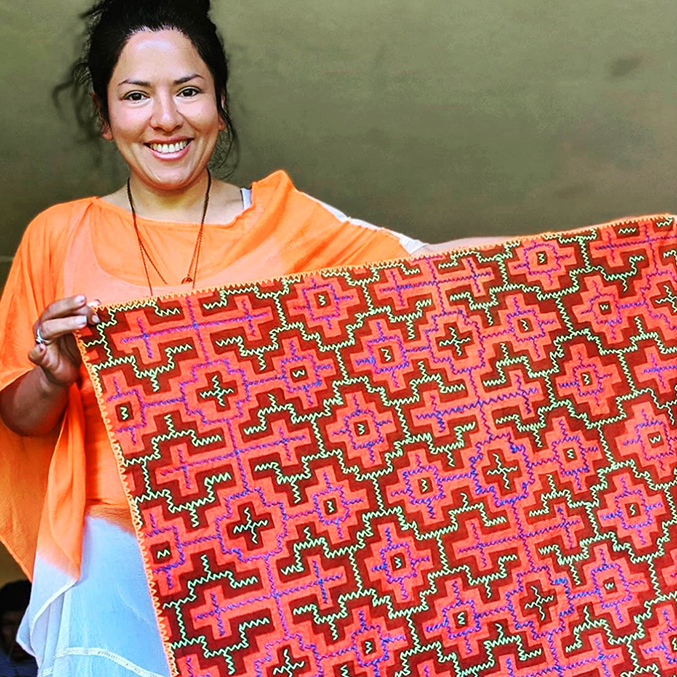 Ana Jost wins Cosmic Sister Emerging Voices Award
Cosmic Sister Emerging Voices Award
Congratulations, Cosmic Sister Emerging Voices Award (CS EVA) recipient Ana Jost (@shamanfashionista)!
Canada-based Peruvian artist, designer, and healer Ana Jost founded Shaman Fashionista to help indigenous women and communities in the Peruvian Amazon by educating people about their culture and promoting and selling their art. Ana sells handcrafted Shipibo Kené painted and embroidered tapestry in support of Shipibo women living in Lima, Peru.
Ana grew up in the rainforest city of Pucallpa and moved with her family to Lima, where she enrolled in The Civil Engineering Undergraduate Program of the Universidad Nacional de Ingeniería, in Lima. She moved to Canada in 2004 and studied fashion design at Vancouver Community College.
In 2011, an "involuntary visionary/paranormal experience" started Ana, who was struggling with rheumatoid arthritis, down a spiritual path of healing. She apprenticed as a shamanic healer under a Native American Elder from Manitoba and reconnected with her indigenous Peruvian roots through ayahuasca experiences.
"Ayahuasca was life changing, showing me the path of unconditional love, and how to walk in this life," she says. "Plant medicine has helped me so much on my journey."
During her first ayahuasca ceremony, Ana had a vision of bringing Shipibo Kené, the designs on Shipibo textiles, to Canada. She contacted Olinda Silvano (@olinda_reshinjabe_silvano) and was shocked to discover the esteemed artist living in poor conditions. "I was very touched by her situation because I grew up in poverty too," Ana says.
Ana's rediscovery of her Peruvian roots led her to the Shipibo-Konibo Community of Cantagallo in Lima, founded by Shipibo families who were forced from their ancestral home in the Amazon basin by illegal logging, mining and infrastructure development. She is proud to support, empower and collaborate with the artists and artisans of Cantagallo.
In partnership with MAPS Canada's Examining the Psychedelic Renaissance, Season 2 (@MAPSCanada), the CS EVA increases visibility for talented women in psychedelics and cannabis who work tirelessly in behind-the-scenes roles, as well as newcomers who bring unique voice and talent to the community and/or who shine in spotlight positions.
---
#IdaManuel #shipibo #ayahuasca #love #lima #peru #empower #artist #design #culturalpreservation #BIWOC #Indigenous #IndigenousWomen #PsychedelicFeminism #CosmicSister #MAPSCanada #ZoeHelene #wildernesswithin #women #wilderness #wildlife #psychedelic #plantspirit #sacredplant #entheogen #womensupportingwomen #nature #plantmedicine #earth #womeninpsychedelics