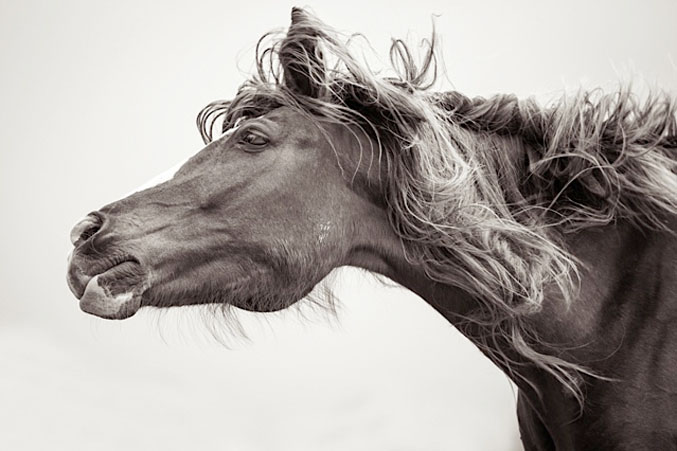 "Rock Star" by Kimerlee Curyl
An Artist's Wild Muse and Her Mission to Save Them
Earth Tribe | Activist News
Kimerlee Curyl has felt a deep connection with Horse Spirit for as long as she can remember. She started working as a commercial equine photographer several years ago, but the callousness and cruelty she witnessed toward the horses during those jobs literally made her sick. In 2010 she left the security of that work behind and returned her focus to activist fine art photography. Curyl's art requires her to ride in a pickup far out into Western wilderness rangelands, become one with herds of wild horses, and then circle home with mesmerizing, intimate portraits of the animals in their natural habitat and free spirited glory.
The premier photographer for the American Wild Horse Sanctuary, Curyl has dedicated her life to photographing wild horses on America's rangelands, where every year the Bureau of Land Management (BLM) rounds up tens of thousands using helicopters and herds them into permanent government holding facilities. From there, she says, "they're adopted or sold for who-knows-what?" Curyl is concerned that some of the horses will be sent to slaughter despite a U.S. government ban on selling wild horses for meat.
Her intense passion for saving the wild horses has spurred a compelling and beautiful body of work that captures the animals' spirits and inspires people to help protect and defend their right to live in their native rangelands. "If we don't act to stop these cruel, insane practices, wild horses will soon be gone forever," she says.
What is it about the wild horse that we resonate so deeply with?
They're free. In the core of each and everyone one of us, freedom from restraint is our desire. I don't care who you are. Whatever your personality at the core, nobody wants to be bound by anything.
There is just something about the eyes of a horse that you express so well in your photographs.
If you really stop and look into the eye of a horse, they tell a story of freedom, a liquid of light. It's all right there, and that's because they're so in the moment. They don't think about yesterday or tomorrow. For so many of us today that's what we are looking for, to live in the moment. The horse is the living embodiment of that.
How do you get these horses to trust you? I mean—they're wild animals.
I don't encroach on them from behind. I let them see me coming, and I give them time. There are some herds that are like, "Yeah, you know… not into it." Of course I want the shot, but I never force anything. It's part of the work when you are out there in the middle of millions of acres of territory just waiting. I've driven for hours to get there, and sometimes I spend hours to get them to trust me. And guess what? Sometimes they don't.
Theoretically, feral cats and dogs can learn to completely trust a kind human—but dogs are considered to be 'domesticated' species. What about a horse that was born and raised in the wild?
You mean like mine?
Yes!
Horses are one of the most adaptable creatures on the planet. This is an important concept. We have taken horses from living in the wild and have domesticated them to the point that we have them living in a box. That's not how they're meant to live. They're meant to travel more than 15 miles a day, eat 17 hours a day and sleep only two or three hours a day. Everything we do with them—like putting them in a box and how we feed them and putting metal in their mouths and on the bottom of their feet—is so contradictory to their natural state. Yet they accept it. Their feet and bodies adapt.
But are they healthy living in these ways that aren't natural to them?
Our domesticated horses do get sick. We've created a lot of diseases in these animals that they don't have in the wild. They get illnesses like Laminitis, for instance, because of the sugar we give them, or they get colic. Horses don't colic in the wild. They're moving all the time, and a horse's stomach never stops producing acid. They're grazers. The food comes in, and the acid deals with it. That's just how their digestive system handles food.
They seem to enjoy our company.
Oh yes. They're herd animals, so when we domesticate them, they see us as the herd. They're always looking for leadership, no matter what.
And we seem to enjoy sharing their company too!
Sharing space with these beautiful creatures is such nourishment. Sharing their stories and capturing the essence, the spirit and the dances they express is truly my joy. I am blessed and grateful.
Does your photography focus entirely on wild horses?
Yes. I once had a thriving part of my business where I was commissioned to photograph famous domestic horses—all these lovely athletes. Horses are no different than human athletes except that they don't have a say in what they're doing or how they're treated. Horses don't have rights like we do. They don't have lawyers or agents—or paychecks, for that matter.
They're considered "property," which I find bizarre.
They are at our mercy. I thought that photographing beautiful horses would be a beautiful journey to embark upon It was a great paycheck. It lasted about two years.
What happened?
After one particular shoot, what I had seen literally made me sick to my stomach, and I knew that was a message to move on. I knew these people were not breeding anything anywhere near quality in their eyes. There were a lot of them, and they were absolutely beautiful animals but not to the standards these people were judging. On this particular day at this shoot, their attitude was to just get rid of what wasn't pretty—which often means the feed lot, then the slaughterhouse.
Not everyone conducts their business this way, but this particular day I was sick and very, very sad. I literally ended up leaning over the toilet vomiting, and I said to myself, "I cannot promote that anymore. OK, Universe, please support me here!" And I took the leap of faith. It was a pivotal moment.
So, slaughter is considered a "solution" for these horses?
Slaughter is not a solution. Slaughter is a business. We have to remember that someone is willing and eager to make a very good living at slaughtering America's horses, and that that horsemeat will not be going to feed starving countries. That horsemeat will go to fine dining establishments to entertain people who want to taste something exotic.
So often these wild animal rights issues gets down to human overconsumption of meat (or seafood or dairy).
And money and greed. Our biggest fear is that they don't know what to do with the 50,000 in holding and if they open up the slaughterhouses, that's where those wild horses will go. That will be their answer to the problem they've created.
Right now there's a law protecting wild horses from slaughter, but there's not a law protecting domesticated horses. So a horse that didn't come out the way a breeder wanted or a horse you grew up riding or saw run a race or in pony show could end up on somebody's dinner plate.
I just can't see Americans ever embracing horsemeat.
I don't either, but other cultures feel differently, so the horsemeat just gets shipped to a country where it is served like lobster, as a delicacy meat. It isn't being served for people who need food. It is expensive per pound, bought for peanuts, then sold high with a big profit mark-up.
How would you describe your photography?
My work has a contemporary feel, yet it is of a wild, raw animal, which is an unusual mix. I hope I have captured these beautiful animals and presented them in a way not really done before--emphasizing the grace, strength and frailty of their essence. The spirit. The drama. The freedom.
Your work is both inspiring and informative.
My work is rooted in beauty, but it also has elements of education intertwined. The images express the experience of being out there, because most people aren't going to be able to see what I've been able to see. I'm not going to put everything I've seen out there. I've photographed a horse with a broken leg even though I knew that I wouldn't share that with the world. It is painful and part of the fabric of who I am now. So it is in the work but that doesn't mean I have to share that with the world directly.
So your images celebrate life and freedom rather than focusing on capture or captivity or death.
Yes, and I think that's one of the reasons my work sells especially well in urban environments like New York City, Chicago, Dallas and Los Angeles. I get emails from people who live in the city that say, "I walk in and see your photograph at the end of the workday, and I feel like I can breathe again—when I feel that freedom."
I love that. I imagine them walking through the concrete jungle all day or sitting in offices working insane hours. Then they get home and see an image of a wild stallion or a herd of wild horses, and that's inspiring!
How do you deal with serious downer stuff around this issue?
I focus on the beauty. First and foremost, I'm an artist and a horsewoman. I can just do what I can do with my art and hope to inspire change.
How do you handle keeping up with the news when most of it is bad?
Keeping current is part of my work, but you can only take on so much. I've learned to set it aside for a while sometimes.
I recently adopted a beautiful wild boy myself. Right before heading off to see him, I received an important informational update about the horse meat market. I started to read it but then said to myself, "I can't do this right now," and set it aside. If I allowed myself to get steeped into the slaughter issue, I would bring all that energy to him. I wanted to enjoy my beautiful new friend and be rooted in connection. He and my mare would know if I carried that baggage to the barn.
Some of the visuals are just so difficult to watch.
I cannot be the person who puts images of slaughtered horses in front of audiences. I could rattle off so many terrible things that are happening to wild horses right now, but I am trying to keep focus on beauty and joy—and inspire change.
If this were a movie, would the BLM be the villains?
I just adopted a wild horse from the BLM and my experience with them was actually very kind and helpful. These are the people I'm supposed to hate, and yet here they were being very lovely to me.
The first time I was in a BLM office, when I photographed the Oregon herds, I went in to see if they knew where the horses might be. The woman at the desk gave me the information and then asked, "Do you mind if I ask what you're doing? I know it is public and you have a right to be out there, but we always like to know what people are doing so we can make sure you're OK." She was protecting me.
Then she asked my name, and she knew who I was. She said, "I love your work. … I love those horses, and I want to see them protected."
I was taken aback. Humbled. I have to honor that some of these people do really care.
So when the horses are rounded up, they're put in "permanent holding." What exactly is that?
They're loaded into huge, terrible metal stock trailers and shipped off to permanent holding facility, which are just big flat open corralled areas. Immediately the foals are taken away from their mothers no matter what their ages, even if they're three months old. They're separated by gender, and the stallions are gelded. Then the geldings are put together, and eventually they buddy up. They eventually stop fighting if no mare is introduced. And that's their lives, unless they're adopted or killed or sold for who-knows-what?
I don't want to offend anyone by calling these concentration camps for wild horses, but that's what they are.
Do we know for sure that the wild horses that are 'rounded up' don't also end up in slaughterhouses?
No. In fact, as recently as 2012 a man known for buying horses at auction for slaughter was allowed to purchase 1,700 wild horses at an auction. There has been a lawsuit against him, and unfortunately the verdict came down several months ago and the bottom line is, he's not going to be held accountable. The BLM and the people who just want the wild horses to disappear will just say, "I'm sorry, we don't know what happened to them."
So, these BLM helicopter round-ups are actually illegal?
Yes. But because they're the government, they can get away with it. We did this to the Native Americans, and now we're doing this to the wild horses.
I start to wonder—when are we going to be next? Are we going to start being pushed over here by some ruling group into some sort of area we have to live in? Is that just crazy thinking, or is it just one of the reasons people with free spirits find this sort of government behavior so unnerving?
I don't think you're alone in feeling deeply unnerved by this. I'm a patriot, and this goes against all my healthy Americana programing—democracy, taxation without representation, the home of the free and all that.
I focus on the issue at hand, which is that our government is wiping out America's precious and beloved wild horses—with taxpayers' dollars and on public land. If we continue in this way, we are going to obliterate these horses, and they are going to be driven extinct.
We have 50,000 wild horses in holding and less on the rangeland. About 22 million acres have been taken away from them. Their herds have been reduced way below genetic viability and yet still the round-ups continue.
And they're saying that the horses are ruining the land?
Yes, and that is not true. The cows are ruining the land. Right now there is a 50-to-1 cattle-to-horse ratio, so for every wild horse that's out there on the range, the Cattle Association has 50 heads of cattle.
Tell me about the cattle-to-horse ratio.
There is something called Animal Unit Month (AUM). Remember, the land is public, which means we own it. So we own it, and we pay taxes for it. Ranchers pay $1.95 per AUM or per head. That's one calf and one cow, a mother and a baby, for $1.95 per month. If that same cow and calf were on private land, the rancher would be paying $16.80 per head.
So the wild horses aren't generating any income, and the cattle are. And business is business, and everyone wants to make money. I don't knock anyone for wanting to make money, but to put 50 heads of cattle to every 1 horse and then to say that the horse is destroying the land—that's when I want to say to say to the Cattle Association, "You know what? You need to come to the table and talk. You need to come to the table and do something because this is unacceptable."
And this is our land?
This is our land. Our public land. We, as citizens of the USA, own this land.
This is crazy-making.
It's Big Money and power and politics is what it is.
Aren't cattle far more destructive to land than horses?
It is simple physical biology. Horses have long teeth. When horses eat grass, they clip the grass like a lawnmower. The grass doesn't die. It's even good for the grass and encourages the grass grow stronger. A cow doesn't have teeth like that. A cow pulls up the grass at the root. So cows are much more destructive on grassing pastureland.
I also understand that poop is part of the debate.
Cow poop just makes a big wide wet patty-poop dead zone. Horse poop is piles of smallish, soft, moist balls. Often the horse is walking while it takes a poop, so those balls get dropped along the way, then maybe even trodden on by another horse so they get distributed and broken up along the land and basically become rich, sustainable, plant-based, chemical-free fertilizer. And even if the horse stands still and poops in a pile, there will be things growing through that pile so that land has actually been made healthier because of that horse being there. And with a herd of horses, that's a lot of constant natural fertilizer and the grass grows richer and then the horses graze on that grass and poop again and it all works in a natural, balanced cyclical eat-and-excrete system.
What's the bottom line?
The most important thing is to come to an agreement with the Cattleman's Association, the Bureau of Land Management (BLM) and wild horse advocates. The Natural Academy of Scientists was contracted by the BLM to conduct an extensive report recently. Wild horse advocates were very worried about this report coming out, but the report turned out to be incredibly insightful and hopeful—the biggest ray of hope we've had in a long, long time.
How so?
One of the key arguments is that the BLM is not paying attention to the way they're surveying land and that what they call "appropriate management levels" need to be more "managed," ironically.
Tell me about your wild horse photography workshops.
I teach a workshop once a year, along with my good friend Tony Stromberg, at Return to Freedom, American Wild Horse Sanctuary, a nonprofit organization that takes care of more than 400 wild horses and burros and deals with the current issue at hand. The workshop raises funds and awareness, and I'm proud to be a part of that. Knowledge is key to change, and the broader the awareness, the better for these magnificent creatures.
You are hyper-focused on this issue, aren't you?
This is my whole life. What I'm striving for is this. What I'm working on is this. I'm either reading about this or working a new show or spending time with the horses. If I'm not spending time on this I'm with my own horses. I will have dinner with my girlfriends, but that's my life.
What if you became famous? It could happen—you certainly have the talent!
(Laughs) Thank you. That is so kind. I have always said that art has a voice, and I hope that voice gets larger and louder for these horses.
Return to Freedom just held an intimate brunch event with Robert Redford in Santa Barbara. He has come on board to lend his stance and voice to RTF, wild horses on the range and the slaughter issue. He was gifted a piece of my work titled "Unbridled," which was shot in his beloved Utah, the Onaqui herd. I'm honored that he was moved by the piece and this iconic man is so passionate about the issue.
Ellen DeGeneres has also purchased a piece—another amazing powerhouse who is truly rooted in doing serious good in the world. We hope that one day she is able to share this issue on her show. I'm just so grateful the word is spreading, but we still have a ways to go.
PHOTO CREDITS:
All photographs are by Kimerlee Curyl. Images (from top to bottom):
"Rock Star" by Kimerlee Curyl
"Eye of Equid" by Kimerlee Curyl
"Embrace Beauty" by Kimerlee Curyl
"The Great Divide (Triptych)" by Kimerlee Curyl
"Unbridled" by Kimerlee Curyl
"Ripple in the Water" by Kimerlee Curyl
"Vanishing Grace" by Kimerlee Curyl
WILD HORSE RESOURCES:
Return to Freedom Wild Horse Sanctuary
The Black Hills Wild Horse Sanctuary
National Academy of Sciences on Wild Horses (NAS)
Using Science to Improve the BLM Wild Horse and Burro Program (Key Findings NAS Report)
Bureau of Land Management (BLM) Removal Statistics
The Amerian Wild Horse Preservation (AWHPC )
Earth News and Earth Tribe Activist News are (unfortunately!) no longer. However, you can read the story on PULSE.