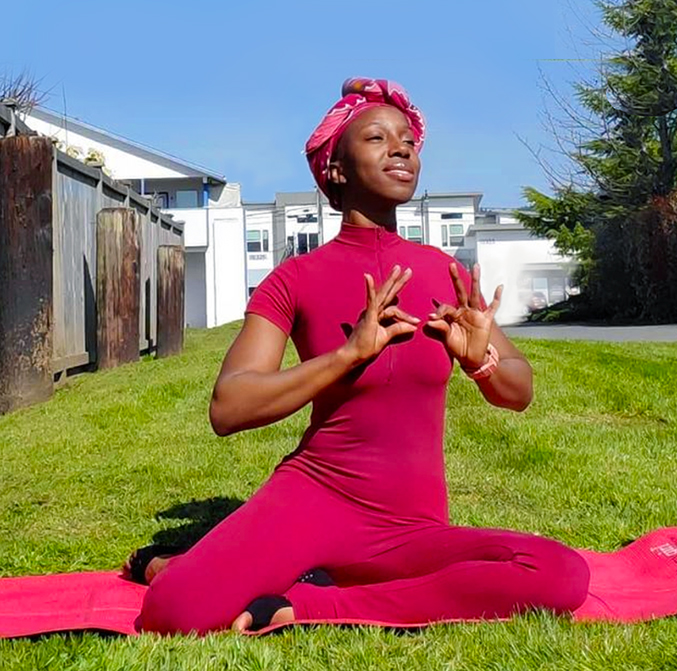 Queen Sheba wins Cosmic Sister Special Talent Scholarship to participate in Moon & Cycle Ceremony
Cosmic Sister Special Talent Scholarship
Please join us in congratulating Queen Sheba (@learninghowtoblossom), a performance artist and gardener who has been awarded a Cosmic Sister Special Talent Scholarship to attend The Moon & Cycle Ceremony hosted by April Clark (@aprilclarkembodiment).
"My calling is to help others, and the more knowledge I acquire, the more I can benefit more unique beings while also continuing my self-growth as an individual," Queen Sheba says.
She sums up her beliefs in the following poem: "Once we accept that few are actually white or black, then we can see humanity. See me for who I am; not for what you want me to be, for I am #diligent in what I believe, and I am #proudful of who I am, and I will be #kind to all I see, patiently waiting for the change that needs to be, so we can all reach #liberty."
Queen Sheba sees gardening as sacred, "Through the act of gardening," she says, "I'm honoring mother earth, who provides for all forms of life."
The merit-based Cosmic Sister Special Talent Scholarship helps outstanding women explore immersive experiences and educational opportunities in support of women's voices in environmental and psychedelic feminism—and beyond.
The Moon & Cycle Ceremony is a series of 12 weekly immersive workshops in sacred circle hosted by April Clark (@aprilclarkembodiment), starting October 5. Learn more or register through RoseHips Movement (@rosehips_movement). 10% of registration fees will be donated to Water Protectors, which is leading the effort to stop Line 3, a proposed oil pipeline from Alberta, Canada, to Superior, Wisconsin (@stopline3pipeline).
---
#QueenSheba #LearningHowToBlossom #cosmicsister #psychedelicfeminism #StopLine3 #aprilclark #RoseHipsMovement #zoehelene #healing #empowerment #selfliberation #garden #sacred #womensupportingwomen #sacredplants #ancestormedicine #goddess #psychedelicrenaissance #psychedelicwomen #witch #moon #sacred #deathandrebirth #cycles #rebirth #yoga #ceremony #ritual #coven #grief #grieve