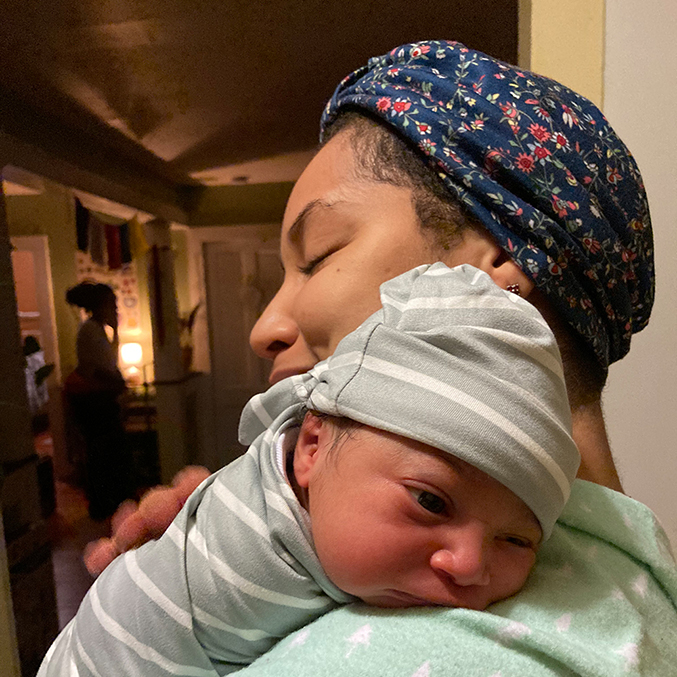 Celebrating Doula Ana Jimenez
Cosmic Sisters of Cannabis
Please join us in celebrating doula Ana Jimenez (@a.fimenez / @aguayvientre). Cosmic Sister Nephertiti "Neph" Amen (@nephertitiamen) writes:
No matter how much first-time mothers prepare, babies come in their own way and time. Doctors perform C-sections, monitor babies with ultrasound technology, and administer pain medications like epidurals. Midwives offer birth support while encouraging minimal invasion into the process, assisting with natural delivery, postpartum healing, and newborn health. Doulas are there as a continuous source of comfort and support, nurturing mama's overall well-being from beginning to end. Doulas offer birth education and emotional and physical backup throughout pregnancy and into the postpartum stage.
Throughout the birth process, it's all too easy to overlook new mothers' well-being because the sole focus is on the growing baby. Doulas understand that when mothers "feel" supported, they can perform better in their role as a life-giver. As they have been nurtured, they can nurture; as they have been nourished, they can nourish.
I recently gave birth to an amazing baby girl. As my contractions grew more intense while I was on my way to my birthing space, I felt so blessed to have the support of not only my partner and midwives but my best friend and their partner, Ana, who is training to be a doula. As soon as I walked through the door, I was met with a delicious spread of fruit, crackers, teas, and broths that Ana had prepared to nourish me as I labored for the next 11 hours. Ana stood in for my partner when he was too tired to keep his eyes open, held my hands and hips through contractions, helped me shower, and massaged my feet and back as needed.
When baby finally came, the real work began. Ana walked with me to and from the bathroom, boiled herbs for my sitz bath, held baby when I needed to rest, made fresh broths and meals, and much more so I could focus on healing myself and loving on my little one. I could have gone through the experience without her, but I'm glad I didn't. I truly felt held, seen, and loved.
As an Indigenous woman from the Dominican Republic supporting other Indigenous bodies through birth work, I was curious about what inspires Ana's practice. She explains: "Birth work is all-encompassing, meaning if I don't use these medicines in my own healing process, I wouldn't feel comfortable sharing with others. We must practice what we preach. Cannabis, having been stigmatized in my community, was used to imply criminality. But as I've grown, I've learned to accept its medicinal properties and have used it myself for the last three years to treat chronic pain due to reproductive complications, migraine headaches, stress, and anxiety. Banana leaf, Caribbean oregano, and Juana la Blanca are just a few of many herbs that have been used in my family and in my life work to treat infection, aid in pain management, and support a healthy immune system. As a birth keeper or birth worker, I can attest to the healing properties of plant medicine."
After my birth, Ana massaged my feet, legs, and hands with CBD oil. "CBD or cannabidiol, whether digested or used topically, has been proven to lower inflammation and neuropathic pain," she says. "As I warmed the salve between my palms and touched your skin, I wanted to make sure that it brought both calm and relief to you after such an eventful life experience, ushering your body into the next few hours so that you were able to provide nourishment to your newborn. Going by my own life experiences and being taught by my elders and the Black diaspora, I believe that using both plant medicine and touch is a powerful ancient and ceremonial combination."
More than anything, Ana says, she is inspired by the resilience of the women in her family. "The fact that most became mothers while they were still children. The fact that they did not receive the care they needed," she says. "Part of this work is also taking care of the bodies who've birthed long ago. I believe postpartum is forever and so my strength comes from the generations of all who've tried to tell us otherwise."